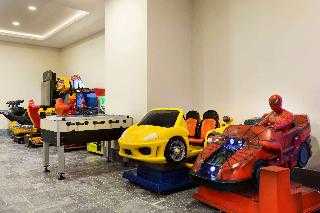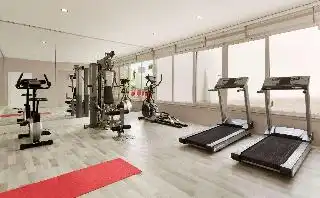 Revisión de TripAdvisor
Basado en 1408 reseña
Ver todo
Este lujoso hotel, que se encuentra en Side, es una gran opción para familias. Los viajeros encontrarán las principales zonas de ocio a 14. 0 km. Los clientes encontrarán paradas de transporte público desde las que explorar la zona a 15 metros. La playa más cercana está a 500 metros del alojamiento....
Más detalles
Disponibilidad
Selecciona la fecha de tu viaje
Selecciona la fecha de tu viaje para verificar la disponibilidad de habitaciones.
Información de la propiedad
Este lujoso hotel, que se encuentra en Side, es una gran opción para familias. Los viajeros encontrarán las principales zonas de ocio a 14. 0 km. Los clientes encontrarán paradas de transporte público desde las que explorar la zona a 15 metros. La playa más cercana está a 500 metros del alojamiento. Las 291 acogedoras habitaciones son el lugar perfecto donde relajarse al final del día. Ramada Resort Side se reformó por completo en 2015. Ramada Resort Side cuenta con conexión a internet por cable e inalámbrica. Las personas que se alojan en este establecimiento son recibidas en un vestíbulo con...
Más detalles
Check-in a partir de las: 15:00
Check-out hasta las: 11:00
Comodidades de la propiedad
Gimnasio
Protección acrílica entre clientes y empleados en las principales áreas de contacto
No hay camas supletorias disponibles.
Salida sin contacto disponible
El establecimiento se limpia con productos desinfectantes
El establecimiento confirma que está implementando medidas adicionales en el área de seguridad del cliente
El establecimiento confirma que está implementando medidas adicionales en el ámbito de la limpieza
Se aplican medidas de distanciamiento social
Establecimiento para no fumadores
Se proporciona gel desinfectante para manos a los huéspedes.
Ropa sucia
Medición de temperatura a disposición de los clientes
Los empleados usan equipo de protección personal
La temperatura de los empleados se mide con frecuencia
Máscaras a disposición de los huéspedes
imposición de un intervalo entre las estancias de los huéspedes 24 horas
Recepcion 24 horas
Las sábanas y toallas se lavan a una temperatura mínima de 60 ° C.
Ropa protectora disponible para invitados
Internet inalámbrico gratuito
Las superficies que se tocan con frecuencia se desinfectan
Servicios de tintorería / lavandería
Es posible realizar transacciones sin efectivo
Check-in rápido
Transporte al aeropuerto (recargo)
Se cambió el servicio de comidas para aumentar la seguridad.
Juegos de mesa / arcade
El uso de mascarilla es obligatorio en el establecimiento.
Accesibilidad en la habitación
Check-in sin contacto disponible
Servicio de niñera o cuidado de niños (recargo)
Soporte para excursiones / compra de entradas
Pulverización electrostática utilizada en desinfección.
Equipo multilingue
Pago rápido
Club de salud
Salas de tratamientos de spa
Servicios de conserjería
Servicios de conserjería
Servicios de conserjería
Servicios de conserjería
Servicio de habitaciones
Biblioteca
Con una piscina al aire libre y muchas otras instalaciones recreativas a tu disposición, no te quedará ni un minuto libre. Tienes también una terraza y jardín donde sentarte a contemplar el paisaje. E
Recibe los cuidados que te mereces gracias al servicio de masajes o aprovecha instalaciones recreativas como un centro de bienestar y muchas más. Encontrarás también conexión a Internet wifi gratis, s
Servicios de conserjería
Con una piscina al aire libre y muchas otras instalaciones recreativas a tu disposición, no te quedará ni un minuto libre. Tienes también una terraza y jardín donde sentarte a contemplar el paisaje. E
Servicios de conserjería
Wifi gratis
Para un relax sin igual, nada como una visita al spa, que ofrece masajes. Otros servicios de este hotel incluyen conexión a Internet wifi gratis, servicios de conserjería y una tienda de recuerdos.
Wifi gratis
Servicio de habitaciones
Servicios de conserjería
Recibe los cuidados que te mereces gracias al servicio de masajes o aprovecha instalaciones recreativas como un centro de bienestar y muchas más. Encontrarás también conexión a Internet wifi gratis, s
Con una piscina al aire libre y muchas otras instalaciones recreativas a tu disposición, no te quedará ni un minuto libre. Se ofrece también conexión a Internet wifi gratis y una zona para barbacoas.
Microondas (previa solicitud)
Concierge
Concierge
Toallas y ropa de cama
Toallas y ropa de cama
Espacio para bicicletas
Concierge
Espacio para bicicletas
Terraza Solarium
Toallas y ropa de cama
Toallas y ropa de cama
Toallas y ropa de cama
Concierge
Terraza Solarium
Con una piscina al aire libre y muchas otras instalaciones recreativas a tu disposición, no te quedará ni un minuto libre. Tienes también una terraza y jardín donde sentarte a contemplar el paisaje. E
Escritorio
Sauna
Concierge
Servicios de conserjería
Elige entre las numerosas instalaciones recreativas ofrecidas, que incluyen una piscina al aire libre y una piscina cubierta.
No te pierdas instalaciones recreativas como una piscina al aire libre o bicicletas de alquiler: ¡lo pasarás en grande!
Con una terraza donde descansar y comodidades como conexión a Internet wifi gratis y servicios de conserjería, ¡no te faltará de nada!
No fumadores
Pasillos de ancho adecuado para sillas de ruedas
Toallas y ropa de cama
Toallas y ropa de cama
Servicios de conserjería
Aprovecha los prácticos servicios que se te ofrecen, como conexión a Internet wifi gratis, una televisión en la zona común o asistencia turística (adquisición de entradas).
Stand de prensa
Calefacción
No fumadores
Concierge
Concierge
Grill/Barbacoa
Disfruta de tus momentos de ocio con instalaciones como una piscina al aire libre, una piscina cubierta y sauna. Encontrarás también conexión a Internet wifi gratis, servicio de celebración de bodas y
Relájate en el spa completo, que ofrece masajes y tratamientos faciales. Descansa bajo el sol en la playa privada o diviértete gracias a las instalaciones disponibles, que incluyen una discoteca y un
Ascensor
Piscina e instalaciones de bienestar
Piscina al aire libre
Piscina cubierta
Opciones de transporte
Estacionamiento
Servicios de recepción
Conserje
Almacenamiento de equipaje
Calificación por los huéspedes
TripAdvisor
Calificación de Viajeros
Excelente

786

Muy bien

169

Bueno

136

Razonable

106

Mal

211
Perfil del Viajero
De negocios

7

En pareja

251

En solitario

40

En familia

818

Con amigos

224
Resumen de puntajes
Calidad del sueño

Habitaciones

Limpieza

Relación calidad-precio

Servicio

Ubicación
Vacaciones familiares
Opinión escrita el 11 de novembre de 2016
Fuimos en plan familiar con nuestra hija y dos nietos. Nos asignaron una habitación familiar (dos cuartos y un baño) super cómoda. Contratamos el sistema all inclusive y realmente la pasamos muy bien, los niños disfrutaron la variedad de opciones que tiene el hotel para ellos. La comida era muy buena como así también el personal. Realmente es un hotel family friendly.
Lidia1944
You are paying 3 star prices so don't expect 5 star hotel….be realistic in your expectations
Opinión escrita el 10 de novembre de 2021
My partner and myself stayed here for 10 nights at the end of October. Weather was great, enjoying temperatures between 22-27 Celsius. The hotel itself should be rated as a 3 star but it more than satisfied our needs and justified the money we had spent on the holiday. All areas of the hotel were kept clean and they change sheets and towels daily if required. The staff worked tirelessly and were always there to help. A special mention to Ibrahim behind the bar who served us drinks throughout the week. When quiet, he would look around the room to make people their favourite drinks and bring them over to you. The rooms are more Travelodge with awful WiFi and insufficient air con! The food served meals that tried to cater for several nationalities and we think they did, albeit a bit cold and repetitive at times. On a plus side….no sickness and we always had a full plate. The deserts were fantastic! The Spa did us a good deal and gave a very good service from the staff. In 10 nights we only had 3 nights of entertainment and wished they had had entertainment on every night. The bus service picks you up from just outside the hotel and takes you all the way to Old Side(bus station next to the ruins) for only 2 euros and runs every 10 minutes. A large local shopping bazaar is only 10 minute walk away. Overall, excellent value for money but hope that Ramada will spend some money on the hotel to bring back up to the standard expected by the Ramada name and fully justify the five star rating!
DebMikesTravels
Bit of a death trap
Opinión escrita el 29 de octubre de 2020
First impressions were good. When you first arrive you have to leave your baggage outside of the resort and then go inside to the reception area to check in. It wasnt my favourite thing to do as ive had luggage stolen before in other places but given the current covod situation I understand and happy to do so. Anyway, fast forward about 45 minutes, were checked in, been given our room card, shown to our room, luggage was brought up for us. The room was alright considering it was relatively cheap for what is describes as a 5* resort. Didnt have a balcony and the window looked out into the side of the building next to us so we didnt have a view, not an issue cause its just a room, not gunna be spending too much time in there anyway so really not bothered about the view at all. We'd booked a double room and had two single beds put together. I've stayed in turkey before and had this happen before, again not too bothered as sometimes its too hot to sleep directly cuddled up together anyway so again, not so bothered about it. It was about 37°c at this stage, about 11am turkey time so it was going to get a lot hotter through the day and forecast to be 40°+ the rest of the holiday so naturally being British and not used to that kind of heat I wanted the air con on. Unfortunatelythe airconwasn't working very well and was barely pushing out a slight breeze. Didnt think much of it and figured we'd see how it went and if it didn't work we'd talk to reception tomorrow about getting it to work properly cause it was probably us not using it properly. We thought we'd relax for a short while, cool down for a bit and have a shower before going down to the pool and relaxing. While I was waiting for my partner to finish up in the shower I was laying down on the bed reading through the information and paperwork given to us when we first checked in and I heard a bleeping coming from the door and before I had a chance to get up to go to the door thinking it might have been room service, a random stranger walked into the room, it was another guest of the hotel, seemed drunk and when I asked them what they were doing he apologised and left the room. I figured it must have been a mix up with what room he was going to and that maybe reception got the room keys mixed up, it happens ive worked in hospitality before and although its not often it happens, it does. So I went down to reception and tried to explain what had happened about someone else going into the room while I was there and that they used a key card but reception didn't believe me and said that if it did happen then it must have been staff. I tried to explain that it definitely wasn't a member of staff as they weren't wearing a uniform but unfortunately due to a language barrier they didn't seem to understand what I was trying to say but they changed our key card and gave us a new one and reset everything for us, again I'm not that annoyed as they did try to resolve the issue and I understand not everyone speaks another language same as I only speak a little Turkish. So we decided to go grab a drink and hit the pool. The bar situation was fantastic given the current circumstances, they had the protective visors up and all the seating around the bar had been moved to limit social interaction and promote social distancing ect, same with the outside seating and the dining areas so ill applaude them for that. Fast forward to the evening time, weve eaten, had a few drinks enjoyed the last of the sun and we were exhausted after a long, busy day. We went back up to the room and something ibe always done is check the door before putting the room key card to it to make sure its not already open, and low and behold, the door opened without a key card. I was confused so I checked again to make sure it wasn't just that I hadn't closed the door properly behind me when I'd left earlier in the day so I closed the door properly again and then opened it again without the key card and there was definitely a problem with the door so I was having a look at the locking mechanism (again I know a bit about them as I used to work with them) and I noticed that the door frame had a really big crack in it that it definitely didn't have before we left the room, so I looked at the inside bit of the door that the latch locks into when the door closes and it was all crumbed away, and it was clear that someone had tampered with it with force and looked as though someone had forced their way into the room. We used the room phone to call down to reception and tried to explain what the issue was and they agreed to send the technical guy up to the room to have a look at it. So about half an hour later this little guy comes to the room, hammers one nail into the door frame and then says to me that its fixed. It was at that point that I was starting to get annoyed. I tried to explain that I wasn't happy with that as a fix and that i didn't feel comfortable sleeping in that room, let alone leaving my valuables in there, to which I was told that there were no other free rooms available but they'd let us know as soon as one became available. Sleeping wasn't great due to the two single beds slipping apart through the night. Understandable because they're on tiled flooring so theres no friction to keep them from slipping but irritating when youre asleep and end up on the floor because you've rolled over into mid air rather than the rest of the bed. When you go downstairs and head out to the pool, the first thing you're greeted with are the guys following you around asking you to go down to the spa and have a massage. The word no means nothing at this resort and if you manage to get away from them, they will find you and hound you some more. Beside the pool, the plastic drainage grates are incredibly unstable. You cant step on them at all or you'll go straight through them. In the time we were there and by the pool I think we saw about 10+ people including kids fall through them or trip over them, a couple of people even grazed or cut themselves on them. The food there seemed to be alright at first, quite a bit of choice in fairness and we enjoyed it right up until my partner found mold on one of her deserts. Needless to say we stuck to stuff that was cooked fresh in front of us for the remainder of the holiday. Few days later, must have been about 8am/8:30am my partner and I were asleep in bed and there was a huge loud crash and smash noise from the bathroom. Woke us both up and made us leap out of our skin. I got up and went to have a look at what it was and the entire sink and the marble tile thing it was resting on had fallen off the wall and smashed on the floor. Ring down to reception again to say someone needed to come up and have a look at it and they said someone would come up. About 1 hour and 3 calls to reception later and no one had come up. There was a cleaner on the corridor so I tried to ask for help but she didn't understand either so I went to good old trusty google translate and asked for help on that and she finally came to have a look. She didn't seem shocked if im honest. She got on her mobile and rang down to reception and started speaking to them in turkish (thank god) and then said to us that technical would come up now to have a look. Another 30 minutes later and finally someone came up to have a look and it was the same guy that "fixed" the door. We decided to go to Google translate again and explain what happened and that we were both asleep when it happened but they didn't seem to believe us. Anyway about an hour later and they said we were gunna be moved rooms (funnily enough one happened to become available right at that moment). Anyway we decided we would go get something to eat and chill for a bit before going to reception to find out what was happening with the new room as they didn't seem to be in a rush and I wasn't about to waste any more of the day trying to sort it out. After a while we figured we'd go see what was happening with the room so we went to reception and they said they didn't know anything about us moving rooms. After about 30 minutes of explaining the woman started asking us how it happened and said sinks don't just fall off the wall, which normally id be inclined to agree with her, but I'd actually taken photographs of EVERYTHING and showed and explained to her that in most instances, sinks aren't help up by cardboard. Yes, cardboard. Looking at the photographs, its happened before and this amazing hammer and nail technical guy had shoved some cardboard behind it and glued it on ._. Then all of a sudden her English speaking skills seems to vanish. Anyway after the verbal tennis match through Google translate, the woman on reception said they were having a room cleaned for us and to come back in half an hour for a new room key. We went back and they still weren't ready to give us a key so we left and went back again after about hour and a half. By this point I was really getting annoyed and was ready for going home but unfortunately still had almost another week left in this hell hole. We were finally given another room key to another room and we were actually given a room with a balcony and a decent enough view of the overgrown fields opposite the resort, in fairness it wasnt too bad and I honestly thought to myself that this might actually make up for the stress of the first few days. We did not recieve any assistance in moving our luggage from the old room to the new room and had to do it all ourselves so we ended up keeping both room keys so that we could take our time and make sure we got everything. Then my partner advised me not to touch the sink in the new room as it was quite wobbly and that the shower was broken. I just told her to not bother going into the bathroom and we'd use the facilities in the indoor pool. Big mistake. The indoor pool is right next to the spa. After about an hour of being hounded again by the spa reps and about €50 later, I was sat in a sauna waiting for a Turkish bath package. Now I must say, if you've ever been to turkey and not had a Turkish bath, you've missed out big time. This was one of the best parts of the holiday. The people in the spa know what they're doing. I had 15 minutes in a sauna, a full Turkish bath, skin peel, a full body massage and a face mask. Only thing I would say is if you have allergies to anything like I do or have sensitive skin, don't get the face mask. Its impossible to find out the ingredients, and if you have an allergic reaction to it, again like I did, the nearest place to get antihistamines is the chemist up in the town about 30 minutes walk up the street, and watch those curbs, they're about a foot tall. There wasn't any entertainment on due to covid restrictions though it wouldn't have made any difference as other than the tables being spaced out and there being visors around every bar and piece of food, there wasn't much social distancing going on anyway. The beach is relatively close to the resort and there's a free shuttle bus that takes you there and back every like 15-20 minutes or so but the walk really isn't that bad. Takes about 5-10 minutes to walk it depending on footwear. The beach itself is alright. Its sandy despite what other reviews have said but there are quite a few rocks and stones when you get to the shore line for about a metre or two and then its back to sand, there's a bar there that do food as well but youre not allowed to take food or drinks past a certain point to ensure there's no litter left on the beach which is great. The water is so clear and perfect for snorkeling when the weather is good so you can see and watch the fish swim right up to you and brush against you. There was a day that it was a bit rough and it was knocking the sand and silt about so you couldn't snorkel but was still nice to swim in. The sea was actually warmer than the pool which was nice. Also, just watch your stuff on the sun loungers. I went up to the room to get changed before dinner and my partner was asleep on one of the sun loungers by the pool and someone stole her prescription swimming goggles that cost an absolute fortune. Not the hotels fault I completely appreciate that but they weren't helpful at all when we reported it to make them aware that someone had taken them from right next to her while she was asleep. Another thing is, the male staff know no bounds. They hassle women for their room number and phone number and when you give them a false number, they check it straight away and demand you give them your correct number and will check it while you're there. I ended up having to give a false room number but then my actual phone number to stop myself being harassed for it and then just blocked their number when I finally left the resort. Eventually we got an email from our airline saying that our flight home had been cancelled and we had to book another flight home but the wifi in the resort is ridiculously bad so we were asking if there was any way we could use the guest relations computer to change the flights ect as I knew it was possible as someone else had used it a few days before us and even showed them the email we'd recieved as proof but they refused to help us so I needed up having to pay to switch my networks Internet on to book a new flight home. We ended up cutting our holiday short and booking a sooner flight coming home early because of the absolute shambles the resort and customer service was and our final parting gift from the hotel was when our transfer to the airport hadn't shown up by half an hour after it was due to and the reception staff basically just said it happens all the time, and that we'll just have to get a taxi. No help or advice or "you can use our phone to call them". I ended up having to pay to use my phone for to call them and got an extra charge because I was having to call an international number. The best part of the hotel, was the shop that sells souvenirs, the lady and her husband that run that shop were so lovely, helpful and friendly. I think the hotel staff need to get some customer service training from them. I've been to Turkey before. The country itself is incredible. Its beautiful, the weather is amazing and a lot of the people are nice but this hotel is a complete failure and a disgrace to the Ramada name. I have made sure everyone I know, knows to never ever use this resort going forward and I myself will never stay there, or in another ramada resort again.
kennig2015
Honest view
Opinión escrita el 3 de octubre de 2020
We went to this hotel as it was highly regarded whilst we enjoyed the holiday and could find little to complain about the food was very very poor. No complaints about the service or staff or the pool area, the beach was dirty and needed a bit of tlc. We had 2 rooms 1 of which was fine and had WiFi and air con. The 2nd room had no balcony the air con did not work, and the wi seemed to not work more than it worked. I would say it was a strong 3* at best the food was not good. Breakfast is breakfast and lunch was ok. The evening meal was cold and often looked like exactly what was out at lunch time. Pasta a plenty but no sauce, Lots of fruit. The other restaurants we were told we could eat in were not open. As we visited at the time of Covid I can not say enough how impressed I was about the hotel cleaning, sanitation stations were everywhere. Shame most of the Eastern European's refused to wear masks. Felt sorry for the staff who were trying to encourage them.
Jaqwee67
No were near a 5* a 1* treatment awful customer service
Opinión escrita el 3 de octubre de 2020
firstly we were having fun one night this was towards the end of our holiday we was drinking outside there are few apartments above us we was asked to be quite by the night member of staff (receptionist) mushaf he approached us he said you English are a big problem always a big problem he then walked off, on our way back to the room y husband spoke to mustaf (sorry unsure how to spell his name) and said it was a bad way to speak to customers he squared up to him looking to fight him!!!! he then spat at us, and put his one finger up to us such lovely customer relationship, The hotel is in the middle of no were Rooms ok that were it ends the food was chicken turkey more chicken more turkey dinner and evening meal with the occasional veal thrown in the food was only Luke warm , very poor choice at breakfast, The animation team did nothing only played very loud abusive music a lot of swearing not at all suitable for children , The evening entertainment was none existent except for a belly dancer a couple of evenings and there is absolutely no were to go around you, The pool are was very dirty sticky beer cola was left on the floor for days, The female animation team barely said hallo did not mix with the customers at all, the beach was not nice pebbly hard to get to the sea not a great choice at all
deccaworcs