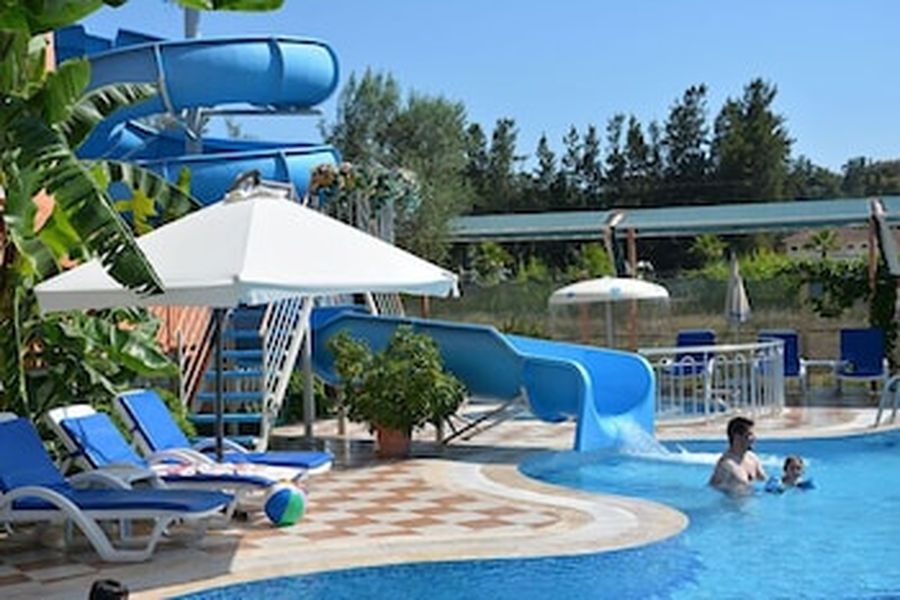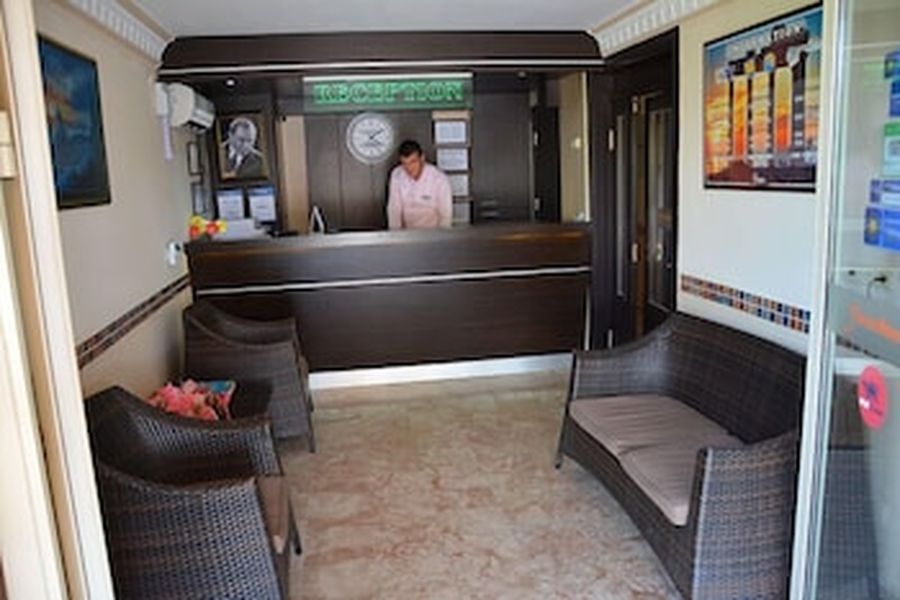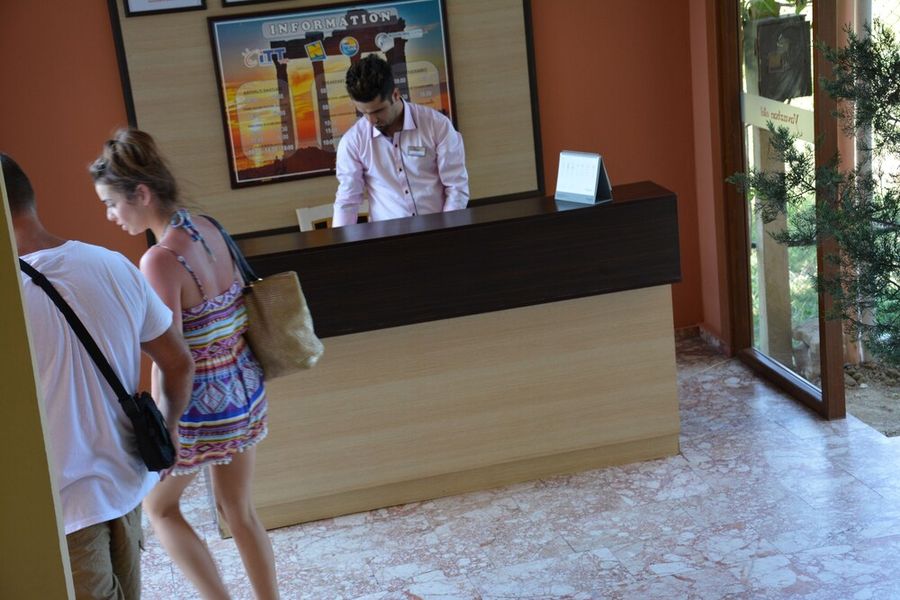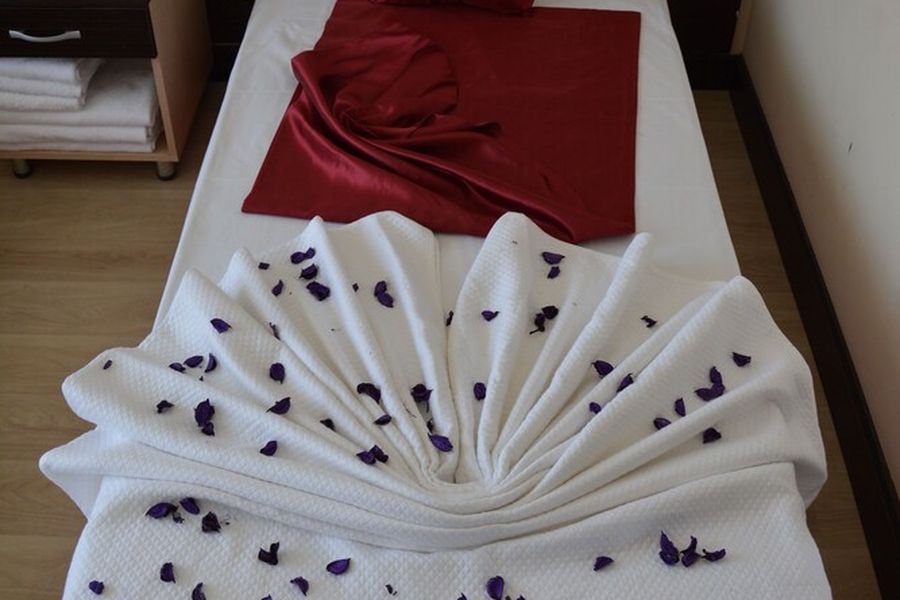 Property Location When you stay at Yavuzhan Hotel in Manavgat, you'll be on the Strip, within a 15-minute walk of Side West Beach and Genel plaj. This beach hotel is 1.5 mi (2.4 km) from Süral Shopping Center and 2.9 mi (4.6 km) from Aquapark. Distances are displayed to the nearest 0.1 mile and ki...
More details
OpenWeather
Select the date of your trip to check room availability.
Property Info
Check-in starts at: 15:00
Check-out ends at: 11:00
Property Location When you stay at Yavuzhan Hotel in Manavgat, you'll be on the Strip, within a 15-minute walk of Side West Beach and Genel plaj. This beach hotel is 1.5 mi (2.4 km) from Süral Shopping Center and 2.9 mi (4.6 km) from Aquapark. Distances are displayed to the nearest 0.1 mile and kilometer. - Side West Beach - 1.1 km / 0.7 mi - Genel plaj - 1.1 km / 0.7 mi - Süral Shopping Center - 1.6 km / 1 mi - Aquapark - 2.6 km / 1.6 mi - Side Crown Palace Beach - 2.8 km / 1.7 mi - Kiralama SUP - 8.2 km / 5.1 mi - Sulton Hamam Side - 11.4 km / 7.1 mi - Side Museum - 12.4 km / 7.7 mi - Side...
Çolaklı beldesi, Tilkiler Cd, 07550 Çolaklı Belediyesi/Manavgat/Manavgat/Antalya, Turkey - Manavgat, Mediterranean Region - Turkey - 07550
Property Amenities
Check-in starts at: 15:00
Check-out ends at: 11:00
Guest rating
TripAdvisor
Travelers rating
Excellent

28

Very Good

13

Good

5

Reasonable

3

Bad

4
Travelers profile
Business

0

Couples

11

Solo travel

6

Family

23

Friends getaway

8
Scores Summary
Cleanliness

Location

Rooms

Service

Sleep Quality

Value
Sweet hotel
Reviewed 22 march, 2018
Very sweet hotel, clean rooms and friendly staff. The building is quite old, so very simple standard. The rooms was clean, but the bathroom was not the cleanest. The location is very far away from Side, so this is the hotel to stay at if you have a car, in my opinion. There is a great car park in the back of the hotel. Very nice pool and relax area as well.
Frusand
Good Hotel, Good Staff, Perfect Hospitality
Reviewed 17 august, 2017
I have been to Yavuzhan Hotel twice in one month of time and highly satisfied with kindness of staff and especially the owner Mr. Ahmet O. My 4 year old son, my hypercritical wife and me have been highly satisfied with breakfast, house-keeping and facilities of the hotel. Moreover, Hotel is located in a calm environment that any visitors seeking some peace would definitely find it in this hotel while having sunbath bear the pool. By the way Hotel has a beach area and having several sun beds and a shuttle for swimmers too!!! I am a traveler that have been to several countries and hotels and I am satisfied! I assume you would also!!!
umuto1984
Great value for money!
Reviewed 20 april, 2015
-position: 10-15 minutes from the town center by car Pro: -cheaper than other solution (32€ for 2person) -nice pool -good self-service breakfast -wi-fi connection free Cons: -almost nothing, only I suffered from too light in the morning coming from windows cause of curtains smaller than the windows
Paris_Genoa
LOVELY PLACE AND STAFF
Reviewed 10 february, 2014
I picked this hotel because it was nice and cheap. The room was quite spacious with a single and a double bed, dining table and chairs, fridge and a bathroom WITH A BATH and a shower. I love my baths! The room overlooked the pool, and I was pleasantly surprised to see it was filled but the balcony had the watershute adjacent to it, so wouldn't have probably been ideal for me mid season but there were no users at this time of year. The hotel was pretty quiet overall, hardly saw anyone else except the staff who were very friendly and very helpful although they didn't really speak much English. Breakfast was in the room price, it was the usual Turkish breakfast and there was plenty of it but you could have other things if you wanted and you could buy lunch and dinner there too. The hotel had it's own bar and it also had it's own little shop too. My main grumble was the distance the hotel was from any shops or bars but if you like a 'beside the pool holiday' then no problem. I considered it really good value for money and I would go back there again. The plan was to stay until 31st December but there was an earthquake on the 28th so I came home earlier. The hotel remained undamaged, so obviously quite sturdy too.
harene
GREAT HOTEL - FANTASTIC VALUE FOR MONEY - SPOTLESSLEY CLEAN and GREAT SERVICE
Reviewed 10 september, 2013
The first thing to remember about this hotel is how amazingly cheap it is. If you take that into account then this hotel must be one of the best hotels in terms or value for money ANYWHERE. Quite honestly for the price it is impossible to say one bad thing about the hotel. It is simply great value for money. We arrived late evening and and were made very welcome by the reception staff. We checked into our rooms and headed straight for the bar. They cooked us some toasted sandwiches, etc for a late snack and we had a few drinks. The bar/restaurant is right by the pool and a few tables extend further around the pool. Very nice. Very quiet. Of an evening it was nice to ebjoy drinks in the bar - it was never very busy. The TV would be showing football or Turkish music videos. The rooms were small but fine - we do not spend any time therein to speak of. Furnishings were old but OK. Shower room similar. Lots of fiddling to get the shower temperature right but there was always lots of hot water. Though it might need to run for a while. Room was spotlessly clean. Leave you key with the reception if you wanted your room cleaned anytime. The room was air conditioned (tad noisey but no problem for us - the usual remote controlled box on the wall. It worked a treat.) We had a fridge - superb and free. Also the safe was free. Once again all stuff one normally has to pay extra for. No noise problems at all outside of my snoring - didn't bother me. Breakfast was typically Turkish. Plenty of salady type stuff, boiled eggs, sometimes sausages, sometimes scrambled egg. To be honest it was fine for me though I did start to miss my Marmite. I also bought a packet of cereal as they didn't have any - but nobody else was worried and we all enjoyed the fresh Turkish bread. Plenty of choices of tea and coffee. No doubt some Brits might miss their full monty but it suited us fine. We were on Bed and breakfast but we ate at least one other meal every day in the hotel. The menu was limited and Turkish but excellent and we all enjoyed it - especially the price. Drinks were also great value though some people might not find their favourite tipple. I did - Efes beer mmm. The pool was more that big enough for all. With a slide and seperate paddling pool. The pool was always crystal clear and inviting and never over busy. We lived between the bar and pool - it was sooo hot - up to 99 one day. Over the raod was a small Turkish restaurant - very simple and basic but great food and service. Looks a bit grim but they serve good food. There is also an internet cafe there though the hotel has good internet. ALso a small shop. ABout 100 yards away is another shop that usually only opens late afternoons. If you want shops and restaurants you have a choice. Leave the hotel turn left and walk to the junction. (100 yards) if you go straight on you get to a shopping area - usual clothes, haircuts and agencies selling trips out and a number of chemists. This is a ten minutes walk. Another ten minutes brings you to the beach. If you turn right at the junction you reach another load of shops and restaurants - it's about a ten minute walk alongside the road. A couple of OK restaurants here and the usual chemists, barbers, etc. If you take a left at the junction you reach the biggest area of shops and restaurants. This is also the main hotel area. There are endless hotels and shops and restaurants. At the junction you can get a Dolmus (small bus) in each direction taking you to the shops mentioned. A couple or TL gets you there. These Dolmus run constantly and if you are not at a bus stop just wave - they will stop in a flash. These Dolmus go to Side and other bigger towns. Maximum fare is 3.5 TL I think. Tremendous value - but beware they will cram you in and you may have to stand. They are privately run so the drivers really cram you in. Often just wait a few minutes and the next one will be along. To be honest the shops in any direction I have mentioned can be reach quickly on foot but in the heat it can be draining. The hotel runs a shuttle to and from the beach. It has it's own beach area with sunbeds, etc. The hotel staff were ALL very friendly and helpful and they all put themselves out and were good fun. We got on so well with them all. The manager was also very helpful and even took me to see a doctor when I needed to see a doctor. This by the way was a first class service - i saw a doctor straightaway at the hospital, a professional translator spoke perfect English. (£17 ????) There are chemists everywhere and they are cheap. I can't think of much else to add really. The only perceivable downside was the distance to the beach - not so far but in the heat it felt it. Though the shuttle is there to use anyway. Personally I cannot recommend it enough. I will go again for sure. It is just such great value.
Bobef