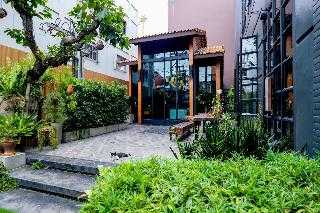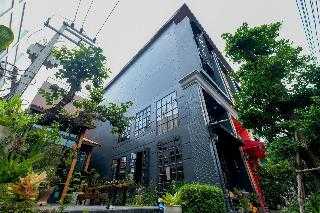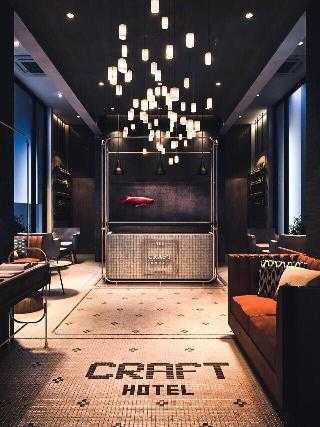 Revisión de TripAdvisor
Basado en 25 reseña
Ver todo
The Craft Nimman de 3 estrellas es ideal tanto para viajeros de negocios como de vacaciones en Chiang Mai. El establecimiento ofrece una amplia gama de servicios y beneficios que harán de tu estancia una experiencia muy agradable. Disfruta los servicios de este establecimiento, como Wi-Fi gratis en ...
Más detalles
Disponibilidad
Selecciona la fecha de tu viaje
Selecciona la fecha de tu viaje para verificar la disponibilidad de habitaciones.
Información de la propiedad
The Craft Nimman de 3 estrellas es ideal tanto para viajeros de negocios como de vacaciones en Chiang Mai. El establecimiento ofrece una amplia gama de servicios y beneficios que harán de tu estancia una experiencia muy agradable. Disfruta los servicios de este establecimiento, como Wi-Fi gratis en las habitaciones, Seguridad 24h, limpieza diaria, tienda de regalos/souvenirs, taxi. Las habitaciones están diseñadas para proporcionar el nivel óptimo de comodidad, con decoración acogedora y diferentes servicios como televisión de pantalla plana, perchero, café instantáneo de cortesía, té de corte...
Más detalles
Check-in a partir de las: 15:00
Check-out hasta las: 11:00
Comodidades de la propiedad
Servicios de recepción
Conserje
Calificación por los huéspedes
TripAdvisor
Calificación de Viajeros
Excelente

14

Muy bien

9

Bueno

2

Razonable

0

Mal

0
Perfil del Viajero
De negocios

0

En pareja

9

En solitario

3

En familia

4

Con amigos

8
Resumen de puntajes
Calidad del sueño

Habitaciones

Limpieza

Relación calidad-precio

Servicio

Ubicación
Excellent and cozy
Opinión escrita el 5 de novembre de 2019
I was there during the weekend. The hotel is very nice and have space inside room which makes it comfortable. The staff was helpful and friendly. Breakfast should have more option other than that Highly recommend this hotel
kalyadap
5 days in ninman
Opinión escrita el 29 de enero de 2019
Nice hotel within the ninman district. Was first time staying in this area and was surprised at the nice shops surrounding. Kao soi ninman is great for local food. Ristre8to was nearby and opp was a very nice pattiserie. One ninman was nearby too and good for simple dinners. The breakfast while limited was tasty and coffee was good. Didnt feel too bored even after 5 days. The minibar is free but warning the slippers are not even though they feel like disposable ones.. so be aware. They dont tell you that and my friend had already taken one so had to pay 200 baht. Bed was very nice and the shower had good pressure but not much amenities and if you dont like coconut need to use your own shower gel and shampoo. Overall was a good stay.
julianac785
Living in a Gallery
Opinión escrita el 19 de enero de 2019
尼曼工藝飯店位在清邁現今最潮尼曼區的心臟地帶, 周圍圍繞著許多知名網紅打卡店, 不論是韓風咖啡廳, 藝人開的餐廳, Live 酒吧, 應有盡有. 還有一家7-11就在附近, 非常方便!且整體設計非常優雅洗鍊, 融合了新古典風格的線板與工業風的配色, 還運用了引入大量陽光的落地窗, 具有生命力的多樣化植栽安排得錯落有致, 令人感到療癒. 我們很喜歡房間中的小陽台, 逛完清邁各大景點時可以讓我們享用飯店附贈的點心, 飲料和水果. 此外蝶豆花香味的備品令人難忘. 雖不奢華卻很精緻, 推薦給想要感受清邁年輕一面的旅客. The Craft Nimman locates itself at the center of chic Nimman Area. This boutique hotel is surrounded by famous IG cafes, restaurants, and bar. All within 5-8 min walk. There is also a 7-11 convenience store nearby. And the area is quiet enough in the evening. The interior is truly sophisticated in a contemporary way and superb taste as well as the local sense of abundant sunlight flowing into the lobby, walkway, and room. We like the small balcony in the room which allows you to enjoy their complementary treats, drinks, and fruit. They provide shampoo and shower gel of the unique scent of Asian pigeonwings. Highly recommend for people would like to explore the young and hip Chiangmai.
crystalyschang
Nice Hotel
Opinión escrita el 15 de enero de 2019
This my second time to come Chiang mai. This time we choose hotel nearest with nimman area. This Hotel very nice, the interior design very superb. I and my wife very like it.Very close to the happening area and easier to get dinner around this hotel. Problem just parking need to make sure you ask the frond desk if you bring car as well. Breakfast you need to walk to other building , frond desk very helpful and bring us to that cafe.
adrihanz
Great hotel with some caveats
Opinión escrita el 29 de junio de 2018
My wife and I stayed at the Craft Nimman during the "slow season" (late June) and we were very pleased with our stay! The location is excellent, close to many excellent shops and restaurants on Nimmanhaemin Road and all of the side streets. The staff are EXTREMELY young and eager, which was mostly a positive, but they were inexperienced and uninformed about things to do in and around Chiang Mai. Pros: - The minibar was completely free and regularly stocked with cold drinking water, yummy snacks, fruit, and other beverages. - Hotel laundry was reasonably priced and very fast - Hotel is tastefully designed and very quiet (possibly because it was low season!) - Nearby shops and restaurants are fantastic! The massage place across the street was our favorite in Thailand (and we sampled a LOT). Prices are affordable and they do an amazing job. Most of the masseuses are women, but there was a guy there who gave a Thai massage was without a doubt the best of my entire life. Craft Nimman should set up a partnership considering how close the hotel is! - The room and bed were very comfortable - Accessible outlets and lamps for nighttime reading, phone-charging - Nimmanhaemin is very close to the airport and going any direction from Chiang Mai. Cons: - Not having a phone in the room seemed like a strange oversight. - The breakfast is two doors down at a partner restaurant. It looks cute and hip, but the menu choices are nonexistent. Basically, you can order Thai rice porridge, western breakfast (eggs and bacon), or fruit salad. Since each of these is prepared to order, the process is slow and not very tasty. They should either increase the options or do a simple continental breakfast. - I loved the staff, but if you are looking for a hotel with knowledgeable concierge service, this isn't the place. The staff are so eager and kind, but they don't seem to know a whole lot about the local activities for clueless travelers. Their English was ok, but still fairly limited. If you're uncertain about what you want to see/do in Chiang Mai or you want fluent English-speaking staff, this might not be the hotel for you. But the staff are so thoughtful and so generous and the hotel is so adorable that I'd encourage you to stay there!
Ben N