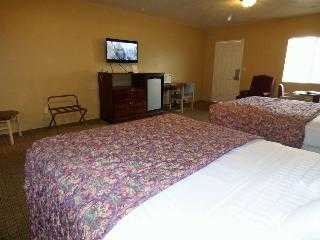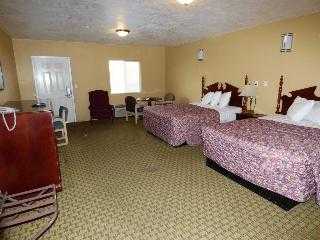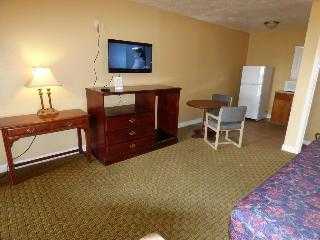 Revisión de TripAdvisor
Basado en 58 reseña
Ver todo
Este cómodo hotel se encuentra en St George. Economy Lodge no permite la entrada a mascotas.
Más detalles
Disponibilidad
Selecciona la fecha de tu viaje
Selecciona la fecha de tu viaje para verificar la disponibilidad de habitaciones.
Información de la propiedad
Este cómodo hotel se encuentra en St George. Economy Lodge no permite la entrada a mascotas.
Check-in a partir de las: 15:00
Check-out hasta las: 11:00
Comodidades de la propiedad
Comida / bebida
Restaurante
Piscina e instalaciones de bienestar
Piscina al aire libre
No hay camas supletorias disponibles.
El establecimiento se limpia con productos desinfectantes
El establecimiento confirma que está implementando medidas adicionales en el área de seguridad del cliente
El establecimiento confirma que está implementando medidas adicionales en el ámbito de la limpieza
Se aplican medidas de distanciamiento social
Se proporciona gel desinfectante para manos a los huéspedes.
Ropa sucia
Recepcion 24 horas
Las sábanas y toallas se lavan a una temperatura mínima de 60 ° C.
Internet inalámbrico gratuito
Las superficies que se tocan con frecuencia se desinfectan
Acceso para sillas de ruedas (puede haber algunas limitaciones)
Sin ascensores
Desayuno gratis
Balcón o patio amueblado
Con una terraza y jardín donde descansar y comodidades como conexión a Internet wifi gratis, ¡no te faltará de nada! Se ofrece además una televisión en la zona común, una zona de pícnic y una zona par
Con una piscina al aire libre y conexión a Internet wifi gratis, entre muchas otras prestaciones, aquí tendrás todo lo que necesitas.
Calificación por los huéspedes
TripAdvisor
Calificación de Viajeros
Excelente

3

Muy bien

6

Bueno

6

Razonable

8

Mal

35
Perfil del Viajero
De negocios

4

En pareja

12

En solitario

11

En familia

16

Con amigos

8
Resumen de puntajes
Calidad del sueño

Habitaciones

Limpieza

Relación calidad-precio

Servicio

Ubicación
Nastiest place ever
Opinión escrita el 21 de septiembre de 2021
Roach infested, filthy, noisy and who knows what else. Moldy broken bathrooms, no towels, carpets, sheets and pillow cases stained and gross, made me gag. Rooms smell bad and musty. People living there year round with dogs that just go anywhere and the people leave it. Worst place I have had the misfortune to stay. This place is a hovel. Absolute horror show
gjrmufc
About as "economy" as it gets
Opinión escrita el 27 de marzo de 2021
They advertise free breakfast but there is none. Vending machine is tipped over and broken out by the pool. Zero soundproofing from the street noise so bring ear plugs if you want to sleep. Inside the room, only half the lights in the room even work (burnt out maybe?) The beds only have a single thin sheet so I had to run to the store and buy a blanket for the night. No drain plug for the bath so even though there's a tub, plan on showers only. They only provided two towels, no hand towels, hair dryer, floor towel for the shower. I'd recommend just spending a little bit more and staying somewhere else. They cut so many corners and went so cheap on this place, and to add insult to injury, the the owner (or manager) has the audacity to park their brand new model X Tesla at the entrance. They are clearly bringing in enough revenue to pay the extra few dollars it would take to make this place tolerable.
utahgeek
Worst Motel EVER!!!
Opinión escrita el 27 de novembre de 2019
This Motel was absolutely FILTHY! There was trash left around the room, gum squished into the carpet, MOLD in the shower and dirty sheets and pillow cases. When we went to ask for new sheets and toilet paper (as we had none in the room.) the man, who I assume owns the place, told us to "Get the hell out." And he locked us out of the office. To say this place was awful is an understatement, and the staff was even worse. DONT GO TO THIS MOTEL!
959kenzied
Pretty Good for a Budget-Rate Lodging
Opinión escrita el 31 de marzo de 2019
I knew that this was not going to be a "high rent" property when I booked the room. It isn't that, of course; it is a lower end property, but it has some very nice redeeming values. 1. The room was very large with two queen beds 2. The room was very clean 3. It is convenient to the Interstate highway 4. The shower had plenty of hot water and good pressure. For the money, this is a very good place to stay, and I would stay there again.
Stuart G
Shady and dirty
Opinión escrita el 4 de enero de 2019
Not worth the savings on this hotel. Beds are not comfortable. Peeling paint and super dirty walls and blinds. Mildew on shower curtain. Loud heater. The plumbing made all kinds of loud noises when I used hot water in the shower. Lots of people around drinking and smoking. Trash all over the parking lot. The clerk was not friendly at all. Never again!
lagT5483FA