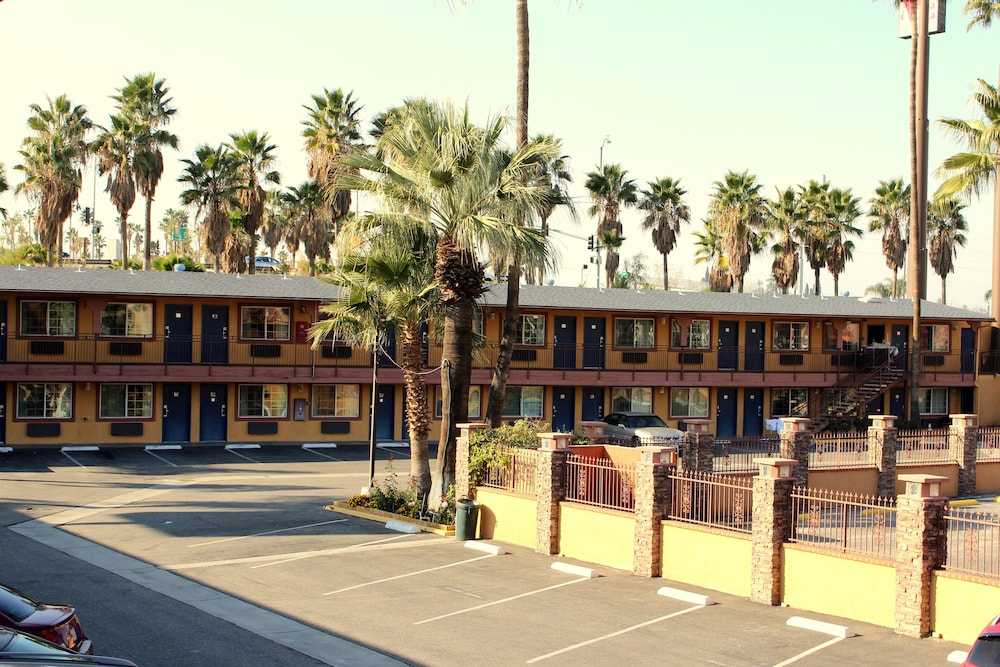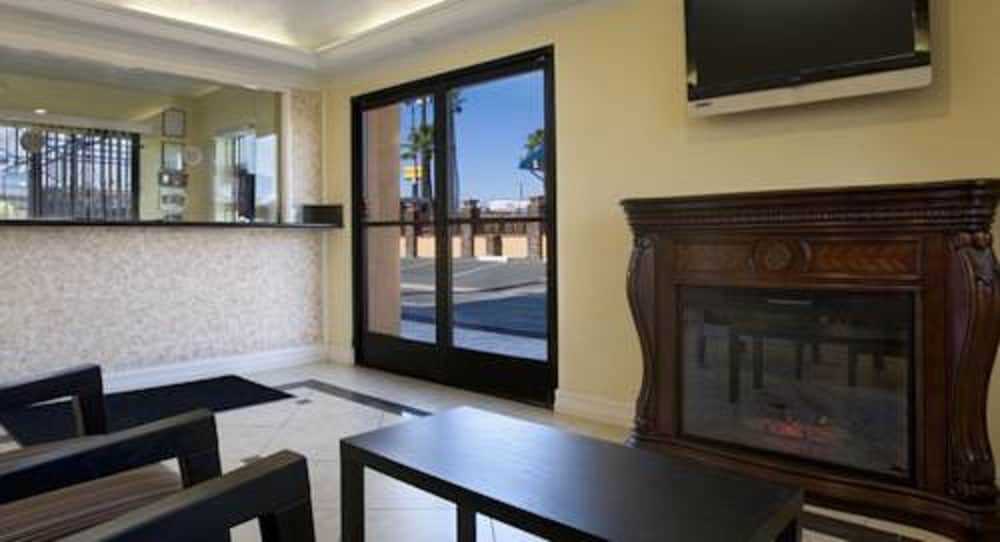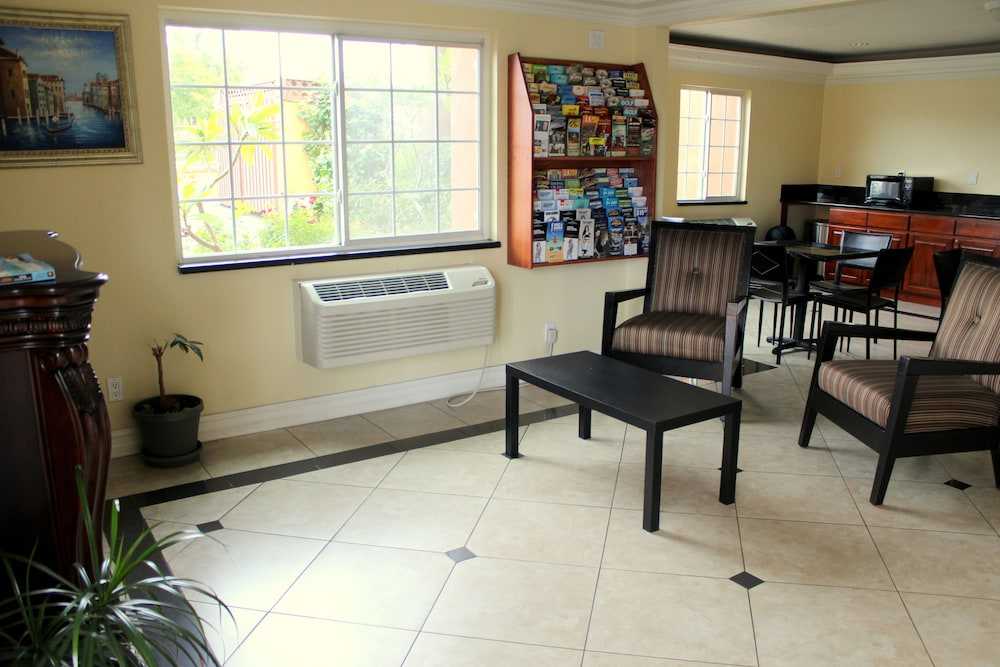 Revisión de TripAdvisor
Basado en 22 reseña
Ver todo
Si decides alojarte en Orange Show Inn San Bernardino de San Bernardino, estarás cerca del aeropuerto y a menos de 15 minutos en coche de Centro Nacional de Eventos y Muestras Orange y Universidad Loma Linda. Además, este hotel se encuentra a 16,8 km de Bingo y Casino San Manuel Indian y a 17,6 km d...
Más detalles
Disponibilidad
Selecciona la fecha de tu viaje
Selecciona la fecha de tu viaje para verificar la disponibilidad de habitaciones.
Información de la propiedad
Si decides alojarte en Orange Show Inn San Bernardino de San Bernardino, estarás cerca del aeropuerto y a menos de 15 minutos en coche de Centro Nacional de Eventos y Muestras Orange y Universidad Loma Linda. Además, este hotel se encuentra a 16,8 km de Bingo y Casino San Manuel Indian y a 17,6 km de University of California-Riverside. Con una piscina al aire libre de temporada y muchas otras instalaciones recreativas a tu disposición, no te quedará ni un minuto libre. Se ofrece también conexión a Internet wifi gratis y servicios de conserjería. Tendrás periódicos gratuitos en el vestíbulo, un...
Más detalles
Check-in a partir de las: 15:00
Check-out hasta las: 11:00
Comodidades de la propiedad
Servicios de recepción
Conserje
Calificación por los huéspedes
TripAdvisor
Calificación de Viajeros
Excelente

4

Muy bien

4

Bueno

3

Razonable

5

Mal

6
Perfil del Viajero
De negocios

1

En pareja

9

En solitario

4

En familia

3

Con amigos

2
Resumen de puntajes
Calidad del sueño

Habitaciones

Limpieza

Relación calidad-precio

Servicio

Ubicación
Moreno family
Opinión escrita el 21 de mayo de 2018
Great place, very kind, my family and I loved our stay and we will stay there again in the future with my family. We also had dinner and went bowling all within a 2 mile radius from the hotel so conveniently located
morenosid68
Terrible experience- do not stay here
Opinión escrita el 13 de septiembre de 2017
We were looking for something inexpensive since we would only be sleeping there. When I found this motel, I thought it would be one of the better options in the area based on location to the NOS events center where we were spending the day. When I tried to check in to the motel, they were unable to find my room that I had booked over a month prior to our stay. Eventually they got us set-up with a room and we brought our stuff over. We basically threw everything in our room and left for our event. When we came back later that night- we noticed all the issues. It appeared as if they gave us a room not meant to be in working order- the sheets were not only dirty, but there were also burn marks in them (they put us in a smoking room, but I still find this completely unacceptable). There were french fries in the air vent and we even found an empty medical marijuana container under the bed. The air vent in the bathroom did not have a cover on it and was covered in dust. There were holes in the walls (one looked like someone had punched the wall) and the floors and sinks were dirty. In the corner by the window, there was a waxy-looking substance that we didn't dare try to figure out what it was. When we turned on the TV to watch before bed, there was no signal on any input. At this point it was almost 1 am, so we just tried to sleep. The beds are not very comfortable and I had a hard time sleeping. The wi-fi is spotty at best. Their "breakfast" in the morning was just pre-packaged muffins, so we opted to hit the road. I voiced my concerns with someone at the front desk upon check out and they did give us a small discount (about 20%) for the inconvenience, but I would highly recommend thinking twice before staying here. The only "pro" was the location to the event as it was in walking distance.
Nikki B
meh! not the greatest.
Opinión escrita el 19 de mayo de 2016
I knew this was going to be your typical freeway off ramp hotel/motel so I wasn't expecting royalty. The parking lot is small, but we arrived early and managed to find parking. They offered us 2 neighboring rooms on the first floor, which was nice. However, our room keys kept giving us a hard time and we had to keep going to the office to get them programmed again. Which was a hassle when we'd arrive back to our room after a long day. Our TVs kept losing signal as well, management had to come to our rooms to reset it atleast twice. Also, we were set up in non-smoking rooms and they smelled so much like cigarette smoke. The pool was small but seemed to be very clean. Like I said hotel is your basic roadside hotel but at their charge rate you'd think the rooms wouldn't give you such a hassle. Another upside though was the Mexican food restaurant next door, great food!
jcamp0s12
Not the best
Opinión escrita el 10 de novembre de 2015
Stayed here for a week, the wifi did not work that well and the strength was no good. Kept losing signal. The continental breakfast was just muffin and coffee. Was disappointed with that. I did not expect a full English, but expected more than a muffin. The room however was comfortable but it needed refurbishing . The pool is in the corner of the parking lot, not ideal and did not use. Would not stay again. But at the end of the day, you do get what you pay for
lindaandmartin
Not the worst, but not good.
Opinión escrita el 29 de agosto de 2015
Based on the majority of the reviews I've seen for this motel, I thought this would be a nice place to stay while I was in the San Bernardo area. The motel is older, I understood that, but I was under the impression that it had been/was in the process of being renovated. It was not. I'm not one of the snobs that takes off points for outdated decor or funky wallpaper, but I do expect that the room has been maintained and this room has not been maintained. The door was extremely difficult to open. After finally getting the door open, I saw why. It look like the door has been kicked in sometime recently and the frame was hammered back rather than being repaired properly. I could see where the molding was still separated from the frame and it wan't even painted over. The carpet was frayed at the entryway and transition to the bathroom area, but worse than that was the carpet was in desperate need of cleaning to the point I was not willing to walk on it in bare feet. The shower head was also in disrepair. While using the shower, it was spraying water over the top of the shower curtain and all over the bathroom. I had to dry off the toilet and floor after taking a short shower. The dresser in the room also looked odd when I first walked into the room. When I looked closer at it I saw that the top of the dresser had been sawed off (yes, sawed off) and a piece of plywood with rough edges was fastened on the top with drywall screws. There was no coffee maker in the room as stated in their list of amenities. Coffee is very important to my wife first thing in the morning. When I went to the office to check out their breakfast, and get some coffee, I was also disappointed. Their "free breakfast" consisted of a total of 8 packaged muffins, a small coffee pot and no newspapers, as also stated in their list of amenities. I didn't see anything I would consider a health hazard as some people have reported, but I also didn't see the same motel that some people have raved about. When we got into the room, we were tired and just wanted to go to sleep, so we the condition of the room wasn't that big of a concern and we were leaving early the next morning. To their credit, the bed was comfortable, the staff was friendly and it wasn't over priced.
Philip D