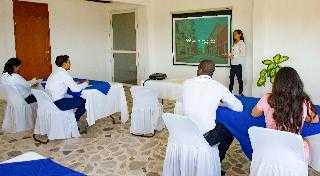 Avaliação TripAdvisor
Baseado em 39 avaliação
Ver todas
Localização do Estabelecimento O Hotel U Xul Kah fica a escassos 3 km de alguns dos lugares mais emblemáticos de Campeche, incluindo Puerta de Tierra e Mercado Central. Este hotel encontra-se ainda nas imediações de outros pontos de interesse, incluindo Catedral de Campeche e Fuerte de San Miguel.Qu...
Mais detalhes
Disponibilidade
Selecione a data da sua viagem
Selecione a data da sua viagem para verificar a disponibilidade dos quartos.
Informações do estabelecimento
Localização do Estabelecimento O Hotel U Xul Kah fica a escassos 3 km de alguns dos lugares mais emblemáticos de Campeche, incluindo Puerta de Tierra e Mercado Central. Este hotel encontra-se ainda nas imediações de outros pontos de interesse, incluindo Catedral de Campeche e Fuerte de San Miguel.Quartos Sinta-se em casa num dos 42 quartos com ar condicionado e um minibar. As unidades contam com uma varanda. O acesso à internet sem fios grátis permite- lhe ficar sempre em contacto. Ao final do dia, assista a uma seleção de canais digitais. As casas de banho estão equipadas com um polibã e arti...
Mais detalhes
Entrada a partir de: 15:00
Saída até: 11:00
Comodidades do estabelecimento
Serviços de recepção
Concierge
Avaliação dos hóspedes
TripAdvisor
Pontuação dos viajantes
Excelente

14

Muito Bom

4

Bom

7

Razoável

7

Ruim

7
Perfil dos viajantes
Negócios

7

Romântica

9

Viagem a sós

2

Família

14

Viagem com amigos

3
Resumo das pontuações
Atendimento

Custo-benefício

Limpeza

Localização

Qualidade do sono

Quartos
BEWARE OF PHOTOS! This Hotel y a cheap dirty motel.
Avaliou em 6 de maio de 2016
This is the first time in my entire LIFE I take time to review anything!!!! First time EVEr! This hotel was so so sooo bad, no one else deserves to come here without being warned firsthand. We came to Campeche on a business trip, 3 nights in total. We would have left this awful place before but our company had already paid for our accomodation and hotels in town were completely booked and sold out for the week. First of: the pictures you see online are completely misleading. I mean NO resemblance whatsoever to its dirty reality. Front desk is slow, inefficient and they don't care about anything you tell them. Everything is dirty! The sheets have old stale blood stains on them and the rooms are despicable, poor and with dodgy stains everywhere. Air conditioning is smelly, old and noisy. BREAKFAST IS ROTTEN! literally! Our butter was filled with rotten expired clogs, coffee was reheated and filled with weird old particles floating in it and to summarize, this was the worse food I have ever tasted in my life. BUT Then to top it off: on the first night the whole hotel was filled with super noisy children running up and down the hallways, screaming and prank/knocking on doors until 1 AM and re-starting their mayhem at 5AM! But that was NOTHING compared to the third night!!!! I am actually writing this "live" from hellish night-3. The hotel is now filled with Mexican cops!!!!! I mean the whole place is crawling with police. They all decided to stay here and are pretty damned scary! They yell on corridors and and make weird gun noises? My work colleague and I are locked in our bedrooms waiting for the night to be over so we can get the hell out of this dump. DON'T STAY HERE!!! (I am literally telling you this with a barricade of room furniture I had to pile upon my door so that no one would come in!!!!!!!!!)😱 I'll attach some photos so you can see what I mean. Oh! ... Also there was never hot water.
Romy M
Perhaps acceptable if you were backpacking. Not recommended.
Avaliou em 20 de janeiro de 2016
Pictures are worth 1000 words. The outside of the hotel looked nice, but the inside tells another story. It's a very old apartment type of building with the oldest equipment possible - an old school CRT TV, a super loud AC and very uncomfortable beds. The good thing about the loud AC is that it covers the noise coming from the outside, and the AC actually works fine. The bed covers and sheets we got were very worn, there were holes and stains... There was no hot water when we arrived at night after a tiring journey, the staff actually tried to help, so for his service, I would give a four star. He was up on the roof checking the heater at night, he also checked another empty room, which also didn't have hot water so there was no point in switching to a new room. He didn't speak much English though. In the morning, there was finally hot water coming from the faucet, but still no hot water coming from the shower. Wi-fi was not great in the room, if you tilt your phone to the reception is is slightly better. Basically we had to go downstairs to use the wifi. All in all, not a great value, for the same price, you can get better hotels, or just spend a bit more and you will be able to get a good hotel. We booked this hotel through hotwire.com and you know how the site works, the name of the hotel is not revealed until you confirm your booking and the payment is non-refundable. We wouldn't have booked this hotel if we knew this is the one we were getting. In not wanting to waste the sunken cost we've already paid, we did not book another hotel.
Vagabondie
Low quality, not so low price
Avaliou em 27 de dezembro de 2014
We stayed here one night, for a room with 2 double beds (even if I asked for a simple double room) and bathroom ensuite without breakfast they charged us 600 M$, which I think is a rather high price for a venue like that. WiFi only available in the hall. The curtain where transparent and the room was very noisy because of the road with a lot of traffic just in front of the hotel, and even with all the windows closed noises came through the air conditioner on the wall. Beds were both uncomfortable. I do not suggest to stay in this hotel at all unless is your only option.
LucaD3
Skip this place even if with small budget
Avaliou em 11 de setembro de 2014
The photos are not real. We stayed here just because it was a rainy night and ohters hotels as City Express and Holliday Inn were without available rooms. There is no hot water even if for showers. The staff didn't fixed that or change us to another room. There is no internet wi-fi into the rooms. The bed is very hard and not confortable. They push you to pay in cash promissing a good breakfast at mornig, but it is too poor. The air conditioning looks like a rocket launching and as the city is very hot even if in rainy days you can't turn it off. Bad choice. Skip thia place.
BikeTripperSP
Terrible sus instalaciones, no se como están abiertos así!!!
Avaliou em 15 de maio de 2018
Al llegar a la recepción no tenían servicio para pago con tarjeta, me dieron un control para la televisión y otro para el sistema de cable y uno mas para el clima junto con la llave mecánica. Me comentaron que si no tenia luz en la habitación YO tenia que subir las pastillas al lado de la cortina! (efectivamente así fue). Clima sin rendijas Alberca a medio llenar y sucia Bases de cama de piedra Camas con solo una sabana y sin sobrecama TV muy pequeña y muy arriba en una repisa Bichos en la habitación Closet con dos ganchos de plastico Cortinas descolgadas Puerta sin mirilla sin cerrojo por dentro Lo único rescatable es el servicio de la chica que estaba en recepción (lastima que no recuerdo su nombre), muy atenta.
jagamboaf