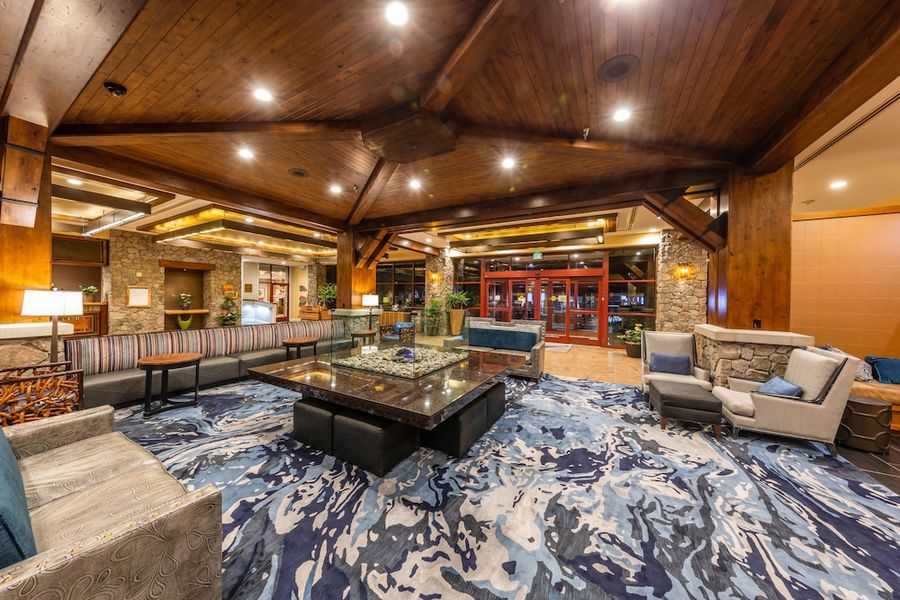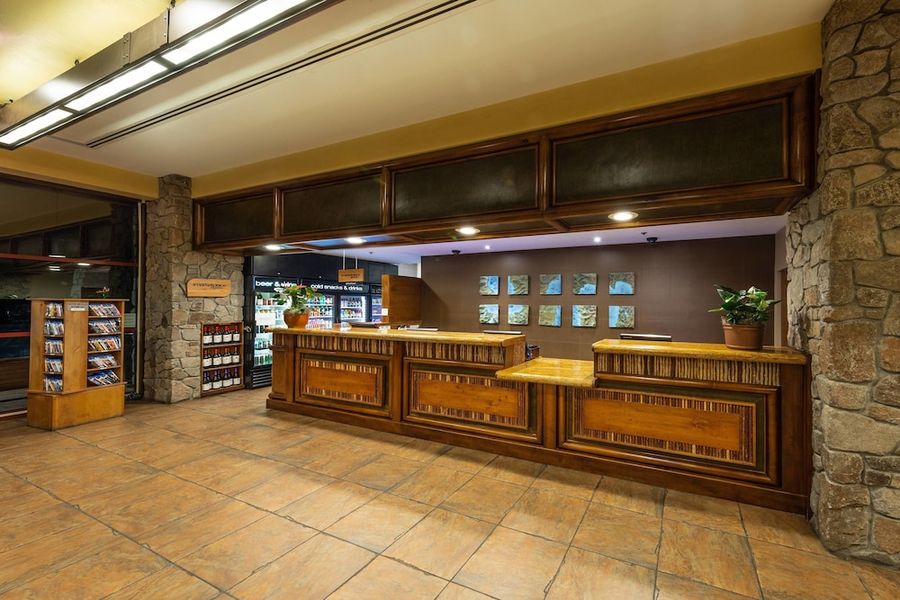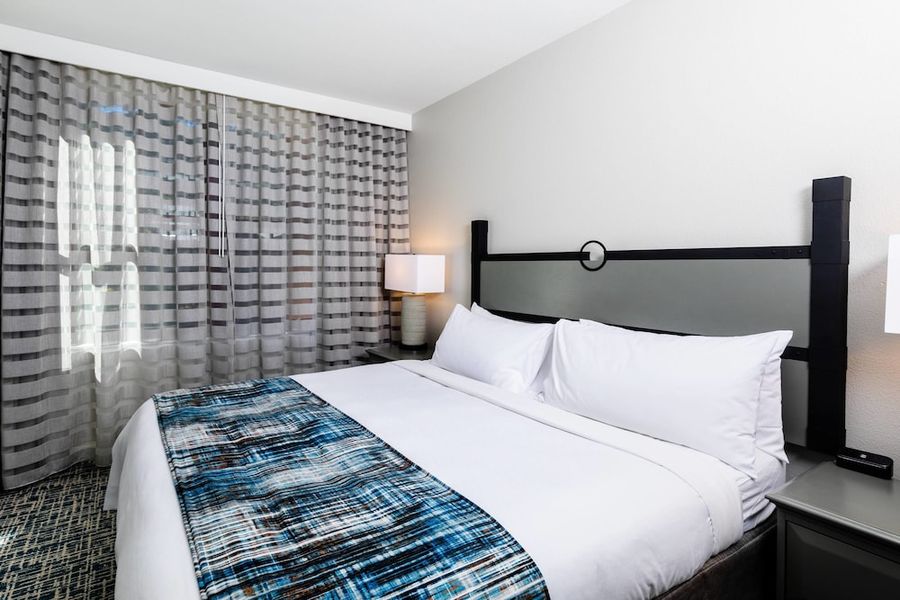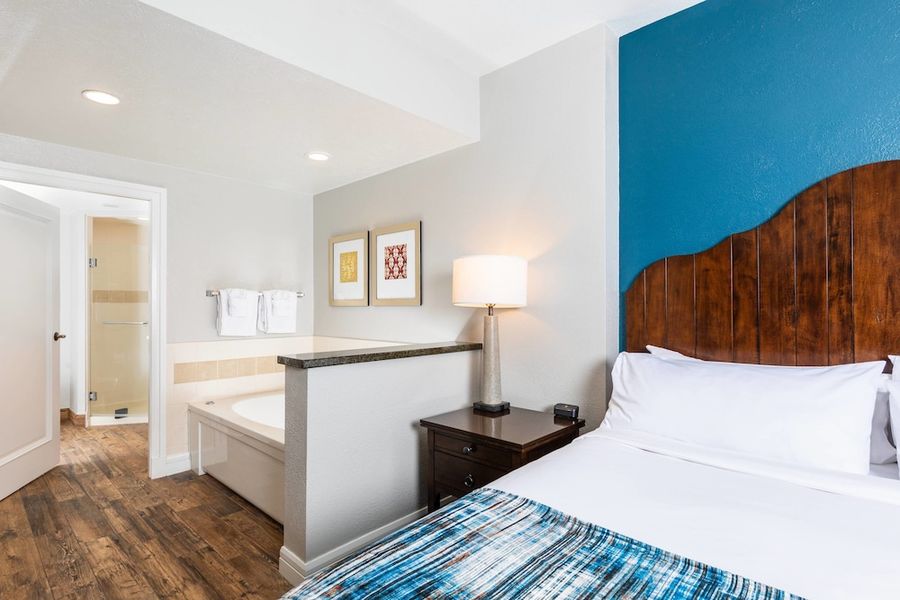 Property Location Located in South Lake Tahoe (Lakeside Park), Marriott's Timber Lodge is a 4-minute walk from The Shops at Heavenly Village and 9 minutes by foot from Lakeside Beach. This 4-star aparthotel is 1.7 mi (2.7 km) from Heavenly Ski Resort and 3.2 mi (5.1 km) from Nevada Beach. Distance...
More details
OpenWeather
Select the date of your trip to check room availability.
Property Info
Check-in starts at: 15:00
Check-out ends at: 11:00
Property Location Located in South Lake Tahoe (Lakeside Park), Marriott's Timber Lodge is a 4-minute walk from The Shops at Heavenly Village and 9 minutes by foot from Lakeside Beach. This 4-star aparthotel is 1.7 mi (2.7 km) from Heavenly Ski Resort and 3.2 mi (5.1 km) from Nevada Beach. Distances are displayed to the nearest 0.1 mile and kilometer. - Heavenly Gondola - 0.2 km / 0.1 mi - The Shops at Heavenly Village \- 0.3 km / 0.2 mi - Van Sickle Bi-State Park - 0.4 km / 0.3 mi - Heavenly Valley - 0.5 km / 0.3 mi - Casino at Harveys Lake Tahoe - 0.6 km / 0.3 mi - Casino at Harrah's Lake T...
4100 Lake Tahoe Blvd, South Lake Tahoe, CA 96150, USA - South Lake Tahoe, California - U.S - 96150
Property Amenities
Check-in starts at: 15:00
Check-out ends at: 11:00
Guest rating
TripAdvisor
Travelers rating
Excellent

664

Very Good

464

Good

126

Reasonable

66

Bad

45
Travelers profile
Business

25

Couples

409

Solo travel

25

Family

599

Friends getaway

117
Scores Summary
Cleanliness

Location

Rooms

Service

Sleep Quality

Value
Great location, clean hotel
Reviewed 25 november, 2022
Nice front desk staff (Alexis checked us in). Was given a privilege card- was not pressured into attending a time share presentation (it was mentioned however by concierge). Property well maintained and clean, the room we stayed at was clean. We stayed on 2nd floor Alpine and location was perfect. Easy walk to the village, Raleys, Van-sickle park, casinos
AJmomma127
DId not have a good experience with the service
Reviewed 3 november, 2022
We have been staying here several times. I really liked this place and left an excellent review after our first time. The last time we rented a 2 bedroom villa. When we arrived our room was not ready. The front desk staff seemed a bit rude, but I thought it could be just that day. Then we did not get any room service. They said it was due to Covid, but when I asked them if there are any covid restrictions in place, the lady laughed and said no. To request towels, I had to call a number, get some link and contact housekeeping through it. It never worked. Had to ask the concierge for towels. They won't even come pick up the trash. You had to leave it in front of the door for staff to pick it up. We had to walk around trash bags left in the hallway by people - not great. The fridge door was broken when we arrived, but after a call, it was fixed promptly. On the last day, when we were checking out, we were locked out of the room because it was 4 mins after check out time and they disabled our keys. I had to pull our luggage from our room and when I went to the front desk they were quite rude about it. I have never been locked out of my room at checkout time. We were traveling with a young child and an elderly person, so we had to do a couple of trips to the room for the check out. I think the hotel did not have enough staff, but still charged for the room although it did not provide service. After several years of going there, we won't be back again. For the price and rating of the hotel, this was a really bad experience
HighClub
Still love the property, but being an "Owner" no longer matters here
Reviewed 9 october, 2022
October 2022 Experience – Good and Bad We've "owned" our Marriott Timber Lodge timeshare for about 15 years. During that time, we've brought and met friends and family up at Lake Tahoe. It's been really great. The way it works (or used to) is I'd make our annual reservation on the Marriott "Owners" website, noting all our preferences: high floor, view of the gondolas, and, if possible, a deck (only a small portion of the rooms have a deck, but it's really great to sit out there and sip your coffee in the mornings). We arrived yesterday, October 8, a little later than usual, because we stopped to show our granddaughter the Manzanar historical site, which is an important part of American history. When we arrived, we were welcomed, "Welcome back!" This is something we've grown used to and something we really enjoy hearing, after a long, ten-hour drive. Then I started the check-in process. None of our requests were fulfilled, not one. I was told that there were no requests in the system; nor was my phone number or Marriott number or anything else. Interesting, since they know where to send our maintenance and property tax bills every year and our $1600 annual check for maintenance to them seems to clear just fine. We were actually first assigned a room overlooking the transit center. We were put there the first time we visited, before we knew the lay of the land. These rooms enjoy the continual sounds of buses arriving and departing, as well as trash trucks, and the like. No thank you. I told my husband this. His response: Hell, no. The front desk supervisor, Mallory Wolfe, was very solicitous and told us she'd work with managers in the back to get us a great room. Well, the new one is better, but let's see how our requests were handled. High floor? Nope. We are in the Alpine building on what the elevator thinks is the third floor, but is actually one floor above the pool. That would be the second floor. Can't get too much lower. View of gondola? Nope. We have a view of the street in back of the building and the parking lot of the condos behind the Timber Lodge. Quiet now, but it's the main exit from this property and others. On the plus side, we did see a bear roaming down this street last night, so that's something. Deck? Of course not. Only a few of the rooms have this extra benefit; certainly not the ones on a lower floor facing the street. Mallory the supervisor was, as I said, very nice about all this and even brought us a bottle of wine. She brought it to our room and asked how we liked our new room and view. I welcomed her in and showed her the view of the street and parking lot. She seemed surprised. She said it is considered a prime room, but that maybe it's only during winter months when you can see snow on the mountain. It is fine, and I'm sure we'll enjoy our visit, but it's not what we requested. What really bothers me is the advice she gave me: In the future, contact Ally Marschak, the "Rooms Controller," who will ensure that we get the room we want. Okay, what? I've been an owner for 15 years and have made requests. 90% of the time we've gotten what we requested. Now, as Mallory said, "The room you want is in high demand. They are assigned on a first-come, first-served basis." Huh? Now I must contact an individual to make sure I get in the queue for a good room? How about giving me this person's number and email when I made the reservation eight months ago? The rooms (we got a two-bedroom) are nice, if dated and worn. The same uncomfortable couch and chairs we've come to know and, if not love, then at least recognize. We love this place in general and will always bring friends and relatives with us when we come in the future. I do want to warn you, though, that being an "Owner" doesn't mean anything anymore. By the way, my husband thinks that, perhaps if we'd gotten here at 4 PM instead of 6:15 PM, we might have gotten the room we requested. We'll never know. But what is the point of being an owner and being invited to make specific requests when booking a reservation months in advance, if those requests go nowhere? Why are owners not given some sort of preferential treatment because we do pay a lot for the "ownership"? The magical "system" is always blamed for something going awry – like not having my phone number or reservation information or email. Why can't this system collect requests and pre-assign rooms based on these requests? Tell owners this is on a first-come, first-served basis. Fine. But at least convert a request into a fulfillment. There's an idea! And, yes, we do know that requests cannot always be accommodated. But it seems that requesting something eight months in advance should count for something. Bottom line: Mallory was friendly and we appreciate the bottle of wine, owner week reservation process doesn't work, pointless to request a particular type of room – you get what they give you upon check-in, sad to learn fifteen years of "ownership" mean nothing.
BetsyInSouthernCA
A very nice place to stay
Reviewed 21 september, 2022
We often spend some time in South Lake Tahoe and this is one of our favorite places. It's big, so has a lot of guests. Checking in right at 4 pm can be a bit congested but it all works out. They have a nice pool and they are located right ext to the "heavenly" ski lift with many shops and restaurants near by. Plan to walk a LONG way to your room because it's spread out. The rooms sort of surround the large pool area. We always ask for a pool view so we don't end up with a room near the main road. Plan ahead, they fill up early.
Saxeygirl
Great week stay at Marriott Timber Lodge
Reviewed 12 september, 2022
Had a wonderful stay and experience at the Marriott Timber Lodge Sept 4 - 11 2022. We reserved our week through Interval. We were assigned a 4th floor 2 BR location with balcony facing Tahoe Blvd - could not see the lake but balconies are not common at this lodge (top floor is 5). All staff (front desk, valets, maintenance and cleaning) were very friendly, welcoming and professional. No complaints - only praises. Rooms were very nicely furnished and clean - did not look dated. Had full kitchen that was basically equipped - note that coffee maker is drip and filters/coffee are supplied. Used washer/dryer which worked great. It was a long walk to our room from the elevator which might be a negative for some visitors. We attended the fitness yoga and core sessions including yoga sessions in the forest behind the resort, at the local beach (free access after Labor Day), and at the Marriott Grand Residence pool deck. Kristin led the yoga sessions and was a great fitness session leader and friendly individual. Note that you can request a key card to the (more upscale) Marriott Grand Residence located next door to use their pool/facilities. Fitness center looked well equipped with separate room for weight lifting. Note that there were not many shaded locations at the pool so get there early if you need shade. I wished they would add dining options or swap out the Fire + Ice mongolian fried food dining option for a more mainstream offering. Be aware that many dining and activities (e.g. Gondola) shut down or have shorter hours after Labor Day.... however our overall experience at Timber Lodge and at all locations (Emerald Bay, beaches, traffic) were much easier and pleasant with significantly fewer visitors.
Steve O