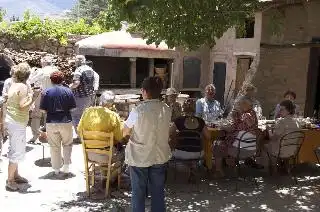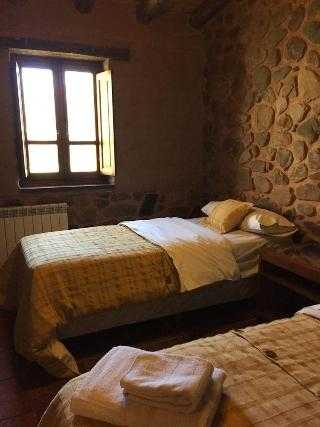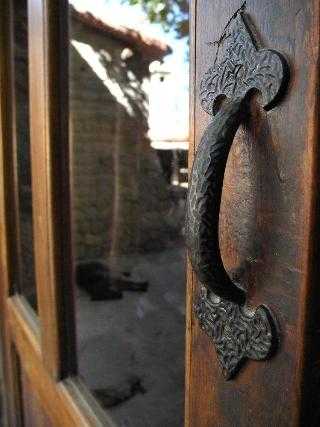 Avaliação TripAdvisor
Baseado em 84 avaliação
Ver todas
Este confortável hotel fica em Villa Jardin de Reyes. Com um pequeno número de apenas 6 quartos, este hotel é muito conveniente para uma estadia tranquila. As áreas comuns do estabelecimento incluem ligação Wi-Fi à internet. Os viajantes apreciarão a receção aberta 24 horas por dia.
Mais detalhes
Disponibilidade
Selecione a data da sua viagem
Selecione a data da sua viagem para verificar a disponibilidade dos quartos.
Informações do estabelecimento
Este confortável hotel fica em Villa Jardin de Reyes. Com um pequeno número de apenas 6 quartos, este hotel é muito conveniente para uma estadia tranquila. As áreas comuns do estabelecimento incluem ligação Wi-Fi à internet. Os viajantes apreciarão a receção aberta 24 horas por dia.
Entrada a partir de: 15:00
Saída até: 11:00
Comodidades do estabelecimento
Comida / Bebida
Restaurante
Serviços de recepção
Concierge
Depósito de bagagens
Sem berços/camas para crianças disponíveis
Sem camas desdobráveis/extra disponíveis
Apenas trabalhadores de áreas essenciais: NÃO
Estabelecimento para não fumadores
Lavandaria
Acesso para cadeiras de rodas – não
Estacionamento grátis nas imediações
Receção 24 horas
Internet sem fios grátis
Serviços de lavagem a seco/lavandaria
Sem elevadores
Café/chá nos espaços comuns
Apoio para excursões/compra de bilhetes
Equipa multilingue
Pequeno-almoço grátis
Estacionamento na rua
Cofre na receção
Biblioteca
Jardim
Serviços de concierge
Hora de check-out
O estabelecimento não está atualmente a implementar quaisquer medidas adicionais no domínio da limpeza
Elevador não disponível (estabelecimento de piso único)
Desfrute de fantásticas vistas a partir do jardim ou tire partido das várias comodidades e serviços ao seu dispor, incluindo Wi-Fi grátis e serviços de concierge.
Avaliação dos hóspedes
TripAdvisor
Pontuação dos viajantes
Excelente

28

Muito Bom

22

Bom

12

Razoável

10

Ruim

12
Perfil dos viajantes
Negócios

0

Romântica

42

Viagem a sós

2

Família

18

Viagem com amigos

15
Resumo das pontuações
Atendimento

Custo-benefício

Limpeza

Localização

Qualidade do sono

Quartos
Belíssima suspresa!!
Avaliou em 13 de maio de 2015
Ao chegarmos na frente desta pousadinha, me passou um frio na barriga: era um muro de pedras empoeiradas (alias, a cidade de Tilcara é inteira assim). Mas ao adentrarmos na recepção, uma bela surpresa: aconchego e hospitalidade, assim como a limpeza e fofurice do local. O quarto é muito aconchegante, bem a moda andina, e as janelinhas do quarto e do banheiro abrem para um belo jardim, cheio de flores, arvores e cactos, com a bela paisagem dos andes ao fundo. Tem wi-fi gratis, funciona bem. Pertinho do centro, só descer a ladeira. No dia seguinte, tínhamos que acordar muito cedo para seguir viagem, e o café da manhã foi simples, porém um dos mais fofos que já experimentamos: Sergio, um dos anfitriões da casa, acordou de madrugada para preparar pãezinhos e broas quentinhas com geleias caseiras para nós! Tudo com muita simplicidade e amor! Recomendamos muito muito este hotel!!!!
MariSiegel
No water, dirty and so expensive
Avaliou em 27 de abril de 2017
We booked several nights at 100€ and were expecting a nice hotel. The rooms were dirty, we found dead cockroaches under the bed. There was no water at all, we had to buy bottled water to brush our teeth. Plumbing problems waking us up in the middle of the night. The personal is lost, they are inexperienced, their answer to everything is calling the owner who never picks up. Breakfast is disgusting. Old bread so hard. All the guests were making fun of that. Most tables were complaining about the dirtyness of their rooms and the terrible breakfast. Besides they charge you extra things on the invoice when they promise you will get a discount because you could shower or sleep. No wonder it is ranked as one of the worst in the city. Please avoid!!!
benblaz
Terrible , avoid
Avaliou em 19 de janeiro de 2016
Can't count the ways this hotel was terrible - hotel was locked and empty when we arrived in the middle of the day, by chance caught sight of reception/cleaning lady by chance after knocking and waiting outside for 15 mins in 40 degree heat. Rooms were super overpriced and hotel manager was a rude money grabbing guy who over charged us based on rate he had originally given, so watch out. The reception/ dining room isn't cleaned in the morning when guests finish breakfast so it sits there dirty for hours until the two women running the show decide they have had enough of chatting and playing on their phones in the kitchen, avoiding contact with guests. There is no dinner or lunch served so nothing as its described on the website or trip adviser site. Rooms are decent but bathroom amenities are more like a hostel and not up to scratch for insane price you pay - bathroom light didn't work, toilet seat broken, not particularly clean. All in all, avoid at all costs. Stayed in Posada con Los Angeles as well in Tilcara and was 1000 times better and cheaper too.
eplmiu
dirty poor managed hotel
Avaliou em 1 de dezembro de 2015
.As soon as we walked into the hotel the front desk lady was chatting online in her facebook page. Didn´t even look at us! She handed out a pen and a piece of paper to write down our names and the license plate of our vehicle. The room We stayed was supposed to be the "top suite" hmmmm.....no towels, no vanities, bed wasn´t made the trash can was full of garbage The tub had loose hairs all over...... After our complaint the same girl from front desk came up with towels and ready to clean the room..... The hotel was empty (Now you know why) The complimentary breakfast was terrible, old pastry, cold coffee, dirty dishes all over the restaurant area and the same girl could give a damn about it! She kept looking her facebook page
Luz C
Half-hearted and over-priced. Only stay if you have to.
Avaliou em 7 de agosto de 2015
I think this place might have new owners from the last reviews, who are charging the old prices but running it like a hostel. The building is nice, but the rooms feel a little scruffy and it is hugely overpriced. The whole place needs a good clean and the reception toilets were either used as store cupboards or hadn't had their bins changed for at least a week (in a country where toilet paper is put in the bin). We arrived and waited 20 mins in the empty reception, to then be told they didn't have our reservation, but they grudgingly let us stay - which we needed as other places in town were full. (They said they had wanted to keep the place empty as they were having a large group the next day). They charged us the whopping USD138 up front and gave us a large and spacious room upstairs at the back (which was quiet and comfortable but a little past its best, feeling like a hostel dorm not a luxury hotel). The lady at the front desk refused to book a restaurant for us that night, telling us we should do it ourselves. I don't think the hotel offers food nights anymore - the large open plan kitchen area off reception seemed to be used by the staff to sit in and avoid talking to guests. But it is close to several nice bars and restaurants.
Fern_Fronds