Reflect Krystal Grand Nuevo Vallarta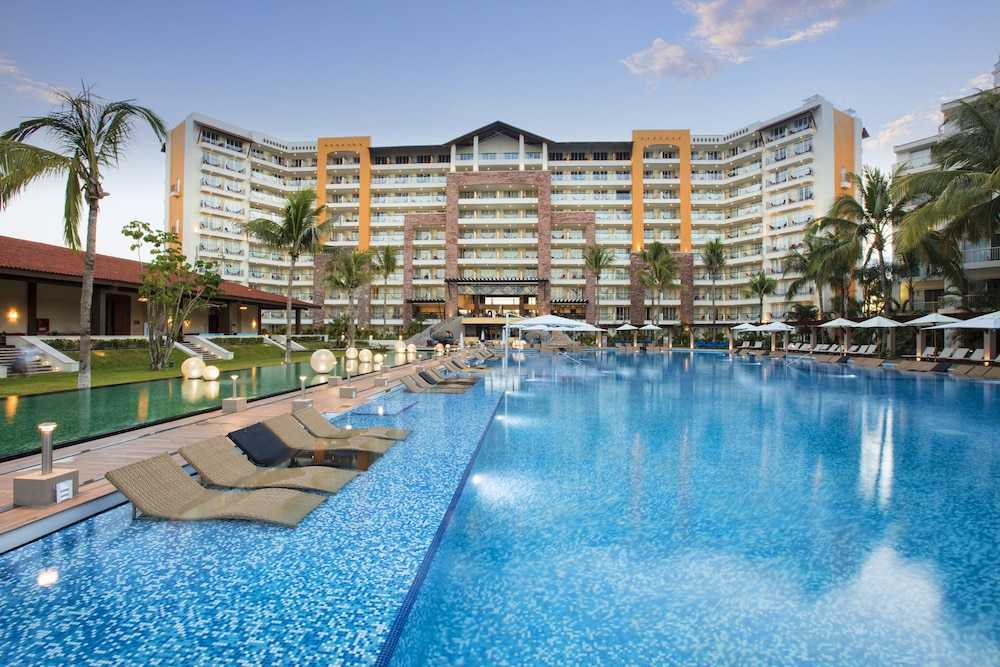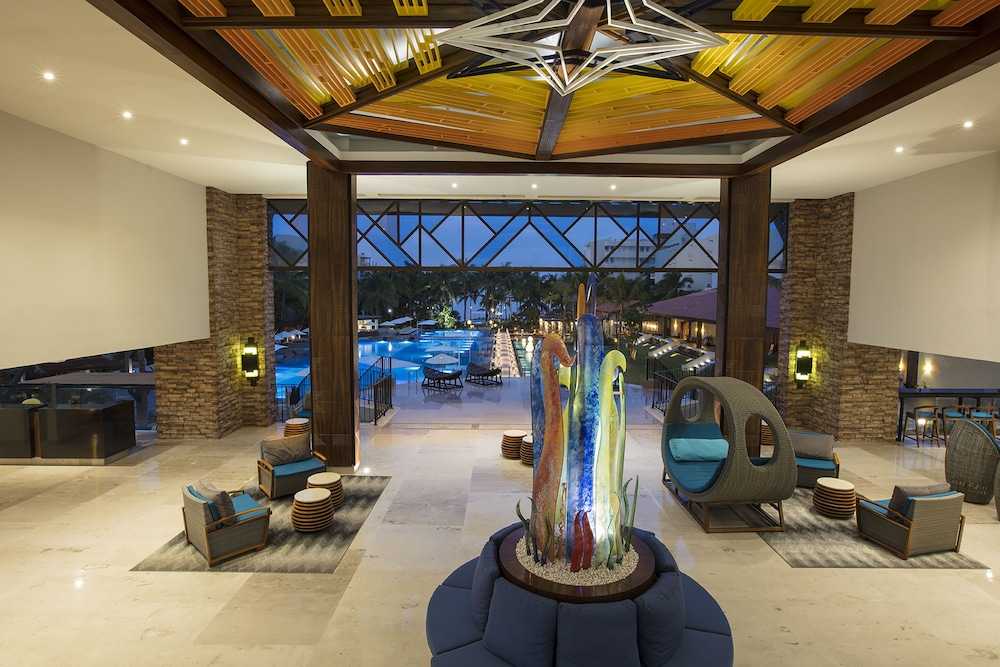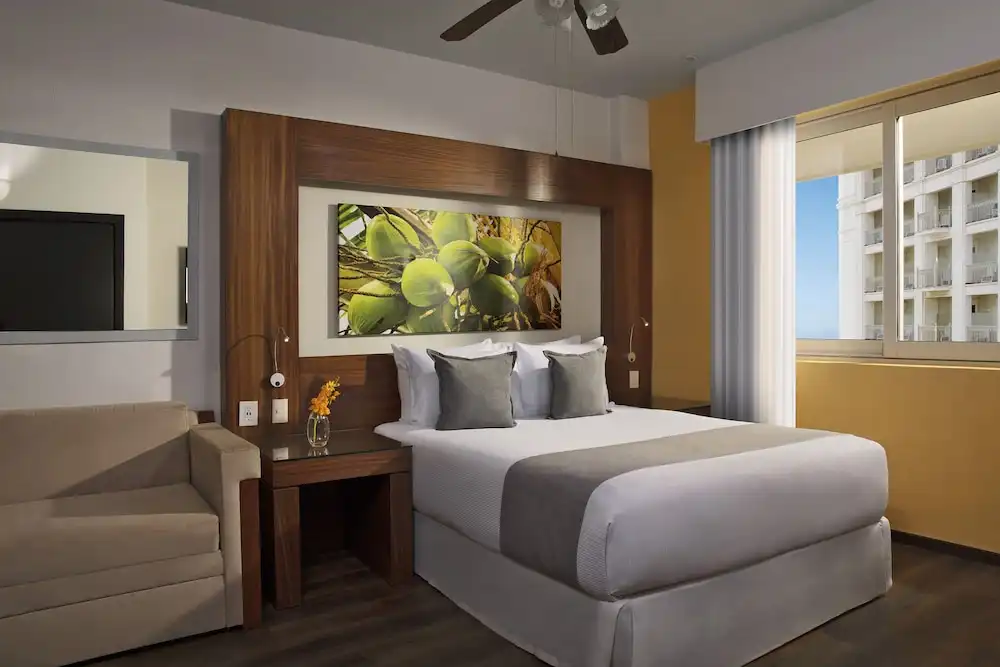 Avaliação TripAdvisor
Baseado em 3582 avaliação
Ver todas
O hotel situa-se junto à magnífica praia de Flamingo, no animado centro turístico na baía de Banderas. Poderá realizar longos passeios a pé numa das mais compridas praias da América do Norte. Alcançará rapidamente o Aeroporto Internacional de Puerto Vallarta em cerca de 15 minutos pela nova estrada ...
Mais detalhes
Disponibilidade
Selecione a data da sua viagem
Selecione a data da sua viagem para verificar a disponibilidade dos quartos.
Informações do estabelecimento
O hotel situa-se junto à magnífica praia de Flamingo, no animado centro turístico na baía de Banderas. Poderá realizar longos passeios a pé numa das mais compridas praias da América do Norte. Alcançará rapidamente o Aeroporto Internacional de Puerto Vallarta em cerca de 15 minutos pela nova estrada nacional. Existe um centro comercial a cerca de 10 minutos. O hotel oferece serviços de elevada qualidade, sol todo o ano, uma praia e facilidades para praticar surf num ambiente descontraído. Dispõe de um total de 129 quartos, dos quais 32 suites. Na área de estar encontra-se uma recepção com cofre...
Mais detalhes
Entrada a partir de: 15:00
Saída até: 11:00
Comodidades do estabelecimento
Piscina e comodidades de bem-estar
Piscina
Serviços de recepção
Depósito de bagagens
Avaliação dos hóspedes
TripAdvisor
Pontuação dos viajantes
Excelente

1437

Muito Bom

804

Bom

614

Razoável

356

Ruim

371
Perfil dos viajantes
Negócios

62

Romântica

1139

Viagem a sós

42

Família

1571

Viagem com amigos

457
Resumo das pontuações
Atendimento

Custo-benefício

Limpeza

Localização

Qualidade do sono

Quartos
Nice place, but it was disappointing / Lugar lindo, mas foi decepcionante.
Avaliou em 15 de janeiro de 2020
We stayed 8 days and had problems with check in, housekeeping, wifi, hotel cleanliness, maintenance and dinner. I understood as a resort limitation for the services. In restaurants, there were few waiters and lot of time to attend. The food wasn't hot enough. Some dinners we gave up and left. The cleanliness left something to be desired everywhere. I recognized the efforts of some employees. They tried to make our stay better. I especially highlight concierge Judith, beach bartenders Jorge and Erik. I complained to concierge Judith and she took action on most issues. She was very kind. She was very kind and showed concern for us during our stay. Jorge and Erik were very kind and attentive to my 5 and 10 year olds. Who pleases the children, pleases the whole family. It is a small resort with amazing rooftop sunsets, a beautiful beach and a nice pool. I believe the resort needs to be more welcoming and cozy. A cleaner environment, simple but well made food, and more attentive service would be enough in a so beautiful place. Ficamos 8 dias e tivemos problemas com o check-in, serviço de arrumação, wifi, limpeza do hotel, manutenção e jantar. Entendi isso como uma limitação do resort para os serviços. Nos restaurantes, havia poucos garçons e muito tempo para comparecer. A comida nunca não estava quente o suficiente. Alguns jantares desistimos e fomos embora. A limpeza deixou algo a desejar em todos os lugares. Eu reconheço os esforços de alguns funcionários. Eles tentaram tornar a nossa estadia melhor. Destaco especialmente a concierge Judith, os garçons da praia Jorge e Erik. Eu reclamei com a concierge Judith e ela tomou medidas na maioria das questões. Ela foi muito gentil e se mostrou preocupada conosco durante toda a estadia. Jorge e Erik foram muito gentis e atenciosos com meus filhos de 5 e 10 anos. Quem agrada os filhos, agrada a família toda. É um pequeno resort com um pôr do sol incrível na cobertura, uma bela praia e uma ótima piscina. Eu acredito que o resort precisa ser mais acolhedor e aconchegante. Um ambiente mais limpo, comida simples, mas bem feita, e um serviço mais atencioso bastariam em um lugar tão bonito.
leandroa890
Um destino de eleição para descansar o corpo e a alma
Avaliou em 7 de novembro de 2018
O resort Reflect Kristal Grand Nuevo Vallarta é um excelente local para descansar o corpo e a alma. O quarto era amplo e confortável, a vista fantástica para a piscina e para o mar. As traseiras do hotel são também fantásticas, com vista para as montanhas verdejantes que rodeiam Puerto Vallarta.
Maria F
Krystal grand nuevo Vallarta
Avaliou em 25 de outubro de 2021
Fabulous time at Krystal Grand Nuevo Vallarta . Happy hour with funny guy Yair awesome. Full of energy , people here like to have a lot of fun !!!! Everyone having a great time . Staff really try to make your stay wonderful
F2288QUkarenj
Good Entertainment Team…Hard Workers…Very Poor Communication regarding dinner buffet being closed 2 consecutive nights
Avaliou em 2 de outubro de 2021
The Entertainment Team was great - the resort needs to get them a working sound system to use though…shout out to Gil and Maggie for the great job in hosting the activities and involving people of all ages. The employees working the beach and poolside drink service were fantastic and worked really hard in the hot weather to ensure everyone was well hydrated and comfortable. The resort definitely has a communication problem with guests and even with their employees - they were more than happy to sell me their all-inclusive meal plan at the full rate but failed to inform us that they would close the buffet for dinner for 2 nights. When I asked an employee why they were closing for the second night, I was told they were working on the benches in the booths where people sit and eat. Please note there are only two booths and they account for less than 5% of the overall seating that is available. The interesting thing is the buffet was open for both breakfast and lunch on those days. And when they opened for breakfast after that second night no work had been done on the benches. The resort needs to prepare their employees a little better when they decide to shut the buffet down consecutive nights for dinner…and maybe offer a prorated refund on their all inclusive meal plan if they aren't going to serve dinner. Bottom line is that the employees work hard and do their best with what they are given to work with…the resort should look into being a little more transparent and communicate better with their guests.
CBFamily1625
THE VACATION I DIDN'T KNOW I NEEDED
Avaliou em 13 de setembro de 2021
I arrived on Saturday, September 4, 2021 for a week long birthday getaway and I was a little bit cranky to say the least!! I had been up for a red eye flight and was exhausted. I am a little embarrassed by my rotten mood looking back lol . . . . this however, did not seem to bother the sweet concierge, Aileen. She took over my check in from the front desk clerks (my spanish is not that great) and Aileen could communicate very well with me. She booked my dinner reservations for the first two evenings and provided me with her cell phone information and told me to contact her with anything at all. Thank you sooo much Aileen! eyes as blue as the ocean!! I then met the concierge, Gilbertu who made everything just right with my ocean front suite. He made sure the A/C was set to the correct temperature and that the fridge was stocked with the drinks I liked (bottle water for the win) He was there to make my week as stress free as possible. He took care of getting me my PCR test on site at the local doctor's office (doctor Raphael was fantastic) and printed off my results when they returned from the lab so I was ready for customs. He also booked me a birthday photo session with Alexa from Love Light Studios (I felt like a model - sashay!!!) they turned out incredible and an amazing keepsake for life!! I was surprised with a poolside birthday celebration with cake, a special drink and a Happy Birthday song sang by the bartenders (Jesus/Luis/Alejandro) Gilbertu was always running around the poolside ensuring each guest received his personal attention from spotting the resident iguana in the trees tanning for photo ops to sending over the wait staff for cold poolside drinks. . . . . I never needed anything with Gilbertu on staff!! This employee deserves a promotion!! seriously though my frown slowly turned upside down and by the second day I could not stop smiling!!! Thank you so much, Gil!!! I really appreciated everything you did for me during my stay thank you thank you thank you!!! The resort is chalked full of Mexican culture including the resident iguana and red ear turtles as well as the salsa lessons by the pool. The sunsets were absolutely picturesque each and every night. The mornings at the resort were so peaceful and I loved watching the horses on the perfectly groomed beach each morning from my patio. I loved my ocean front king suite. It was almost 600 square feet including such a comfortable king bed with crisp and fresh linens and pillows!! The maid service was fantastic and they ensured my room was made up each day and the fridge was stocked with my favourites (pop, water and beer) The lobby bar was a nice way to refresh with a cocktail mixed by Omar after a hot day at the pool - great way to meet other guests at the hotel At the end of my week stay my mood was completely reversed from being so cranky to being soooo incredibly happy. I will definately refer the Krystal Grand to my friends and family and I cannot wait to return to see the staff who I now consider my friends. Until we meet again :)) Staff I encountered were Aileen, Gilbertu, Alondro, Omar, Juan, Alejandro, Luis, Jamie, Elaine to name a few . . . .
Theresa S