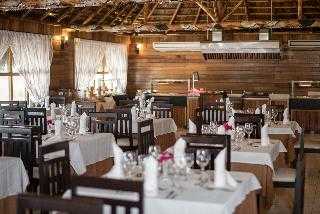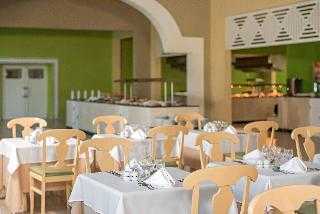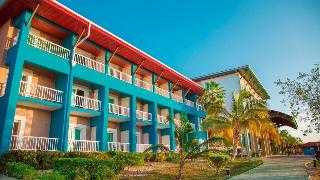 Avaliação TripAdvisor
Baseado em 87 avaliação
Ver todas
O hotel adequado para famílias situa-se no sul de Cuba, na ilha de Cayo Largo del Sur no arquipélago de Canarreos. O centro de lazer Iguana, uma pista de bowling e uma discoteca ficam a cerca de 20 minutos a pé. Necessitará de cerca de 15 minutos de automóvel até à praia e de aproximadamente 10 minu...
Mais detalhes
Disponibilidade
Selecione a data da sua viagem
Selecione a data da sua viagem para verificar a disponibilidade dos quartos.
Informações do estabelecimento
O hotel adequado para famílias situa-se no sul de Cuba, na ilha de Cayo Largo del Sur no arquipélago de Canarreos. O centro de lazer Iguana, uma pista de bowling e uma discoteca ficam a cerca de 20 minutos a pé. Necessitará de cerca de 15 minutos de automóvel até à praia e de aproximadamente 10 minutos até ao centro de mergulho internacional e uma quinta de tartarugas. O Aeroporto Internacional Vilo Acuña localiza-se a aproximadamente 10 minutos. O hotel, inaugurado em 2003, dispõe de 3 andares com um total de 306 quartos, dos quais 110 quartos duplos, 184 bungalows, 12 suites e 3 quartos adap...
Mais detalhes
Entrada a partir de: 15:00
Saída até: 11:00
Comodidades do estabelecimento
Avaliação dos hóspedes
TripAdvisor
Pontuação dos viajantes
Excelente

27

Muito Bom

20

Bom

22

Razoável

8

Ruim

10
Perfil dos viajantes
Negócios

0

Romântica

35

Viagem a sós

9

Família

11

Viagem com amigos

10
Resumo das pontuações
Atendimento

Custo-benefício

Limpeza

Localização

Qualidade do sono

Quartos
11 days for price of 7
Avaliou em 7 de março de 2020
We where there from February 9th to February 19. The room was okay and very clean, Looks like get small renovation in the bathroom and the new mattresses. The worst part was the main eatery where we was eating breakfast and dinner. There was hundreds of flies sitting on food, salads and desserts. We couldn't eat there and we have to go to next resorts get some food. During our stay nothing was done.
zosiaj232
Beautifull blue green ocean view.
Avaliou em 29 de fevereiro de 2020
Our room was nice.We stayed in the main building.Our maid was awesome.The entertainers around the pool were great and the shows were great.The bar staff did not smile and did not look happy.Sometimes they only smiled when tipped.At the lobby bar the bartender was not to bad,but she was not happy at all.The Buffet was terrible.The food was covered with flies.i never seen so many.I had to tell our rep,and at lunch it was covered,but people would take and not recover.The cooks were seldom there to cook 10 min. and then long time to cook your food and the hot table had tons of flies and the cook was trying to keep them off himself.We did not eat there anymore.I was bitten tons on my arms and legs etc from fleas around the pool.Thought they were bed bugs but i did the test and it was not that The ocean restaurant and the other restaurant was great and happy staff and the food was good..There was suppose to be international drinks but none.The pool restaurant was good,and cooked your food as you wait.Only seen our rep once.No beach at resort,free bus to and from beach.Wife complained about staff not being a happy bunch,But the 2 restaurants were happy all the time.This resort was a 4 star on selloff,but a 3 star on sunwing.After the show at night the hotel is dead and have to go to the marina to the club by bus $$$.Never go back to this resort.P.S.The other resorts people got bit also.Big mistake.going here.I am giving a 3 but really 2/12
Wayne M
Nice
Avaliou em 27 de fevereiro de 2020
When I was trying to read up on this resort reviews and beach info was mixed, so that being said let us begin. There is no sandy beach at this resort now, in the past yes , but today no. Some talk about tides but the fact is the last time they had a sandy beach was around 7 years ago according to the staff I spoke with. That being the case we like a sandy beach for walking and swimming but actually we did not miss it. The pool is very nice , large, clean , salt water and no big waves. If you want a beach it is just a 15 min cab ride down the road ( 2 cuc ) and you will find about 4 or maybe more beaches ( we did not explore everywhere ) , some with a football field worth of sand to cross just to reach the water. You can also grab a free bus ride to the marina and the free catamaran ride to the beach, mini trip. We rented a ATV , grab one early ,so we could hop from beach to beach and return for lunch then back to exploring.The resort is nice , dated yes but still nice, some TLC needed. The room ( bungalow ) was roomy, great balcony , clean and a great AC unit. The staff is the best part , all are super nice from the maid to the entertainment staff , Alex the towel man and Joe the bartender at the diner / bar by the " beach". Go get a specialty coffee with the coffee liquor in it ,my wife loved them. The tennis court is very nice , play early it gets hot. The weather was sunny and hot every day, we went in Feb. The food is good, you won't starve , and restaurants are better .
canadianpete2017
Feb. 2020 Bella Isla Resort at Cayo Largo
Avaliou em 21 de fevereiro de 2020
Traveled Feb.7 – 14, 2020 by Sunwing Our flight delayed and arrived around 11pm. Hotel welcomed us with cold drinks and live music at the reception. Room at the bungalow is very clean and has firm and comfortable beds, 2 rocking chairs with round table, desk, TV, walk-in washroom with hair dryer, closet and mirrors, and balcony. Food: Cayo Largo is a small Island away from main Island and supplies are limited sometimes but we had no issues. Playa Blanca beach at the hotel is not there anymore but I heard it shows up once in a while (you may see it if you are lucky!). There are few wooden walk-ways and decks to the ocean. However, the hotel provides free bus and boat rides to beautiful Playa Sirena and Paraiso beaches. It takes about 15 minutes on an air-conditioned bus and 15 minutes on a slow moving boat and is worth going there. We went there every other day and you have to see the beaches. Hotel is kept very clean and staffs are friendly. However, there are flies, flees and mosquitoes at night so make sure to take repellent sprays and after-bites. We met lovely people from Quebec, Barrie and Mississauga Ontario and had a great week!
myoungy21
Lovely, laid back, comfortable and fun.
Avaliou em 17 de fevereiro de 2020
This place is lovely, friendly, clean, with a gorgeous location. The rooms are huge and comfortable. I got one overlooking the ocean and I must say absolutely stunning. There is no beach as of February 2020 here but with a free air conditioned charter bus and boat 3 times a day it's easy to get to the big beaches Sirena or Pariso. I am a keto eater so the selection was a little lacking, but for most people that would eat a lot of carbs there's tons of food. For the people that gave this place a poor review recently, I would have to say they're trolls and their remarks about their parents thinking it was worse than a third world country are absolutely nonsense! Feel free to ask a question I'd be happy to try to help. Especially right now.. as our flights been cancelled for two days since the air strip got destroyed by a hard landing on Saturday. I'll add some more pictures after I get home .....uploading speeds are somewhat slow.
windsurfher