Logis Hôtel du Boeuf Couronné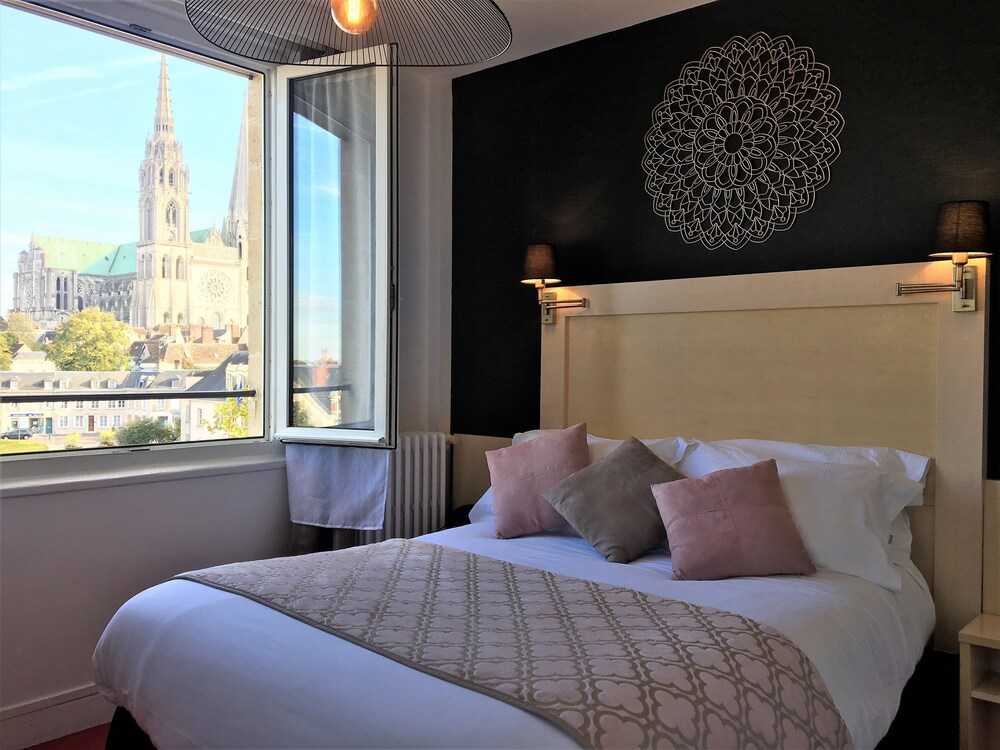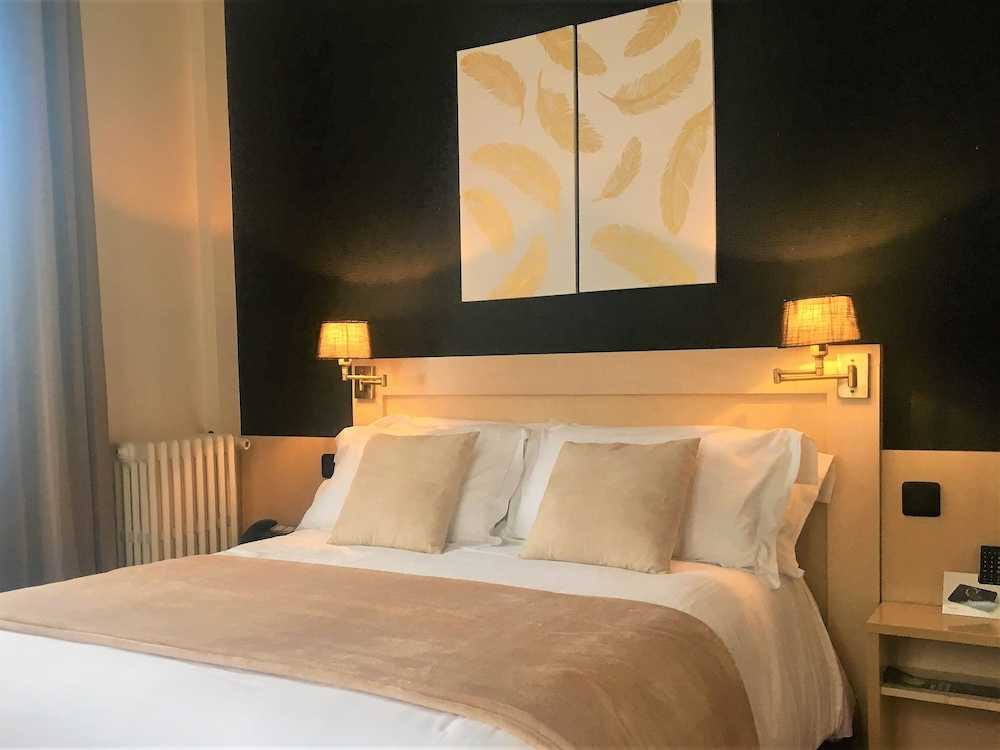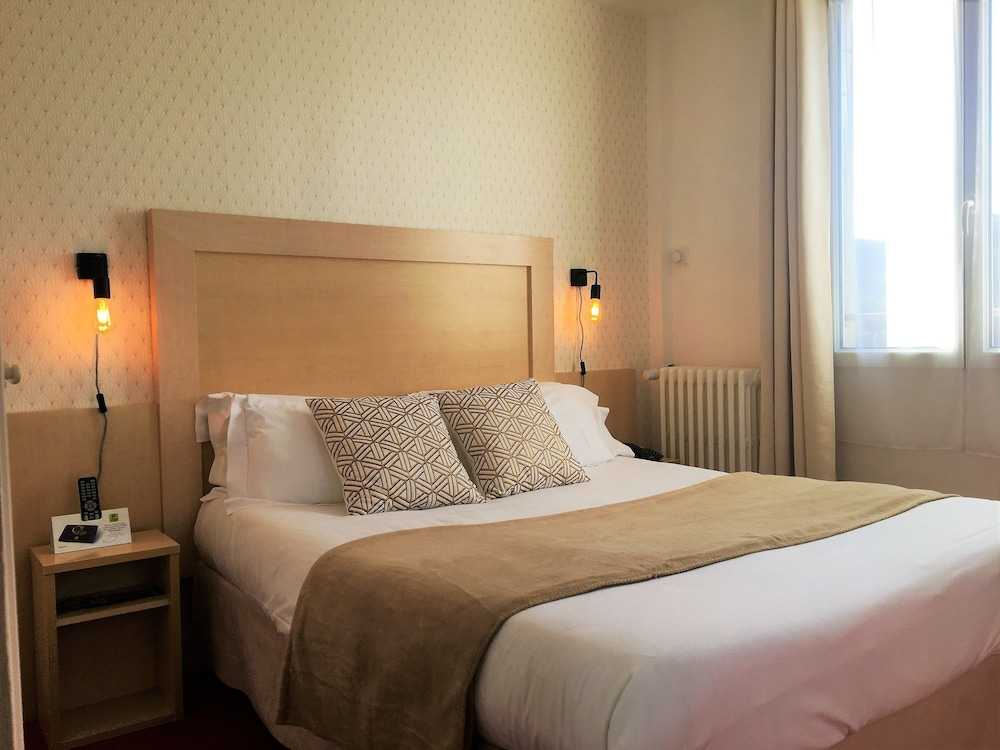 Avaliação TripAdvisor
Baseado em 224 avaliação
Ver todas
Localização Do Estabelecimento Com uma estadia Hôtel Le Boeuf Couronné em Chartres, ficará a 5 minuto(s) a pé de Centre International du Vitrail e a 5 minuto(s) de Chartres Cathedral. Este hotel está a 0,7 km (0,4 mi) de Musée des Beaux-Arts de Chartres e a 1,2 km (0,8 mi) de Église Saint-André. A...
Mais detalhes
Disponibilidade
Selecione a data da sua viagem
Selecione a data da sua viagem para verificar a disponibilidade dos quartos.
Informações do estabelecimento
Localização Do Estabelecimento
Com uma estadia Hôtel Le Boeuf Couronné em Chartres, ficará a 5 minuto(s) a pé de Centre International du Vitrail e a 5 minuto(s) de Chartres Cathedral. Este hotel está a 0,7 km (0,4 mi) de Musée des Beaux-Arts de Chartres e a 1,2 km (0,8 mi) de Église Saint-André. As distâncias são apresentadas à 0,1 milha e ao quilómetro mais próximo.
- Centre International du Vitrail - 0,4 km/0,2 mi
- Chartres Cathedral - 0,5 km/0,3 mi
- Musée des Beaux-Arts de Chartres - 0,6 km/0,4 mi Église Saint-André - 0,8 km/0,5 mi
- La Maison Picassiette - 2...
Mais detalhes
Entrada a partir de: 15:00
Saída até: 11:00
Comodidades do estabelecimento
Comida / Bebida
Restaurante
Serviços de recepção
Depósito de bagagens
Avaliação dos hóspedes
TripAdvisor
Pontuação dos viajantes
Excelente

52

Muito Bom

91

Bom

54

Razoável

19

Ruim

8
Perfil dos viajantes
Negócios

36

Romântica

102

Viagem a sós

12

Família

20

Viagem com amigos

20
Resumo das pontuações
Atendimento

Custo-benefício

Limpeza

Localização

Qualidade do sono

Quartos
"Hotel discreto"
Avaliou em 14 de dezembro de 2015
A localização é muito boa, entre a Gare e a Catedral. Bonita vista, quarto bem dimensionado, limpo. O que nos desagradou é que a única opção de coberta era um lençol "recheado" com edredom. Como não fazia calor suficiente para dormir descoberto nem frio suficiente para edredom foi uma longa noite de tapa-destapa.
tizinhaInter
Window on the cathedral
Avaliou em 17 de setembro de 2021
This is a very nice hotel five minute walk from the cathedral. It has a nice lobby, bar and terrace area. The restaurant in the hotel is excellent. Our room was very nice with a separate sitting room. There is no fridge in the room. The bathroom is sort of old fashioned with only a bathtub.
lambethj
Very nice hotel with excellent restaurant
Avaliou em 7 de julho de 2021
Very nice hotel close to old Chartres and the Cathedral. We chose the hotel's private parking although there is an underground car park adjacent to the hotel. Bedrooms are on the small side but more than adequate and well furnished. Beds are very comfortable. The restaurant is very impressive. Very good service and excellent choice of menus. We chose from the Menu du Terroir at 34€ for 3 courses and the quality of the food and its presentation was superb. We'd certainly visit here again.
ktaylo393023
Great location and friendly staff but needs AC!!!
Avaliou em 10 de agosto de 2020
We have just got back from there as a pit stop to going back to the UK - the exterior is lovely and we were pleased but we got there at 5.00 pm and room still not cleaned and ate there (expensive but was good) but did not sleep very well - very hot night and no AC so windows open and bins being collected in the early hours so the noise can put you off. Great location but needs some major tweaks to make this a great hotel.
DrLesPsychology
Homeward Bound.
Avaliou em 10 de outubro de 2019
On our usual trek home from Southwest France to the UK we always stay overnight in Chartres, both going and returning. Well, what's not to like about this lovely place with it's stunning Cathedrale, we've stayed in a few places here including the basic ones, so this time I thought we'd go slightly up market, my choice being Beouf Couronne. This place is right in the middle on the edge of the square cum circle of pedestrianised area with the big letters spelling Chartres, and with lovely trees around it, right down below is the Q Park underground parking which can work out up to 20 euros if you arrive in the early afternoon, but it's clean and very secure and convenient, I believe the hotel has a nearby option at less cost. The approach to this hotel is fresh and modern looking this continues into reception, where we were greeted cheerfully in well spoken English, I had booked the Confort room with large bed and stunning view of the Cathedrale, the bed was wonderfully comfortable after being on the road most of the day, the room as small but adequate as was the the bathroom with bath and shower head which could be used for hair washing, room to put your essentials and a large rectangular wash basin. The hairdryer was a bonus as it wasn't fixed to the wall like those dreadful elephant trunks they describe as a hairdryer in many hotels, so you could use it in front of one of two large mirrors in the room. There is a nice cosy bar area which you can get Charcuterie and cheese board, there is also a very nice restaurant, but some people like us love to explore the many restaurants in the City, we did however make the mistake of coming back to the bar for a cocktail and a Calvados at a price of 10 euros each! My cocktail being served in what can only be described as a jam jar with a handle, sorry to be picky, but I like a proper glass. Breakfast is extra on the room and a simple affair of the usual French continental food, probably could have been a bit more for the price, but no complaints at all. So, we will definitely be coming back in April on our way back down, can't wait....
Lorna W