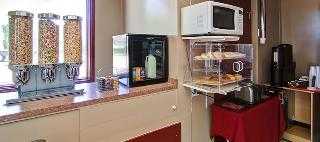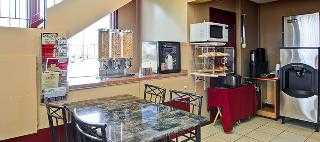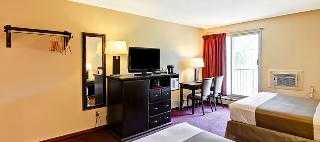 Avaliação TripAdvisor
Baseado em 31 avaliação
Ver todas
O Econo Lodge está perfeitamente localizado, seja para negócios ou lazer, em Edson (AB). O hotel oferece uma vasta gama de facilidades e regalias para garantir a você momentos inesquecíveis. Funcionários capacitados irão recebê- lo e orientá-lo no Econo Lodge. Todos os quartos são projetados e decor...
Mais detalhes
Disponibilidade
Selecione a data da sua viagem
Selecione a data da sua viagem para verificar a disponibilidade dos quartos.
Informações do estabelecimento
O Econo Lodge está perfeitamente localizado, seja para negócios ou lazer, em Edson (AB). O hotel oferece uma vasta gama de facilidades e regalias para garantir a você momentos inesquecíveis. Funcionários capacitados irão recebê- lo e orientá-lo no Econo Lodge. Todos os quartos são projetados e decorados para que os hóspedes se sintam em casa, e alguns quartos dispõem de ar condicionado, aquecimento, secretária, despertador, telephone. O hotel oferece diversas oportunidades de lazer. Não importa as razões para visitar Edson (AB), o Econo Lodge vai fazer você sentir-se, confortavelmente, em casa...
Mais detalhes
Entrada a partir de: 15:00
Saída até: 11:00
Comodidades do estabelecimento
Avaliação dos hóspedes
TripAdvisor
Pontuação dos viajantes
Excelente

3

Muito Bom

14

Bom

8

Razoável

3

Ruim

3
Perfil dos viajantes
Negócios

5

Romântica

9

Viagem a sós

5

Família

7

Viagem com amigos

1
Resumo das pontuações
Atendimento

Custo-benefício

Limpeza

Localização

Qualidade do sono

Quartos
Wonderful Staff
Avaliou em 4 de janeiro de 2020
I stayed at this hotel for several weeks while I was in town for work. The hotel was well kept, clean and above all the staff was amazing. The staff helped me with everything I needed. They were super friendly and very accomodating. I helped out a fellow hotel patron that was stuck in the parking lot in the snow. As a token of their appreciation the ladies working the front desk catered me a home cooked meal that was big enough for dinner and lunch the next day. This isn't the sort of thing you expect from a hotel. I was upgraded to a nicer room free of charge. I almost didn't stay at this hotel, but im glad I did. If I find myself back in Edson in the future I'll definitely come back here.
jason45000
Meh all around and dirty rags in our room
Avaliou em 23 de outubro de 2019
Stayed here on a stopover between BC and central Alberta. Price was over $100 for a less than appealing, less than bright and roomy, room. To top it off, there were dirty rags on the toilet in the room, but because we got in so late, I didn't bother complaining or asking for another room. I did mention it at checkout the next morning and was told, oh, ok. The end. No apology, no discount, just ok. Not thrilled. Will look for other options if in Edson again.
fasthorsesfastcars
Was Impressed
Avaliou em 7 de setembro de 2019
I read another review saying how they had doubts when they pulled up, and so did I. When I walked in the lobby was super hot and there was a lady looking a little flustered behind the counter and I thought oh great. But she apologized and said her shift just ended and she was headed to a second job. She quickly called someone else in to come help me. The gentleman that came down was also very nice and kept apologizing for his computer going so slow. I was also a little shocked when I was directed to my room (150) as it is up a little set of stairs right above the lobby. It was a great little room for one person. My only complaint about the room is the door isn't very sound proof, so when other guests were checking in and out (especially those with loud voices) I could hear them pretty clear. I didn't know what to expect when it came to the free breakfast, but I was pleasantly surprised. Not only did they have a fair selection, the egg omelette things were soo delicious! Would definitely stay here again.
burger19
Good for one night of rest
Avaliou em 22 de agosto de 2019
When I pulled up and saw the outside, I was like "oh no." Once I looked past that and got into the room, I was relieved. The room was dated but it's not bad. Room was large with 2 beds. One bed was worn out. It sunk and made noises when I sat down. No big deal. I could sleep on the othre bed. Fortunately the other bed was good. Air conditioner worked well. TV was large and had tons of channels. That's the best part. After a long day of travel, I enjoyed watching TV and they had channels I liked. Here comes the so so part. It's supposed to be non smoking but I could smell cigarettes faintly the moment I walked in. Not sure if someone in another room was violating the rule smoking, or if this room from the past life was a smoking room. Once I was in for a while and turned the air on, I didn't smell it anymore. Hot water in the shower took some time to warm up. I almost thought I would give up showering. But eventually, it came and held up the time and pressure I was in there. Hotel only has one entrance and exit other than emergency exits. My room was at the end of the hallway. With a dog, a bird and lots of luggages, it's quite a trip (several actually) to get everything and everyone in the room. However, when I checked out the next day, the man at the front desk was very kind to hold the entrance door for me. Breakfast was included but very basic. Overall, it's good for the money and staff were nice. I slept well in a clean room and it's pet friendly. That's all what mattered.
VV20070518
A Quiet Night's Rest
Avaliou em 22 de setembro de 2017
With a budget-friendly pricing, Econolodge doesn't promise much. In this case, at the very least, they definitely delivered everything they promised. The service was a little abrupt and shy of pleasantries, but the lobby was clean and well organised, even if it was a little small (again, to be expected at an Econolodge). The room was quite large considering, with 2 Queens, a nice little desk, and everything you would expect. The bathroom, again, nothing special except some pretty exceptional water pressure. One thing I liked about our particular room was that the sink and mirror were located outside of the bathroom. As a result, it didn't fog up during the shower so I was able to take care of my beard. Another impressive aspect of this hotel was how quiet the place was throughout the night. The whole family was able to sleep quite well, with no loud parties, trucks, or other noises to wake us up. The only thing that didn't impress us about this location was the parking situation. This location advertises their parking for busses & tractor-trailers, but what's available for those larger vehicles is pretty prohibitive for anyone else (like a car hauling a u-haul). Lots of mud, big potholes, and the parking area wasn't well marked. Their parking lot definitely needs to be paved. All-in-all, we got exactly what we expected, at a wallet-friendly price.
Shawn G