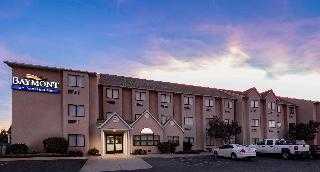 Avaliação TripAdvisor
Baseado em 138 avaliação
Ver todas
The hotel is located downtown in the middle of the Farmington Businesses and close to many historical places.
Mais detalhes
Disponibilidade
Selecione a data da sua viagem
Selecione a data da sua viagem para verificar a disponibilidade dos quartos.
Informações do estabelecimento
The hotel is located downtown in the middle of the Farmington Businesses and close to many historical places.
Entrada a partir de: 15:00
Saída até: 11:00
Comodidades do estabelecimento
Avaliação dos hóspedes
TripAdvisor
Pontuação dos viajantes
Excelente

22

Muito Bom

24

Bom

45

Razoável

21

Ruim

26
Perfil dos viajantes
Negócios

35

Romântica

37

Viagem a sós

17

Família

26

Viagem com amigos

10
Resumo das pontuações
Atendimento

Custo-benefício

Limpeza

Localização

Qualidade do sono

Quartos
Nice looking hotel disappointingly run
Avaliou em 8 de outubro de 2021
Nice looking, spacious comfy room. It has been mentioned that the woman at the front desk has not concept of "hospitality". Very curt. The tv did not work, said weak signal. The power outlet in the lamp failed to charge my phone. I got up in the middle of the night, noticed and switched to a working outlet. When I reported the issues to the front desk person in the morning, he made note, but did not offer any apologies. Breakfast at least had warm sausages and eggs. The place would be nice if not for the rude service and failure to attend to simple maintenance.
Daniel V
reservation fiasco
Avaliou em 8 de setembro de 2021
I would not likely recommend this hotel, and will not likely use booking.com again. We booked online, but when we arrived late that night the hotel said they had no rooms. After driving 14 hours that day, we had to wait in the lobby while the emplyee called people who had not checked in until she found someone who was not coming.
Melet L
Need to look past the little things to enjoy
Avaliou em 28 de agosto de 2021
And there were so many little things that would be easy and inexpensive to fix that I can't imagine why guest are subjected to them. The fact is that our room and bathroom were clean and I slept like a log. The breakfast was edible. The cost was with in reason, the experience acceptable. I will say that the clerk at check-in was the most sullen, unfriendly person I have ever experienced at a hotel to the point she was comical.
DFWTom
Terrible Hotel
Avaliou em 9 de agosto de 2021
There were roaches in the rooms. Clientele undesirable. Booked two rooms for two employees. Checked out earlier than planned and booked at a different hotel. Attempted to contact manager but have not heard back from them.
S8740HCcarol
Travel for Work
Avaliou em 5 de agosto de 2021
We booked two rooms for two of our employees. Early the following morning, I received a phone call and a text stating, "We need a different motel room. Clientele substandard. Roaches in the bathroom this morning. I will not risk bringing roaches home." When I asked if pictures had been taken, I was told, "I woke up and stomped on 2 light brown roaches and flushed them. Didn't even think about photos, still half asleep." We promptly booked them at a different hotel.
L2439EBcarolc