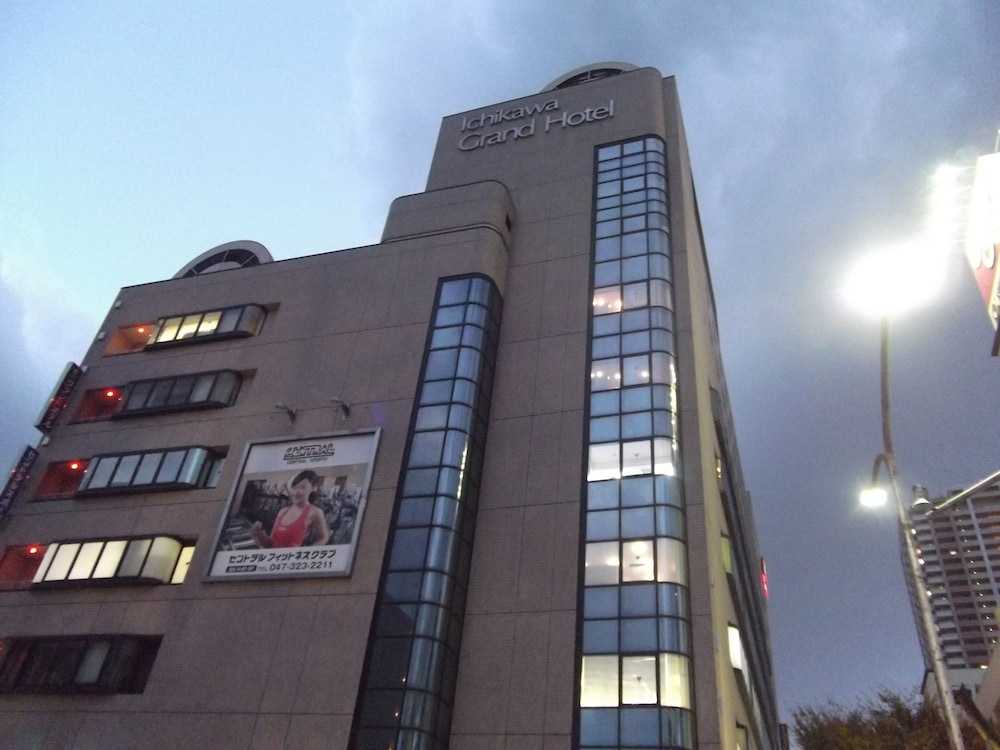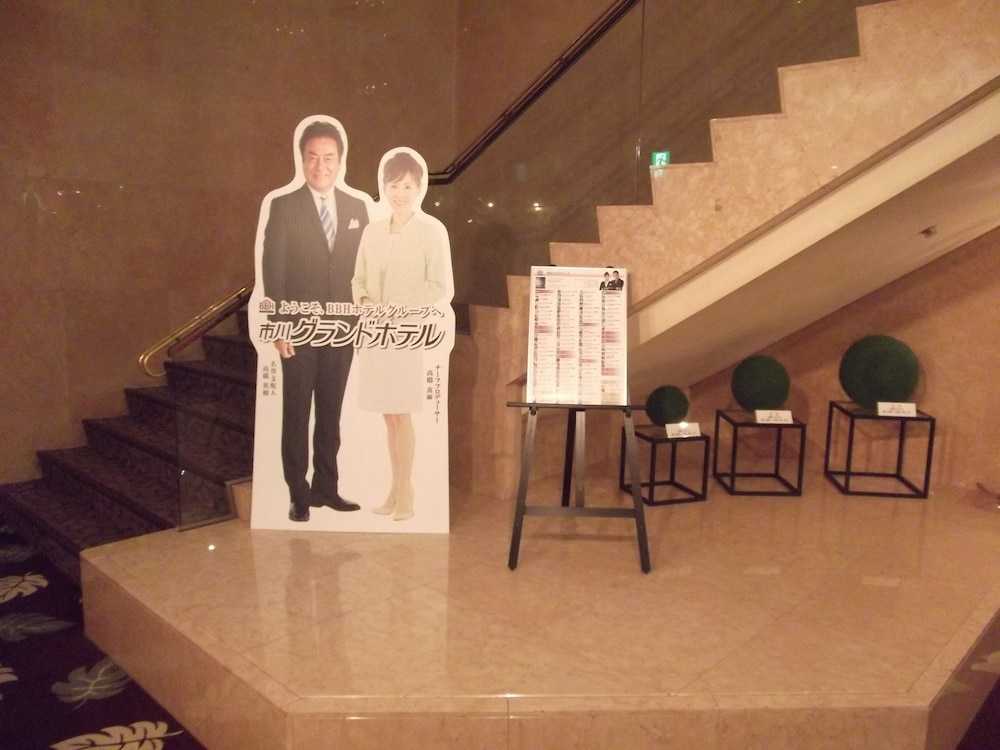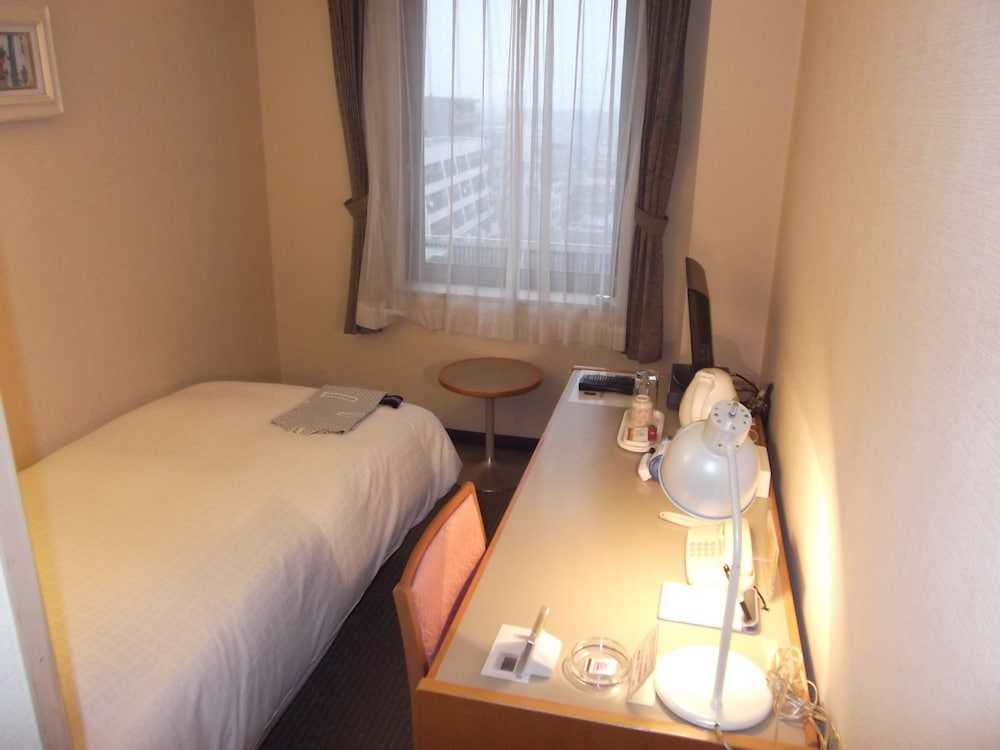 Avaliação TripAdvisor
Baseado em 42 avaliação
Ver todas
Ichikawa Grand Hotel tem uma localização perfeita, seja para negócios ou lazer, em Chiba. A propriedade oferece um alto padrão de serviços e facilidades para atender às necessidades individuais de todos os viajantes. Facilidades como Wi-Fi gratuito em todos os quartos, lavandaria automática, sala de...
Mais detalhes
Disponibilidade
Selecione a data da sua viagem
Selecione a data da sua viagem para verificar a disponibilidade dos quartos.
Informações do estabelecimento
Ichikawa Grand Hotel tem uma localização perfeita, seja para negócios ou lazer, em Chiba. A propriedade oferece um alto padrão de serviços e facilidades para atender às necessidades individuais de todos os viajantes. Facilidades como Wi-Fi gratuito em todos os quartos, lavandaria automática, sala de bagagens, Wi-Fi nos espaços públicos, restaurante, entre outras, estão à sua disposição. Cada quarto está elegantemente mobilado e equipado com tudo o que pode necessitar. Aceda às facilidades da propriedade, como tênis de mesa, entre outras, que irão melhorar ainda mais a sua já agradável estadia....
Mais detalhes
Entrada a partir de: 15:00
Saída até: 11:00
Comodidades do estabelecimento
Comida / Bebida
Restaurante
Comodidades / Instalações para negócios
Salas de Reuniões
Serviços de recepção
Depósito de bagagens
Avaliação dos hóspedes
TripAdvisor
Pontuação dos viajantes
Excelente

2

Muito Bom

12

Bom

21

Razoável

6

Ruim

1
Perfil dos viajantes
Negócios

7

Romântica

5

Viagem a sós

13

Família

14

Viagem com amigos

0
Resumo das pontuações
Atendimento

Custo-benefício

Limpeza

Localização

Qualidade do sono

Quartos
Overpriced, cigarette smell everywhere, featureless and old. Caviat emptor.
Avaliou em 3 de março de 2019
I know this area very well as I lived there for years with my Japanese wife and had to return to Japan for the sale of a property so thought it would be good to stay here for 8 days as the location was good for what we were doing. So let's be positive and get the good bits out of the way first. The location is very convenient as it is a one minute walk from Ichikawa Station and from there you can take a train directly to Narita Airport (85 minutes) or into the centre of Tokyo (30 minutes). It is not in the centre of Tokyo but Ichikawa is a busy area with everything you will need for your stay, lots of shops, banks, supermarkets, convenience stores, a short walk from temples; I certainly recommend a walk to Shimosa-Nakayama and the temple there which is not touristy at all. The chamber maids are friendly and do an excellent job of keeping the rooms of this old wreck in good condition. I didn't hang the 'Clean my room' notice on my door each day but they did it anyway and the sheets and towels (small towels) were clean, bed comfortable and bathroom very clean. I left my laptop out when I wasn't there and didn't feel uneasy about it. In each corridor is a shelf of all the toiletry items you may need, razors, toothbrushes, shampoo, conditioner etc etc. It is all free and can be taken for use in your room. There are also drink vending machines, including beer which I think is on the 8th floor. At night the hotel is very quiet, you can't hear the traffic below unless you open the windows but it is very near Route 14, a police station, a fire station and an ambulance station so you may hear sirens but not normal traffic or other guests. There is a very cheap laundry 'room' on the 8th floor with shelves of (Japanese) books for you to read while you wait for your washing. There is also meant to be free coffee on this floor but I just saw a sign saying it wasn't available that day (every day). OK, niceties over. The reception is on the 6th floor but you won't know this unless you read Japanese as the building is shared with other businesses. There are two entrances and the nearest to the station is harder to find but more convenient. You need to come out of Ichikawa station ticket wickets and turn right down the steps. You will see Mizuho bank and Daily Yamazaki in front to the right. Walk towards them and turn right along the street past the KFC. Go straight up the pedestrian street on your left at the little crossroads until you see the Veloce coffee shop on your right. Go up the steps by the right side of the coffee shop and you enter a lobby. Take the glass doors in front of you but slightly on the left and follow the corridor around to another lobby. Take the lift to the 6th floor for a unique greeting. You could also come out of the station and walk straight ahead to the main road, turn right about 50 metres and the entrance is clearly marked but it's a longer walk. Once in the hotel reception you will be met with a strong smell of stale cigarettes. The hotel is like most public places in Japan and still allows smoking. The décor is old, shabby and has no redeeming features. Check in is at 2pm. We called before arriving to ask if we could put the bags in the room and go out again. We were told an in fatigable 'No, if you want to do that we will charge an extra hourly rate for the room'. We also asked if my wife could stay for one night as her plans to stay elsewhere had fallen through for the first night. We were told 'Yes, at an extra charge'. When we arrived it was just before 1.30pm. Again they refused to let us put our bags in the room and charged over £100 for my wife to stay one night. We were made to sit and wait on scruffy old seats whilst a school convention went on around us and the air was thick with cigarette smoke. At precisely 2pm we were given the keys to the room and paid the bill in advance. The receptionist was as miserable as sin. My wife said that for a Japanese her behaviour was terrible. At one point she slammed something on the desk and just walked away. I met another guest who asked me if I'd had problems checking in and he pointed out the same woman as having an bad attitude. None of the staff spoke any English, which you would expect from a hotel catering to international guests. If it were a ryokan in the countryside I would say 'OK, so be it' but it isn't. The room was small with two single beds and the TV was on a shelf right next to the bed by the window, so close you could touch the screen. However, from the other bed you couldn't see the TV because a huge bedside lamp was in the way. The room was clean but the smell of cigarettes was everywhere. The next day I went into another room for just myself with a double bed which was the room I was meant to have had anyway. Defies logic. This room was even smaller and the bed was jammed up against a desk by the window, The chair was jammed between the desk and the bed so it was impossible to sit on. I will attach a photo of this as well as a photo of the tatty old electric massage chair. I ended up sitting on the end of the bed to use my laptop. By the way, I rented a mobile router for internet use for about £5 a day. You carry it around with you and get a reserve battery pack. Very convenient and can be purchased at Narita Airport. Because the reception is on the 6th floor and you don't need to go there to get to the rooms you could have someone stay with you at no extra charge. Nobody would know. The reception is also closed between 3am and 5am so the night staff can get some shut eye. Views from some of the rooms are interesting as you can see a long distance and is lit up nicely at night. Breakfast should be a highlight of any hotel stay, something to look forward to and to set you up for the day ahead. I can't say they don't try but the offerings are underwhelming to say the least. The dining room is tiny for a hotel with a lot of rooms and I only saw about 1/4 of it being used at its' busiest. If you want a traditional Japanese breakfast you are laughing. The continental however is a weird interpretation of the continent I'm used to. Little boiled wieners, scrambled egg you could spread like pate, tiny bread rolls and some cereal. I ate what I could but got fed up with the same thing every day and no basket of fresh fruit so I went to the local Matsuya most days. The problem with this place is that it is old, is the only hotel in Ichikawa and therefore isn't bothered about international guests. It charges what it likes as the Japanese never complain and has no intention of tidying itself up.
Komakino66
Ichikawa Grand
Avaliou em 23 de fevereiro de 2019
Great location for our needs, in central Ichikawa, near the train station. The rooms were comfortable and perfectly accommodating (despite being very small by general western standards)! We had a little delay in our initial check-in due to some room and name changes but management was able to straighten it out. The included breakfast was quite hearty and had plenty to offer for all both Japanese and western.
tintinjunkfan
Rubbish
Avaliou em 7 de outubro de 2014
Please check yhe hotel….. There are no bellmen…. They charged me 51000 yen for two two nights…. No breakfast or dinner included….. Nobody is peaking english there I kept the receipt and I will be pressing charges against the website
ManhalI2
古い
Avaliou em 4 de novembro de 2019
ホテルの近くで実施されるセンター試験の受験のために泊まりました。漫画がたくさん置いてあったり、古い雰囲気が漂っていました。時期もあるのでしょうが料金も高く感じました。
yuyu1125
古さは否めませんが
Avaliou em 4 de setembro de 2019
駅チカで便が良いので、ビジネスホテルとしては こじんまりとして良いのかと思います。友人が宴会場で毎年パーティーをするので参加していますがお値段もそこそこです。ただ、ちょっと内装が暗いかも・・・落ち着いて静か、といえばそれまでですが。
kiele3105