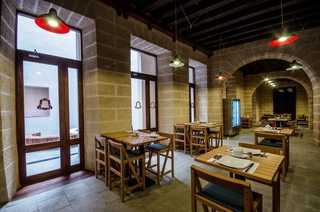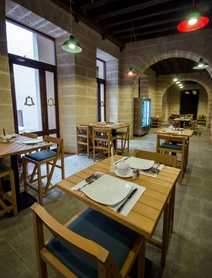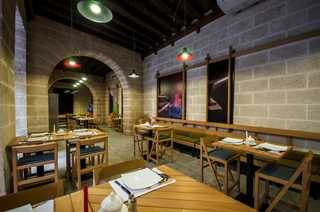 Avaliação TripAdvisor
Baseado em 109 avaliação
Ver todas
Este agradável hotel fica em La Habana Vieja. O Habana 612 garante uma estadia tranquila uma vez que conta com apenas 12 quartos de hóspedes. ليس لدى Habana 612 خدمة استقبال على مدار الساعة. Infelizmente, não existem unidades de alojamento onde aqueles que ficam neste estabelecimento possam pedir um...
Mais detalhes
Disponibilidade
Selecione a data da sua viagem
Selecione a data da sua viagem para verificar a disponibilidade dos quartos.
Informações do estabelecimento
Este agradável hotel fica em La Habana Vieja. O Habana 612 garante uma estadia tranquila uma vez que conta com apenas 12 quartos de hóspedes. ليس لدى Habana 612 خدمة استقبال على مدار الساعة. Infelizmente, não existem unidades de alojamento onde aqueles que ficam neste estabelecimento possam pedir um berço para os mais pequenos. Este alojamento não é amigo dos animais.
Entrada a partir de: 15:00
Saída até: 11:00
Comodidades do estabelecimento
Avaliação dos hóspedes
TripAdvisor
Pontuação dos viajantes
Excelente

24

Muito Bom

41

Bom

30

Razoável

10

Ruim

4
Perfil dos viajantes
Negócios

1

Romântica

61

Viagem a sós

11

Família

12

Viagem com amigos

20
Resumo das pontuações
Atendimento

Custo-benefício

Limpeza

Localização

Qualidade do sono

Quartos
fantástico
Avaliou em 20 de abril de 2016
Este é o melhor hotel da Havana. Um dos poucos que conta com serviço de internet. A vista para o malecon é incrível, e mesmo que você não vá se hospedar lá, vale à pena tomar um drink olhando o pôr do sol. O hotel conta ainda com casa de câmbio e pacotes turísticos que podem valer à pena
erickpetry
Travelers Beware!!!
Avaliou em 3 de agosto de 2019
This hotel is far from restaurants, and places of interest. The hotel itself is a dump. Its musty and dirty. Our room was filthy the sheets were dirty and sheets smelled of smoke, gum on the floor. Breakfast was included in the package we went to the restaurant on the first morning and we walked out leaving the food after seeing the roaches running over the plates and cups. And seeing how dirty the food area was. The staff was unfriendly and absolutely unhelpful, except for Maida who cleaned our room she was a sweetheart. My daughter woke up the next morning with blisters or bites on her legs and butt and that was the last straw, I called my Sunwing representative and paid to get transferred to another hotel!!
barbarabJ446SK
Basic hotel but friendly reception.
Avaliou em 27 de junho de 2019
Large very dark and basic bedroom which was too dark to even read in, there were no external windows. Bedside lights were tempramental and the wiring looked loose. Best of all was the airconditionng which was very efficient and being at the rear of the buiding it was fairly quiet. Breakfast was at best, very limited and disappointing. Watery fruit juice, stale bread, and no sign of hot drinks. Apart from breakfast there was no food available in the restaurant in the evenings. When we got back to the hotel at night around 10pm the bar was shut. Other guests appeared to be contractors rather than tourists. The hotel is in the old part of town so be prepared.
Colinwmason
Horryfyingly authentic experience with a cockroach, no water etc.
Avaliou em 24 de abril de 2019
While at a glance this hotel looks fantastic and the location is excellent too, it did have its authentic quirks during our visit. First there was no water and I found a small cockroach on the bed. Then after I found the valves to turn on the water, the toilet did not flush. Not a biggie, fixed it myself in a snap. As for the cockroach, we were explained that "this is a tropical country", which is fair, I guess (although none of other hotels, including home stays had this extra in our bed). Then the doors could not be closed with the key. Excessive force was necessary to do this. In the 3rd day, the key broke and I was charged 15 euro equivalent, for the damage although even the staff members were struggling to close the door of our room. Not fair in my book. Lastly, sewage was flowing from the ceiling sometimes during the breakfast. That said, the location was great, we felt safe in this hotel, breakfast was ok and staff was mostly friendly. Now in a retrospect, I am happy we had this hotel for a few days, as it did have that authentic feel of Cuba, just maybe not in the best way, but we will surely remember it much more than any 5* hotel we visited.
KarlisBlum
Great Location for exploring old Havana
Avaliou em 23 de julho de 2018
We were provided a direct taxi transfer from the airport to this hotel which is located bang in the middle of old Havana. On arrival at about 7:30 PM the person at the desk asked for our voucher. We did not have one as it was not provided by The Holiday Place! We showed him the document that THP provided and he wanted to cut out the bit that confirmed our stay in this hotel. This was quite unnerving and I pointed out that we were due to come back for one more night on 13th May when they can keep that page of the document. He accepted this. However, I took this up on the following days when Manuel was at the desk. He apologised for this and advised that it was unnecessary After booking us in, we were given the key to our room which was on the second floor. We had to lug two 18KG bags by ourselves to get to the room up the flight of stairs. So beware, if you are old or disabled! The room was clean and had everything we needed. We were so pleased that the AC worked and was also very quiet. We had to pay 3.65 CUC for 1.5l bottle of water from the fridge bar. Rather extortionate when we could buy for less than 2 CUC from Mercado supermarket across the road. We stayed in Room no 9 even though it was on the second floor we could hear all the noise from outside with cars and music blaring away. The hotel is in a rather old, run down, part of Havana but in just the right location to walk to all the key areas of the town. We took a three wheeled cycle which stopped at various locations to enable us to stroll around. We paid 40 CUC for 2hrs 15min although I had negotiated a rate of 15 CUCs per hour. On the return to Havana for the 13th night of hour Holiday, the following day before catching the plane back to London, we took the tourist bus trip T1 which took about 2hrs . This enabled us to see areas like Miramar and the long coastal road (Malecon) which would have been difficult to do by walking. Note there is only T1 and T3 routes now. T2 does not operate anymore. We did the coastal/beach route T3 during the first part of our stay. Note, the T3 is an air conditioned single decker coach with tinted windows, operated by Transtur and not same as the red double decker Hop on/off bus.
Jagmorar