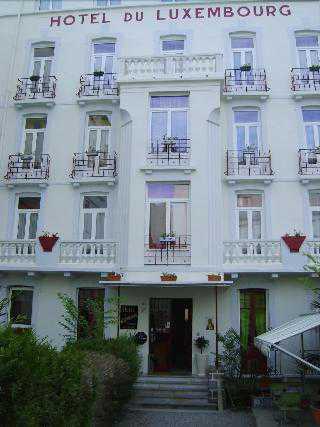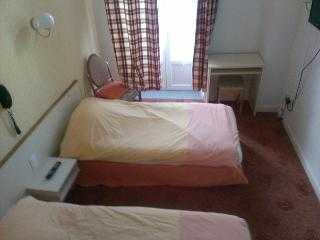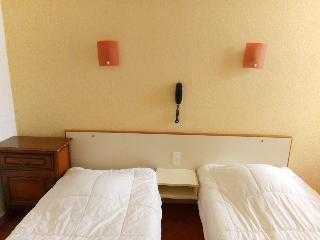 Avaliação TripAdvisor
Baseado em 26 avaliação
Ver todas
Ao alojar-se Hôtel Luxembourg em Lourdes, ficará junto a um campo de golfe, a 10 minutos a pé de Notre-Dame de l'Immaculee-Conception e de Basílica de Nossa Senhora de Lourdes. Este hotel de golfe está a 0,8 km (0,5 mi) de Grotte de Massabielle e a 0,2 km (0,1 mi) de Chemin de Croix. Contemple fantá...
Mais detalhes
Disponibilidade
Selecione a data da sua viagem
Selecione a data da sua viagem para verificar a disponibilidade dos quartos.
Informações do estabelecimento
Ao alojar-se Hôtel Luxembourg em Lourdes, ficará junto a um campo de golfe, a 10 minutos a pé de Notre-Dame de l'Immaculee-Conception e de Basílica de Nossa Senhora de Lourdes. Este hotel de golfe está a 0,8 km (0,5 mi) de Grotte de Massabielle e a 0,2 km (0,1 mi) de Chemin de Croix. Contemple fantásticas vistas a partir da açoteia e do jardim ou tire partido das várias comodidades e serviços ao seu dispor, incluindo Wi-Fi grátis. O espaço inclui também serviços de concierge e uma área para piqueniques. As principais comodidades incluem uma receção aberta 24 horas, assistência multilingue e ar...
Mais detalhes
Entrada a partir de: 15:00
Saída até: 11:00
Comodidades do estabelecimento
Comida / Bebida
Restaurante
Serviços de recepção
Depósito de bagagens
Avaliação dos hóspedes
TripAdvisor
Pontuação dos viajantes
Excelente

8

Muito Bom

11

Bom

4

Razoável

2

Ruim

1
Perfil dos viajantes
Negócios

0

Romântica

5

Viagem a sós

3

Família

8

Viagem com amigos

6
Resumo das pontuações
Atendimento

Custo-benefício

Limpeza

Localização

Qualidade do sono

Quartos
Razoável para o Pretendido
Avaliou em 6 de maio de 2019
A nosso experiencia no geral neste hotel foi razoável, dentro dos pontos positivos a localização, estacionamento, Internet, simpatia dos funcionários. Nos pontos negativos a limpeza do quarto, não nas camas e almofadas que estavam limpas e bem cheirosas mas no restante mobiliário inclusive no telefone intercomunicador que se encontrava cheio de pó e cotão. Casa de banho pequena e muito pouco iluminada, alguma falta de insonorização entre quartos. Televisão muito pequena e apenas com alguns canais (todos em francês).
sonicfil
Worth the money
Avaliou em 10 de setembro de 2018
We had a small and cosy room, nothing extraordinary but comfortable. This hotel is close to Our Lady of Lourdes shrine. Walking distance perhaps 300 mtrs from the shrine. Friendly and helpful front desk. Breakfast is ok.
Maria F
nice Hotel for a Pigrimage
Avaliou em 5 de junho de 2014
This hotel, family owned, is a nice place to stay. The people are very friendly. They hardley speak any Englisch, but they sure try to communicate! It's a typical 2 star French Hotel, so don't expect a 5 star accomodation. Fair en square, it's a nice clean place to stay, close to the Holy Grounds, but in a quiet spot.
Romanesco112
Incredible, never again!
Avaliou em 4 de setembro de 2013
I went there on July for one week. The welcoming moment was simple but good, but only the words. No way to ask for some help for my old parents. The hotel owner park is car in front of the hotel so you don't have so much place to park the car and get out the luggages from the car. He would ask you to hurry in fact. The car parking is so far that it takes 15 minutes walk for a good young healthy man. For old people, this would take 30 minutes with a high way uphill far from the hotel to the parking where everybody can walk in and out. Lourdes is a little city where there are so many gipsies and I was so afraid for the car with a foreign number plate. We received the keys of the room at the second floor and my parents took the elevator seperately with their own luggage. I went by foot because there's only place for two people at the same time without luggage and only one if you have luggage. It smelt like old house that had been closed for ages. The security of all the floors is so poorless that I was afraid if there was a fire (without emergency exits) and the hotel is made of wood (stairs inclused). The floor creaked and there was no way to have a little rest. You can hear everything from the neighbours' rooms and even if they go to toilet and have a shower, it's incredibly noisy just as if there was someone in your room. I heard ones strange noises from the room next mine during the night. Never seen such a hotel and never had such a hotel in my life. What if children are with you and try to sleep? Or old ill people? The bathrooms have no air exctractor and no window and are so little that if you are more than 1m80, you don't have place enough to come in. We ate three times there. The only thing the hotel owner can cook is salad with strange taste of oil (olive oil she said, but it was black!) and some cheese cake bought from a frozen products store. The meat seemed to be old sheep but never tried to thing twice. I left everything in the plate. My mother once asked the lady cooker also owner of the hotel to have no salad and she still made it. My mother refused to eat and asked something else. But received nothing. The server asked me to eat it because it was made and it was a pity to throw it away but I didn't eat and answered that there still were the main course and dessert. I couldn't eat twice a salad on entry course. At the end of the supper, my mother asked a second piece of cake but they told her a piece of cake was her good enough and that the pieces were counted. I went out to smoke and the server who was the cooker's son spoke to his mother and I heard her saying she had nothing to mind of us. She told she had nothing to do with such people that don't eat salad and don't appreciate her cooking. Three times meal there was enough also! We went to a restaurant in the centre of Lourdes and ate much better and cheaper... I didn't appreciate the service that didn't work such as Internet that put my computer out of control... NO Good internet WIFI, you receive better the WIFI from the outside with the hotel next door that doesn't cost as much as this one and it is a four star hotel.) When we checked out, I was asked to hurry to leave the front of the hotel because disturbing the next door hotel with my luggage and the noisy gravel the hotel Luxembourg have. When I asked them if they knew about the noisy rooms floor, they didn't answered. Don't go there if you want to have a rest and have good healthy food!!!
Gius1978
Average for a 2 star hotel;
Avaliou em 6 de agosto de 2012
I stayed at Hotel Luxembourg for two nights to visit Our lady of Lourdes as per relative recommendation. It is about 5 min walk to the sanctuary. I had high hope until I got there. The lady hotel owner was very pleasant to talk to. They assigned us two rooms for four people on the third floor. The hotel was old but clean. You can smell a little when you get into the room but not too bad. Bathroom was clean but tiny. The main issues were the toilet was so old. Water kept running for a long time and occasionally it did NOT stop running. I had to open up the top of the toitel and tried to fix it. Told the front counter and he said that he will look into it. The floor made squeaky sounds on both rooms as well as the hall way when you walked on it. They don't have motion detector for the light on the hall way as the second floor. You have to push a button to turn it on otherwise you cannot see the key hole to open your room door. We reported to the front desk and they said they will look into it?? Not in any timely manner at all! I will NOT come back to this hotel again when I visit Lourdes the next time. I was curious to see the hotel cost per night for a three stars hotel (Estival-Arriel) one block away from hotel luxembourg (even closer to the sanctuary) and they only charge 75 Euro for four people compare to 80 Euro for two rooms per night at Luxembourg hotel. I would recommend you to look for other 3 star hotel and have a much more pleasant stay at Lourdes. Judge for yourself when reading review for hotel at lourdes. Happy Travel.
Hai N