Les Jardins De Zyriab Resort & Spa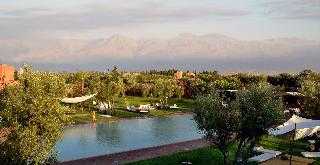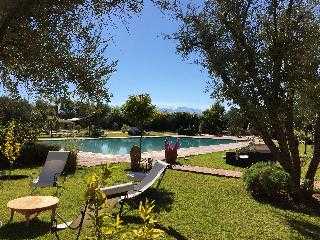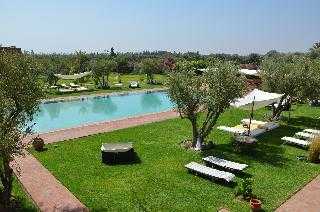 Avaliação TripAdvisor
Baseado em 259 avaliação
Ver todas
Este despretensioso resort de férias encontra-se em Marrakech. Os viajantes poderão encontrar as principais zonas de entretenimento a 14. 0 km de distância. Os hóspedes podem encontrar o campo de golf mais próximo a 17. 0 km do alojamento. As ligações de transporte público encontram-se a 1. 3 km de ...
Mais detalhes
Disponibilidade
Selecione a data da sua viagem
Selecione a data da sua viagem para verificar a disponibilidade dos quartos.
Informações do estabelecimento
Este despretensioso resort de férias encontra-se em Marrakech. Os viajantes poderão encontrar as principais zonas de entretenimento a 14. 0 km de distância. Os hóspedes podem encontrar o campo de golf mais próximo a 17. 0 km do alojamento. As ligações de transporte público encontram-se a 1. 3 km de distância. Os clientes poderão encontrar o aeroporto a 13. 0 km. Existem um total de 21 quartos de hóspedes nas instalações. Este alojamento foi fundado em 2010. Para conveniência dos hóspedes estão disponíveis ligações à internet por cabo e sem fios nas áreas comuns. O Les Jardins De Zyriab dispõe ...
Mais detalhes
Entrada a partir de: 15:00
Saída até: 11:00
Comodidades do estabelecimento
Comida / Bebida
Restaurante
Piscina e comodidades de bem-estar
Piscina Exterior
Banho Turco
Serviços de recepção
Depósito de bagagens
Avaliação dos hóspedes
TripAdvisor
Pontuação dos viajantes
Excelente

205

Muito Bom

45

Bom

6

Razoável

3

Ruim

0
Perfil dos viajantes
Negócios

1

Romântica

49

Viagem a sós

2

Família

124

Viagem com amigos

56
Resumo das pontuações
Atendimento

Custo-benefício

Limpeza

Localização

Qualidade do sono

Quartos
Super for hideaway
Avaliou em 2 de janeiro de 2020
We went there for new years Very good 4 star place for families or couples incl. Nice breakfast and personal service we will be back for some more days in the foreseeable future very quiet and relaxing
Companion657383
Room for improvement.
Avaliou em 5 de dezembro de 2019
POSITIVE: •Staff are chilled out. •Relaxed ambience inside the rooms & around the grounds. •Beautiful peaceful surroundings. •They will book services for you ie: taxi etc just with notice. NEGATIVE: •Housekeeping come daily but only change the bins- they do not change towels or bedding until a few days into stay- this resulted in insect bites and having to reuse towels. I sat and watched the 3 housekeeping ladies one day, I was surprised they took 15minutes between 3 of them to just change bins and polish the glass coffee table. No sweeping or mopping or replenishing towels or changing sheets. •Breakfast- Is included but is very basic- just bread, pancakes, honey/cheese/Butter and orange juice with hot drinks. I requested on a couple of occasions tea with milk but they forgot the teabags and provided mint tea and milk!! Very basic breakfast. •WiFi- website when booking states they have WiFi throughout, but on arrival we discovered they only have WiFi in the lobby area and around the pool. In the evening very often we would stay in the lobby to use the WiFi and catch up with family, the reception staff switched at 10pm. Often the we felt like the post 10pm staff were in a hurry to sleep. After we left the lobby very often the lobby lights would switch off! •Heating in rooms- Heating system makes a lot of noise but does not heat up the rooms. •Room service- You have to allow 45mins for food prep- not ideal when hungry. •Spa service- We requested a male masseuse from Fatima in reception for my husband (as we are practicing Muslims). They told us the had booked him and he was coming from far. Low and behold and hour later a woman turned up- felt duty bound to have the massage due to the apparent travel distance. Very disappointed that they did not honour our personal request for a male. •Breakfast- you have to ensure you tell the reception staff the night before what time you want breakfast, and if you want it in your bedroom or the lobby. Initially the first day they were bang on time, however sadly every day after that the breakfast was 20-30mins late. This was problematic as we had excursions planned for the days and this delayed us. The small details make a hotel memorable- attention to detail- teabags, male masseuse, changing bedsheets and towels daily or at least every second day. Beautiful surroundings and staff are reasonably nice, sadly we won't be staying again. For the price paid the resort did not deliver.
Nagina786
Wonderful hotel!
Avaliou em 4 de outubro de 2019
We stayed in this lovely property for 2 weeks in August and we couldn't be more pleased with our choice. The staff and the owners did their very best to make us feel so welcomed and making sure we felt like being in our second home. We could always rely on a good and useful advice, big smiles any time of the day and any requests were promptly attended to. The property is located a few kilometres away from a busy Médina which was nice and works to your advantage, especially when visiting in the summer or during bank holidays or religious events in Morocco. There is well organised taxi transport at a cost of around £25 for a return trip so you are easily linked with the centre. Apartments provide all the basics you need and the food accompanied by tasty Moroccan wine offered by the restaurant, which you can have it served nearly anywhere you wish within the property is fantastic! Having traveled the world and staying in various hotels, often very luxurious I really appreciate hospitality of les jardins de zyriab, organising a beautiful surprise for our wedding anniversary and making sure our stay in Morocco was unforgettable and wanting us to go back. Big thank you to Sofiya, very generous Idris and lovely Fatma!
EvziWezvi
very nice place about 20 minutes drive from Marrakech
Avaliou em 20 de maio de 2019
We (4) stayed here for one week. Very nice place, beautiful garden and friendly people. Only negative is that you need to take a car to Marrakech. However this is well organized by the reception. They will drop you of and pick you up as desired. It will cost you about $20 per day per car but a place like this would cost much more directly in Marrakech. You are really not losing any money on transportation. You can have a breakfast or dinner at this hotel but since the apartment comes with an equipped kitchen we made our breakfast most of the time. and had it poolside. Importantly, hotel sells water, wine and beer. Kitchen does not have a dishwasher or a drying rack for dishes which is a disadvantage. Staff cleans the apartment daily but not the dishes. In general, if you do not mind the drive, this place is a winner.
NoveZamky
Beautiful But Terrible Administration
Avaliou em 29 de abril de 2019
The hotel is beautiful with spacious gardens and a gorgeous pool. However, we had to change the date of arrival since we added another city to our trip before arriving at Les Jardins De Zyriab. We were still paying for the full week but just wanted to call and let them know we were arrived two days later. We tried calling from our home in US, then tried calling from our hotel in Tangier once we were in Morocco, we even had the concierge try to call and no one would answer. We called at least 10 times with no response. We then tried to fax the hotel and then got a response. We arrived late due to a delayed train -- and the "lobby" was locked with no one there. After our taxi driver honked and knocked on the door, someone came to help us that said they had no idea of our reservation.. He then called who I assume was the owner and she said she didn't know we were coming so they thought we were a no-show so they will have to give us a different room... Although they had all of the money paid for the room we had reserved. Once they straightened that out it was a lovely stay although their breakfast is very overpriced and we were charged extra taxes upon checking out. Also the wifi is only available in the lobby. It is also a 200dh ride to downtown each way which gets expensive -- many taxi drivers do not want to drive out there at night -- something to keep in mind. The facility is beautiful, but I would not stay here again.
travewithme