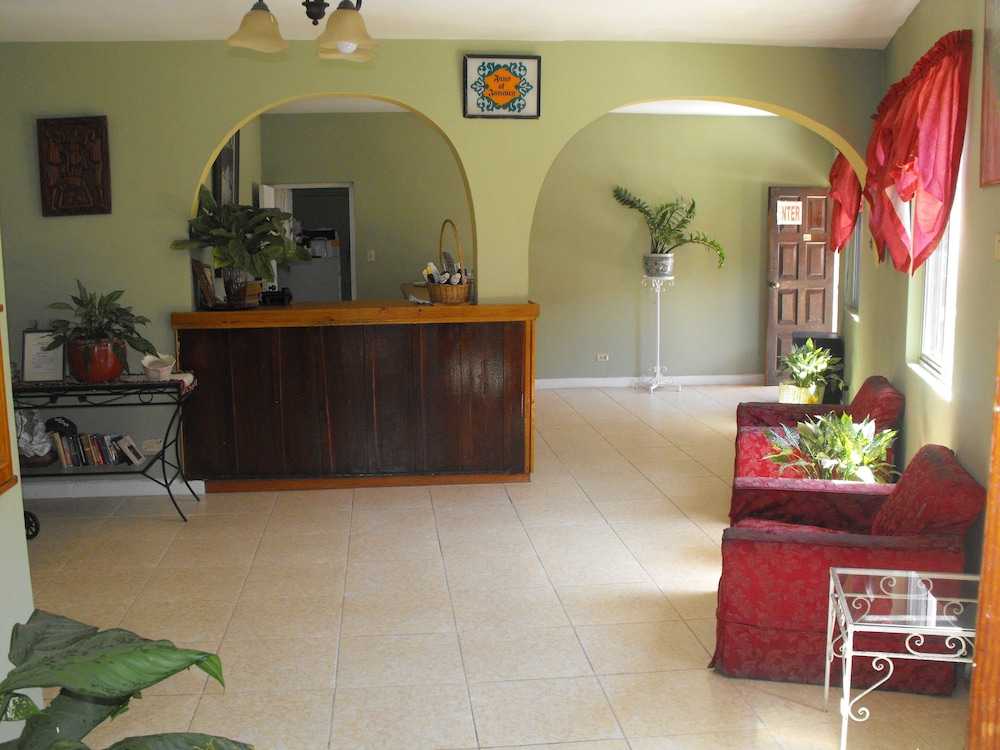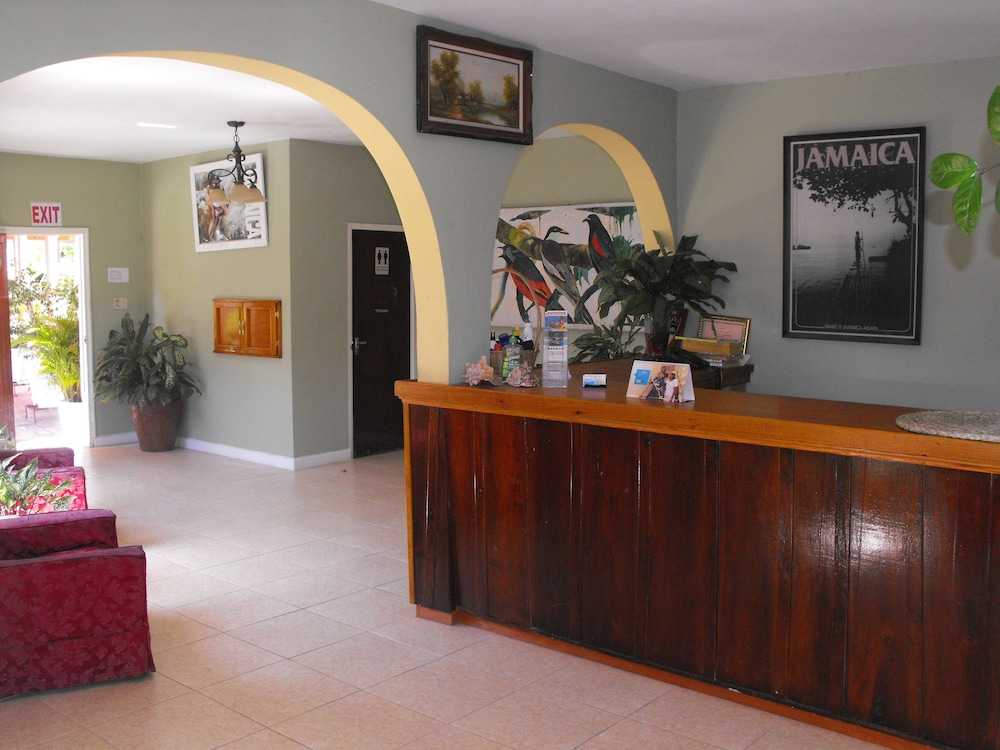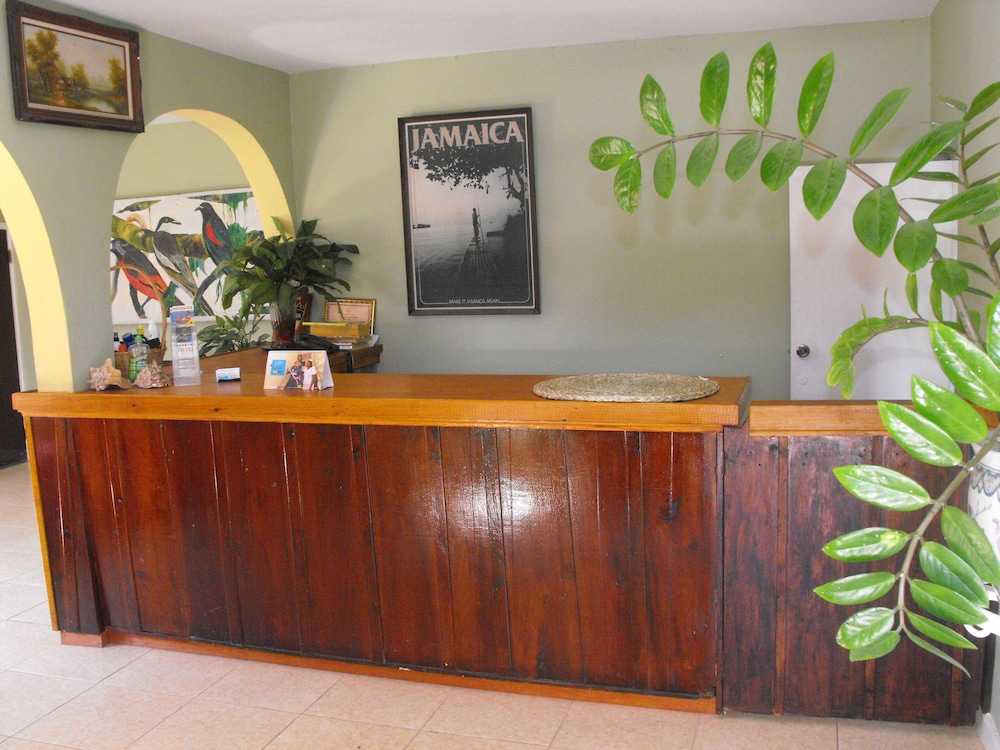 Avaliação TripAdvisor
Baseado em 32 avaliação
Ver todas
Ao alojar-se Verney House Resort em Montego Bay, ficará perto da praia, a 5 minutos de carro de AquaSol Theme Park e de Dead End Beach. Este hotel está a 5,5 km (3,4 mi) de Terminal de Cruzeiros de Montego Bay e a 14,7 km (9,1 mi) de Rose Hall Great House. Tire partido das várias atividades recreati...
Mais detalhes
Disponibilidade
Selecione a data da sua viagem
Selecione a data da sua viagem para verificar a disponibilidade dos quartos.
Informações do estabelecimento
Ao alojar-se Verney House Resort em Montego Bay, ficará perto da praia, a 5 minutos de carro de AquaSol Theme Park e de Dead End Beach. Este hotel está a 5,5 km (3,4 mi) de Terminal de Cruzeiros de Montego Bay e a 14,7 km (9,1 mi) de Rose Hall Great House. Tire partido das várias atividades recreativas, incluindo uma piscina exterior, ou aproveite para contemplar soberbas vistas a partir da açoteia e do jardim. As facilidades adicionais incluem Wi-Fi grátis, serviço de babysitting (sobretaxa) e apoio para excursões/compra de bilhetes. Se quiser ir até à praia num instante, apanhe a boleia do a...
Mais detalhes
Entrada a partir de: 15:00
Saída até: 11:00
Comodidades do estabelecimento
Comida / Bebida
Restaurante
Piscina e comodidades de bem-estar
Piscina Exterior
Comodidades / Instalações para negócios
Salas de Reuniões
Serviços de recepção
Depósito de bagagens
Avaliação dos hóspedes
TripAdvisor
Pontuação dos viajantes
Excelente

6

Muito Bom

14

Bom

3

Razoável

3

Ruim

6
Perfil dos viajantes
Negócios

1

Romântica

11

Viagem a sós

3

Família

11

Viagem com amigos

3
Resumo das pontuações
Atendimento

Custo-benefício

Limpeza

Localização

Qualidade do sono

Quartos
Very dirty and old place with unfriendly staff
Avaliou em 18 de fevereiro de 2018
Very awful place here! I rated this place two months ago in Google, but they deleted my rating in Google! That's the only reason why you see only good ratings in Google! Be careful, this place is really not nice. It was very dirty and the room looked very old! The balcony could not be entered because the door could only be opened for about 20 cm. The staff is not very friendly and seem not really to care about you. You are about 1 km away from the location where it is shown in Google Maps, so in fact you are on a hill in the middle of nowhere. Everywhere you want to go you need to call a taxi which is really expensive: minimum 20 Dollar, no matter how far you want to go. And if you clarify the price for the taxi before the ride they always try to discuss during the ride and cheat you, also those taxis that were called from the hotel. The only taxis that you can call from the hotel was in fact always the brother of one of the ladies from the front desk. We met a family at the evening we all went on a cruise ship and they reserved a taxi for the next morning for 15 Dollars to the port. When we arrived there the taxi guy said: "Gimme more, gimme more!" We recognized it too late that as us two parties (each of us should pay 7,5 Dollars), they gave him 20 Dollars because had no smaller bill and we gave a 10 Dollar bill and we both waited for getting money back. But the guy sit into his taxi and drove away with 30 Dollar instead of the fixed and before agreed price of 15 Dollars. You are totally isolated here and at the time we were there there was totally nothing going on at the bar in the evening hours. The breakfast is additional 6 Dollars normally, but be carefull and always ask before how much it is because one day they charged us 7 Dollars for the breakfast afterwards. And the breakfast was just scrambled eggs with ham and with toast. The WiFi was hardly working. We had to go out of the room to get the WiFi signal. The check-in took about 1,5 hours! Never saw people working that slow! Good is that they offer a free shuttle to the beach and back ("Doctor's Cave Beach"). But at the beach they charge you 6 Dollars per person for the entry and another 6 Dollars for the sun umbrella and another 6 Dollars for each chair. But there is also a free beach that is just 500 m to the west of this Doctor's cave beach where they also sell soft drinks and beer for a fair price! I would definitely not recommend to go to this hotel!
RedEagle_Germany
I would stay here again.
Avaliou em 17 de janeiro de 2018
I really liked this location. The check-in lady and the guard were nice. He helped me hale a cab the next morning. The Wi-Fi is awesome. The guard mentioned that there was a bar that had soda, but I didn't see it nor ordered anything. I stayed here about a week ago, and at that time, they where charging $69/night. Inside the room, there was two queen beds, and one twin bed. The room was really spacious. The bathroom was nice, and the shower was spacious also. In the shower, there was a short ledge where you could sit down. I'm assuming it's for older people, or for people who can't stand for long periods of time. I don't remember the hotel being wheelchair accessible. I would definitely stay here again the next time I go back to Mobay.
SweetMix
Lovely place friendly staff
Avaliou em 11 de janeiro de 2018
Ok so this isn't your 5 star deluxe resort hotel, it's a lovely family run business. Yes it could do with alot of work but the staff are more than happy to accommodate any complaints you might have. Close to downtown, walking distance if you are looking to explore the island without spending loads on a hotel then yeah it's great, if you want room service, top of the range mod cons then don't. I can't fault the staff at all it was emotional to leave they are so lovely. Rooms are clean, yes there's bars on the balcony but come on have you see Jamaica at night???? The bars are for your own safety! As I said of you are picky and finikey don't stay here, if you are more interested in saving cash and crashing then it's a great place.
Afro T
Quiet and clean
Avaliou em 13 de setembro de 2017
I stayed one night before my departure since I wanted to try a new hotel in Montego Bay that was close to the airport. This hotel is very well maintained, clean and quiet. I did not eat at the restaurant but my experience with the hotel itself was positive. It is located up on a hill which makes the accessibility a bit more complicated if you do not have a driver or a vehicle. There is plenty of parking space for cars. The room had a good a/c; hot water with good water pressure and a refrigerator. I found the room I stayed in to be nicely decorated and not in need of any upkeep or refurbishing. Staff was pleasant and overall I think this is an excellent value for the money. The one complaint I do have is the bed is really not that soft. I prefer a softer mattress.
Jatravelor2015
Over-priced
Avaliou em 20 de março de 2017
I stayed in the motel when my wife and I were on the way to Cuba. The room is old. But more importantly, when we wanted to order a pizza and drinks, the motel manager told us that drinks were available at the motel. Later she sold us a bottle of orange juice at the price of USD$18! The wi-fi was poor. I needed to go outside my room to get connection. After visiting Cuba we stayed in another motel, which was much nicer, and it was only $20 more!
Chong Ho Y