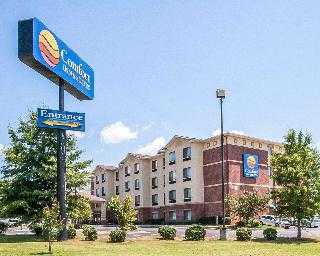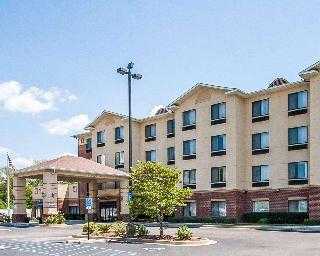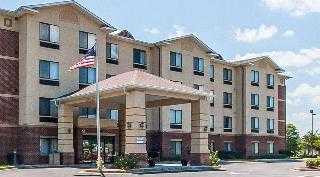 Avaliação TripAdvisor
Baseado em 133 avaliação
Ver todas
Conveniently located in the Business District, near to I-85.
Mais detalhes
Disponibilidade
Selecione a data da sua viagem
Selecione a data da sua viagem para verificar a disponibilidade dos quartos.
Informações do estabelecimento
Conveniently located in the Business District, near to I-85.
Entrada a partir de: 15:00
Saída até: 11:00
Comodidades do estabelecimento
Avaliação dos hóspedes
TripAdvisor
Pontuação dos viajantes
Excelente

63

Muito Bom

43

Bom

17

Razoável

5

Ruim

5
Perfil dos viajantes
Negócios

26

Romântica

33

Viagem a sós

7

Família

45

Viagem com amigos

8
Resumo das pontuações
Atendimento

Custo-benefício

Limpeza

Localização

Qualidade do sono

Quartos
Tudo certo
Avaliou em 17 de novembro de 2017
Ficamos uma noite no hotel como parada entre uma viagem de Pensacola até Atlanta. Estava cansado e esqueci de pedir um quarto terreo, o rapaz do check in foi muito gentil e quando viu nossas malas ele mesmo se ofereceu para mudar o quarto. Muito obrigado! Os quartos são amplos, limpos e o café da manhã é bom. Unico ponto negativo é a entrada do hotel, meio confusa, a avenida na frente dele tbm, devem ter alterado o traçado das vias recentemente, pois o gps não conseguiu identificar.
stonfix
Poor Wi-Fi, COVID safety practices, and location.
Avaliou em 18 de setembro de 2021
Wi-Fi was frustrating -- would work for 10 minutes and then drop my connection. Not good for Zoom calls or playing games. I called tech support twice and they reset their equipment, but it did not help. I ended up using my cell phone data instead. Night manager named Robert told several of us that he didn't need the vaccine because he already had covid and the vaccine would destroy his antibodies. He then explained that he believed the vaccine was the first step in getting the "Mark of the beast," that the vaccine was detectable with x-ray machines, and the vaccine was detectable from space. Robert never wore a mask (that I saw) and I saw him in the breakfast area several times near the food (the hotel had a sign that asked people to wear masks and gloves while getting food). I do not recall any of the other employees wearing masks either. If you don't have a car, there are no restaurant options nearby unless you are willing to play "Frogger" across the freeway (no crosswalks). The Burger King next door is drive-thru only...
K7403RUchrisc
Very nice hotel in Montgomery
Avaliou em 26 de julho de 2021
Well located hotel with very comfortable beds and rooms. Very clean and pleasant staff. Decent breakfast with hot items of scrambled eggs and Sausage. Also assorted bread items and juices. Well maintained grounds .
WickedWalt
Too many issues
Avaliou em 11 de novembro de 2019
Three primary issues: property access, guest type, and breakfast/cleanliness. Access to the property is awkward at best. Google maps is not up to date. I would definitely prepare yourself w a current map and not arrive after dark. There is heavy unforgiving traffic and access is not intuitive. Guest were maybe 50% military, all of whom we saw were polite and respectful. The other half of the guests were something else. We saw no seniors and only one family w children. . We were woken up twice the first night : by loud guests in the hallway and again at 2 am by loud guests in the parking lot .(and we were on the third floor) I wouldn't call this place safe or pleasant for a young family or seniors. Third major issue was the breakfast. All three days we were there the breakfast meat looked and tasted undercooked; we only tasted it one day. The small refrig was under-filled, light didnt work and when i got some jelly packets for my wife, there was jelly sticking to the outside) You dont recon they were reusing leftover jelly from the tables? Poor hygiene. The orange juice was watery. I only ate cereal by the second day and tasted the milk in s cup before using it. Positive items: the checkin was pleasant and when we discovered only two towels in our room she brought more w/i the hour. the room was clean.
Richard H
Good Value for a Comfortable Stay
Avaliou em 5 de novembro de 2019
This property offers an excellent location near I85 and the Eastchase shopping area of Montgomery. There are numerous restaurants close at hand and on Vaughn Rd/Taylor Rd nearby. The hotel was immaculate and quiet. The mattress was extremely comfortable and the room was very spacious. Microwave, fridge, and flat-screen were all provided as usual as was ample parking. The cost was very reasonable and I wouldn't hesitate to book here again in the future.
Smiles4miles