Fairfield Inn & Suites Omaha West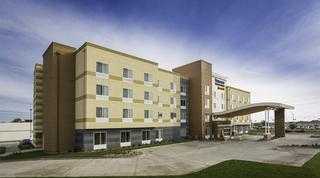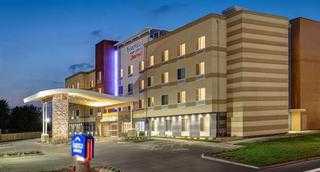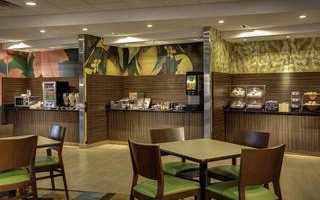 Avaliação TripAdvisor
Baseado em 86 avaliação
Ver todas
Este simples hotel encontra-se em Northwest Omaha.
Mais detalhes
Disponibilidade
Selecione a data da sua viagem
Selecione a data da sua viagem para verificar a disponibilidade dos quartos.
Informações do estabelecimento
Este simples hotel encontra-se em Northwest Omaha.
Entrada a partir de: 15:00
Saída até: 11:00
Comodidades do estabelecimento
Serviços de recepção
Depósito de bagagens
Avaliação dos hóspedes
TripAdvisor
Pontuação dos viajantes
Excelente

55

Muito Bom

18

Bom

3

Razoável

4

Ruim

6
Perfil dos viajantes
Negócios

15

Romântica

17

Viagem a sós

6

Família

35

Viagem com amigos

2
Resumo das pontuações
Atendimento

Custo-benefício

Limpeza

Localização

Qualidade do sono

Quartos
Very mediocre.
Avaliou em 25 de julho de 2021
Covid staffing issues may be in play here, but we waited for quite awhile for anyone to check us in at the front desk... after 10 minutes of waiting my husband even looked back in the break room behind the front desk just to see if he could find anyone! Finally an employee came in from his smoke break (you could smell it) and checked us in, no apologies for the wait but whatever. The room we had was ok, clean enough. The drawers on the dresser/tv stand were both open upon arrival so I shut them, only to find out that stand is slanted forward and the drawers don't stay closed... mental note to not run into them during our stay. The tv remote wouldn't work for the volume either, not a huge deal since we weren't there to watch tv but annoying when we didn't want to disturb other rooms with the loud volume we couldn't even control from the tv... breakfast was picked over and not that appealing so we just left to eat elsewhere.
tnorb
Good chain hotel
Avaliou em 30 de junho de 2021
The staff is friendly. Housekeeping adequate. The place is clean. Decent hotel breakfast menu. Good location for West Omaha. Many restaurants and shops in this area. Also close to Zorinsky Lake Park which is a real gem. We would stay again.
faulkner2
Woudn't stay again
Avaliou em 27 de junho de 2021
We arrived for check-in at 4 PM, there was no one at the front desk. After about 5 min. woman that appeared to be a mgr. came by asking if we had been helped, I replied that we had not, she said I don't know where HE is and looked down a hallway and a couple close places, then she went to a room behind the front desk and was talking to another woman, leaving us there waiting. After about 15 min another woman that looked like she was probably a housekeeper came by, she went to find the man that was supposed to be at the desk. He finally came after another 5 min or so. No one apologized for us having to wait nearly 30 min to be checked in. We went to the room, it was very warm, so we turned the temp down to cool it off when we went to dinner, When we got back, we realized the TP was very low, I had to go find a housekeeper to give us another roll. We had reserved the room for 3, but there were only 2 sets of towels. They allow pets, which is fine, except there was a dog in a room near us that barked every time someone in a close room talked or walked down the hallway, Finally after 1030 PM is quit. There was supposed to be "breakfast", but when we went down, they were out of most items. (more than 2 hours before it was to end). a man filling items said they didn't order enough to last the weekend, so we had to go elsewhere to grab something to eat. We do NOT recommend this hotel at all
donnad492
Dirty
Avaliou em 25 de fevereiro de 2021
Checked in the first evening of my stay and went to bed early. Woke up to shower and found dirty wash cloths and towels. There was also someone else's hair lingering on the floor. Got switched into another room and it hadn't been cleaned other (hair on the pillows, food crumbs on the desk) so I checked out early.
luketT679VQ
Just Avoid It....
Avaliou em 21 de fevereiro de 2021
Cons: Understaffed and neglected. That would be the two words I could use for this hotel. Is it a Covid issue? I don't know. The front desk was never staffed and I had to "call" the hotel to get someone to come to the front desk. The sidewalks and parking lot were not shoveled or cleared and were quite dangerous. If this hotel was inTexas that never got snow, I could give them some slack. But this is Omaha, and all the businesses in the area had cleared their sidewalks and parking lots. Even neighboring hotels were spot on with their sidewalks and entrances. The trash was left to rot by the ice machines. The lights in the hallways were all damaged and torn. The grab-and-go breakfast was horrible and once it was gone...it was gone...there was no re-stocking or keeping the area clean. I have stayed at a lot of hotels during C19 and by far this was pathetic. Yes, pathetic. Because of my disability, I do travel with a service dog, and she was referred to as a "pet" by the check-in staff. I tried to kindly explain that she is not a pet. Ever. I was offended. I think their staff needs some training on this issue. None of the handicap stalls were cleared and one gentleman was in a wheelchair and they told him to just park under the awning because they did not have a handicap stall cleared to accommodate him or his vehicle. As someone with a disability, I know personally, I do not like to draw attention to myself but they did a doozer with that one. The Pro: And it only has to do with location. So many awesome places to eat. A grocery store, Target, and Starbucks right across the street. Outlet Mall is close. Easy drive into town...just find a different place to stay but stay in Elkhorn (West Omaha). It is a fabulous area! Will be reviewing all the fun places we ate!
MangoTheHD