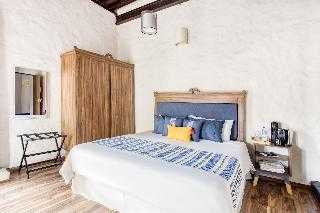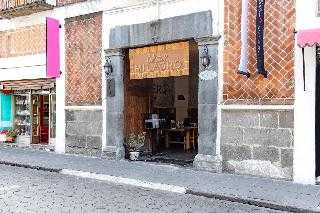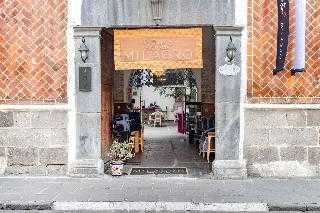 Avaliação TripAdvisor
Baseado em 22 avaliação
Ver todas
Localização Do Estabelecimento Em Puebla (Centro Histórico de Puebla), Hotel Milagro ficará a 5 minuto(s) a pé de Centro de Congressos de Puebla e a 6 minuto(s) de Praça Zócalo. Este hotel está a 1,9 km (1,2 mi) de Catedral Puebla e a 1,9 km (1,2 mi) de Biblioteca Palafoxiana. As distâncias são ap...
Mais detalhes
Disponibilidade
Selecione a data da sua viagem
Selecione a data da sua viagem para verificar a disponibilidade dos quartos.
Informações do estabelecimento
Localização Do Estabelecimento
Em Puebla (Centro Histórico de Puebla), Hotel Milagro ficará a 5 minuto(s) a pé de Centro de Congressos de Puebla e a 6 minuto(s) de Praça Zócalo. Este hotel está a 1,9 km (1,2 mi) de Catedral Puebla e a 1,9 km (1,2 mi) de Biblioteca Palafoxiana. As distâncias são apresentadas à 0,1 milha e ao quilómetro mais próximo.
- La Calle de los Dulces - 0,1 km/0,1 mi
- Convento de Santa Mónica e Museu de Arte Religiosa - 0,1 km/0,1 mi
- Museo Poblano de Arte Virreinal \- 0,1 km/0,1 mi
- Museo de la Revolución Mexicana - 0,2 km/0,1 mi
- Merc...
Mais detalhes
Entrada a partir de: 15:00
Saída até: 11:00
Comodidades do estabelecimento
Comida / Bebida
Restaurante
Opções de transporte
Garagem
Serviços de recepção
Depósito de bagagens
Avaliação dos hóspedes
TripAdvisor
Pontuação dos viajantes
Excelente

10

Muito Bom

5

Bom

3

Razoável

3

Ruim

1
Perfil dos viajantes
Negócios

3

Romântica

9

Viagem a sós

2

Família

5

Viagem com amigos

0
Resumo das pontuações
Atendimento

Custo-benefício

Limpeza

Qualidade do sono

Quartos
Boa Localização
Avaliou em 5 de março de 2020
Escolhemos esse hotel por esta bem localizado com relação ao entro histórico. Quarto e banheiros muitos bons. O cafe da manha razoável mas só é servido após as 9 da manha, fato esse comum em muitos hotéis no México. Da próxima vez reservo sem café da manha.
RROSASILVA
A great option in Puebla
Avaliou em 9 de novembro de 2020
This is a lovely boutique hotel in a cool historic building. Our room was super clean, quiet, spacious and comfortable, and everyone we encountered was warm and welcoming. The cafe con leche in the courtyard restaurant is fantastic, as was everything we tried from the menu. The hotel is well located, close to the central Puebla points of interest. And they have parking!
tracyg0mez
Beautiful but could be better
Avaliou em 8 de março de 2020
Beautiful hotel boutique, all the decor and furniture is lovely, the room is beautiful, very spacious and the shutters keep the light from coming in and let you sleep! BUT and it is a big BUT, all day there was music playing in the restaurant which is in the middle of the hotel and the noise is annoying, also there was a birthday party and we werent notified, so all saturday there was LOUD music and screaming from The party. We wanted to rest but couldnt because of all the noise. The street noise is understandable considering the location but the loud music all the day long is NOT! We arrived at night and took at least 10 minutes to open the door! The recepcionist was parking a car because the valet had the day off. But seems like the city center is a little bit too dangerous at night and we didnt care for standing with our bags in the street.
romeoyvaleria
Worst then we expected.
Avaliou em 21 de janeiro de 2020
We booked and played for the "master suite". When we arrived we saw that the receptionist didn't speak English. I found it very weird that we needed to communicate with Google translate. We didn't get information about breakfast and other basic information. The room seemed nice... but the bathtub was dirty. When we came home after dinner and tries to sleep... this was not possible. The most expensive room was directly on the bus street where loud music was played and cars were driving and honking. We asked for another room. We got one that was more quite. But because the night shifter didn't speak english he didn't say our new room was booked for the next day. So we were waked and asked to move to the third room. The third room wasn't used in months and had a very bad smell. But we still took it because It had descent wifi (which the other rooms didn't have). We asked for the change in money between the rooms. They didn't want to give our money back and says we would get breakfast for free. Well... that breakfast... no bread... no tortillas... we had "mexican" coffee the first morning... maybe it was a local speciality... but that was gross. It was coffee with all kinds of spices. When we asked for a normal coffee we got two expresos. After drinking the Express the waiter told us these coffees needed to be paid... and were not included in the free breakfast. Unbelievable. And to finish our "wonderfull" stay at this hotel... we waited for our car for 30 minutes... and when the guy arrived with our car... he brought not out car... but some bodies else car. So we needed to wait another 20 minutes. I already gave the guy 50 pesos before he brought the wrong car. So I asked back the tip o gave the amateur... and he just walked away. This was maybe the worst hotel experience we ever had. There was one good thing about this hotel... and that was the water power. The rest was very bad.
451emirc
Incredible Boutique Hotel
Avaliou em 24 de novembro de 2018
We came to visit Puebla for just a few days and we looked for a hotel when we arrived. Once we found this hotel, one of the staff members showed us a few rooms and we were amazed by everything. The rooms were absolutely beautiful and the staff was very accommodating. Even the breakfast (which was included), was delicious and filling! Super close to the center and was a very enjoyable stay. I would definitely stay here again!
Connector41970948763