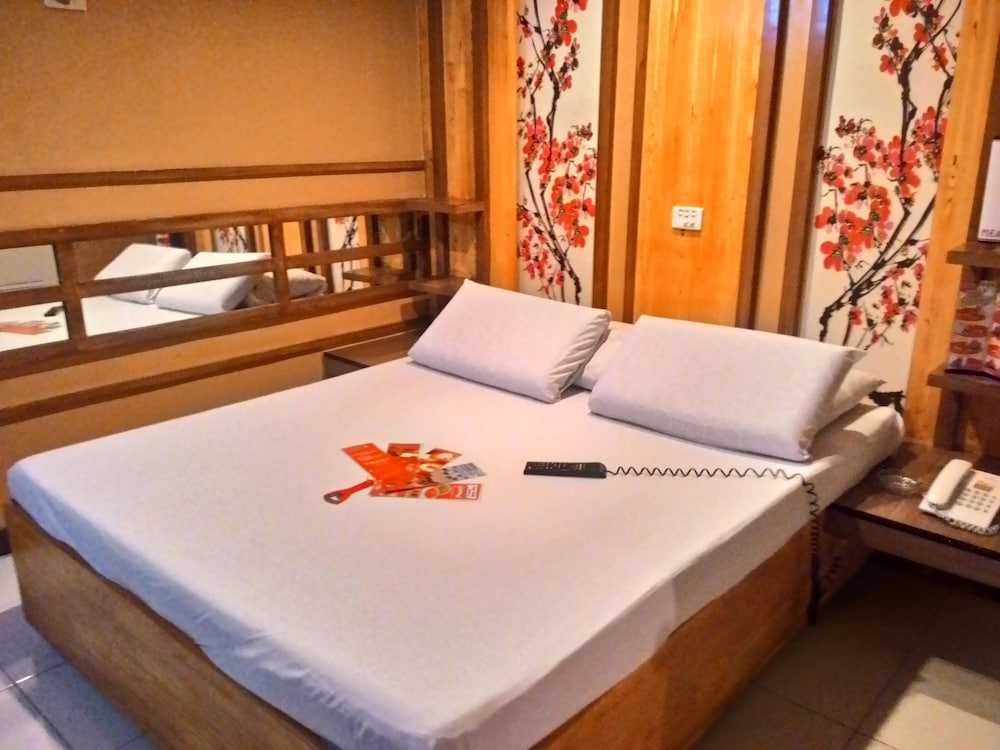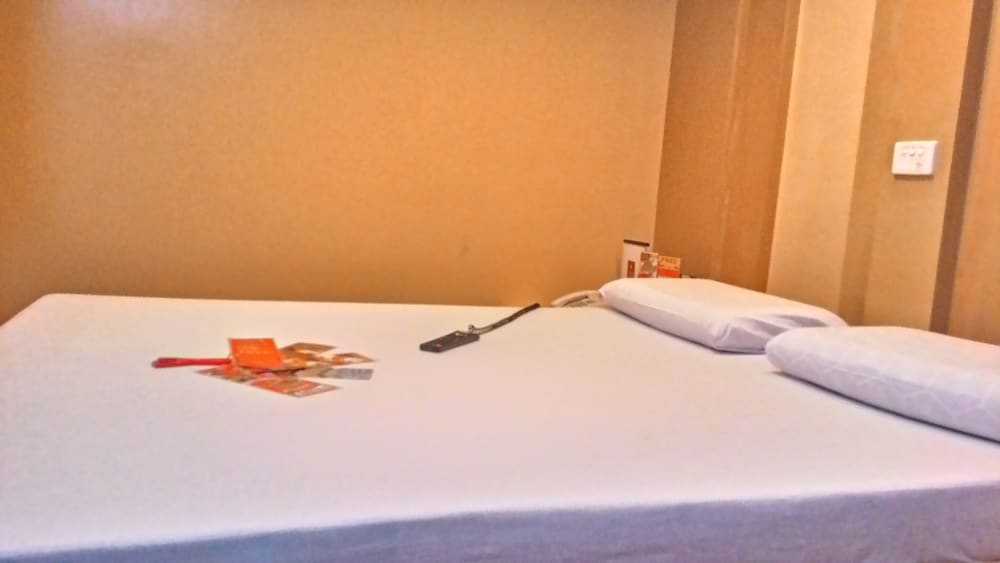 Avaliação TripAdvisor
Baseado em 6 avaliação
Ver todas
Localização Do Estabelecimento Com uma estadia Hotel Sogo - Quezon Ave. em Quezon City (Diliman), ficará a 5 minuto(s) a pé de Fisher Mall e a 5 minutos de carro de Tomas Morato Ave. Este hotel está a 2,7 km (1,7 mi) de Centro Médico de São Lucas e a 3,9 km (2,4 mi) de Eton Centris. As distâncias ...
Mais detalhes
Disponibilidade
Selecione a data da sua viagem
Selecione a data da sua viagem para verificar a disponibilidade dos quartos.
Informações do estabelecimento
Localização Do Estabelecimento
Com uma estadia Hotel Sogo - Quezon Ave. em Quezon City (Diliman), ficará a 5 minuto(s) a pé de Fisher Mall e a 5 minutos de carro de Tomas Morato Ave. Este hotel está a 2,7 km (1,7 mi) de Centro Médico de São Lucas e a 3,9 km (2,4 mi) de Eton Centris. As distâncias são apresentadas à 0,1 milha e ao quilómetro mais próximo.
- Fisher Mall - 0,4 km/0,2 mi
- Tomas Morato Ave - 1,7 km/1 mi
- Centro Médico de São Lucas - 2 km/1,3 mi
- Eton Centris - 2,7 km/1,7 mi
- Oasis Manila - 3,2 km/2 mi
- SM North EDSA - 3,4 km/2,1 mi
- Par...
Mais detalhes
Entrada a partir de: 15:00
Saída até: 11:00
Comodidades do estabelecimento
Avaliação dos hóspedes
TripAdvisor
Pontuação dos viajantes
Excelente

0

Muito Bom

0

Bom

1

Razoável

3

Ruim

2
Perfil dos viajantes
Negócios

2

Romântica

1

Viagem a sós

1

Família

2

Viagem com amigos

0
Resumo das pontuações
Atendimento

Custo-benefício

Limpeza

Localização

Qualidade do sono
No other option
Avaliou em 12 de janeiro de 2019
I have no other option since it is the nearest hotel where I have some family errands to attend to with my family of 2 kids. The beds are covered with leatherette and all rooms are smoking rooms, I have to buy an air sanitizer to get rid of the smell. Bedding are not white but dirty white in color, perhaps this is the amenities for the price paid. The two beds are fixed and couldnt be moved according to the roomboy but it is not, so I did it myself. Dont expect your pillows to be the plush type, and window (in wc we are lucky to have one for some sunlight) to be opened for a whip of fresh air because the hotel is at a major thoroughfare, so expect some carbon monoxide instead. Our room is dated already. Could use more lights in the room since I want rooms to be bright. But I have to commend them for the training of the staff in the way they greet all their guests all throughout our stay including the security guard. The location is in front of a mall across a major highway, and at ground level there is 24 hour grocery next door and Jollibee fast food aside from a convenience store across. Location is very good since public transportation is at the side and if you need anything you just have to go down.
Rey M
DON'T stay here ,go somewhere else
Avaliou em 21 de janeiro de 2018
I made a bad Pick , They lose your paid Reservation ask you at 2AM to pay bill , No Housekeeping , say call for clean up your room , 2 days later I swept my room with a newspaper , food ok BUT Jollie Bee is close by , They have a goods store on site . restaurant staff Great , rest of staff inept ,I booked for 6 nights , can't wait to get out
AUNYMARY
A Hotel in Quezon City
Avaliou em 26 de janeiro de 2017
Pros: If you needed to stay in Quezon city it is cheap compared to some of the other hotels in the Quezon city area. Cons: I think what would be nice is if the hotel did the airport runs which you could book when you booked the hotel room. Location: The Fisher mall was only 4 minutes walk across the bridge which was almost right next to the hotel.The mall had many shops and many places to eat. Although the room was not big and there were no views from the room everything in the room I stayed in worked.There was no problem charging a mobile phone.The wi-fi did work but you did have to sign in at least once a day.The shower was hot and the bathroom was big enough but there was no bath.The TV which was a flat screen mounted on the wall had a lot of channels to choose from on most days nearly all the channels came through well.There was probably enough English speaking channels to watch all day there were film channels and documentary channels like discovery and national geo wild and animal planet.There was a bar on the roof called the Sky bar you could have food and drink and watch live entertainment. eg.a band.It was easy to get to reception using the elevator.One could phone reception if there was a problem or to request things.I could have had my meals at the hotel but I chose to have most of mine at the fisher mall.The lotto in the Philippines is only 20 pesos a ticket which is less expensive than a lotto ticket in England.It was possible to get about using the jeepneys I had a friend with me on most days so travel was not to difficult.I also visited the ever mall although briefly and by the time we got there it was closing.I visited the SM mall at San Mateo which was another big place with shops and food stations.I had one proper day out excursion to Danarak Falls but I forget where it is.This is a waterfall with a pool directly beneath it big enough for a swim.
dayyy
WIFI did not work !!
Avaliou em 19 de maio de 2016
POSITIVES : -Good location across from Fisher Mall. -Excellent water pressure and hot water. -Jolibee at same location. - inexpensive room service menu looked good. - Rooftop bar with a view looked reasonable. -Close to some night-life. - A/C works. NEGATIVES : -Sink was filthy. Possibly not cleaned in months. Lazy staff or dim light excuse ? Worst I have ever seen, but not a show stopper. -No windows. -Matresses thin and not very comfortable. -Elevator extremely slow, with a lot of customers up and down. -Internet signal was strong, but login did not work. Staff said it was "under maintenance". Lots of staff onsite, but room cleaning should be a priority, not just polishing the front door. If this was my hotel, I would dismiss the manager and some of the staff. Maybe they are satisfied with revenue from their "Love Hotel" clients, but I would not return. I am an experienced traveller from Canada. I am obviously not expecting the Hilton, but was not impressed.
L B
NEEDS BETTER STAFF AT DESK. NEEDS PEOPLE SKILLS
Avaliou em 28 de fevereiro de 2016
Our stay was for four nights. The door man was very professional and polite. The housekeeping was great, but the front desk staff needed more people skills. We had problems just asking for simple assistance, but it seemed that they didn't have time to help us and was more concerned about there paper work at the time of asking for help when we needed assistance. Over all I would give this Sogo Hotel on Quezon ave.have a rating of only 1 1/2. of a possible 5. I would suggest to the management to have the front desk staff at that time of our stay for more people skill training. I have been a Manager on duty and |Director of security at a four star hotel and never seen this type of un-professional people skills amoung front desk clerks.
Ray H