St.Peter Central Rooms B&B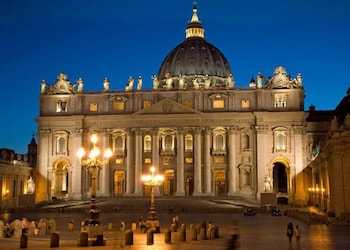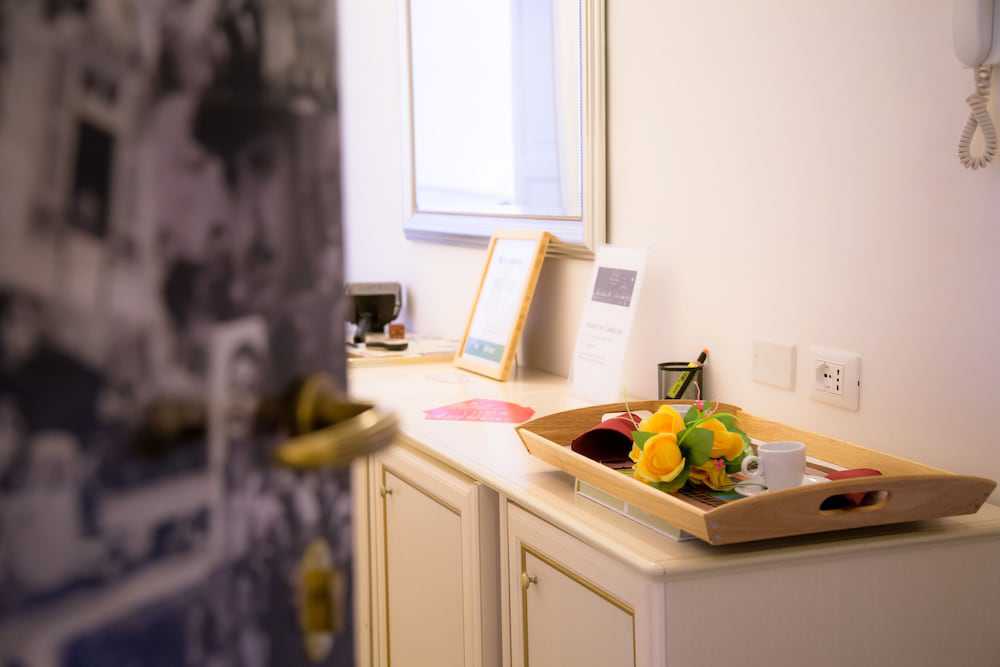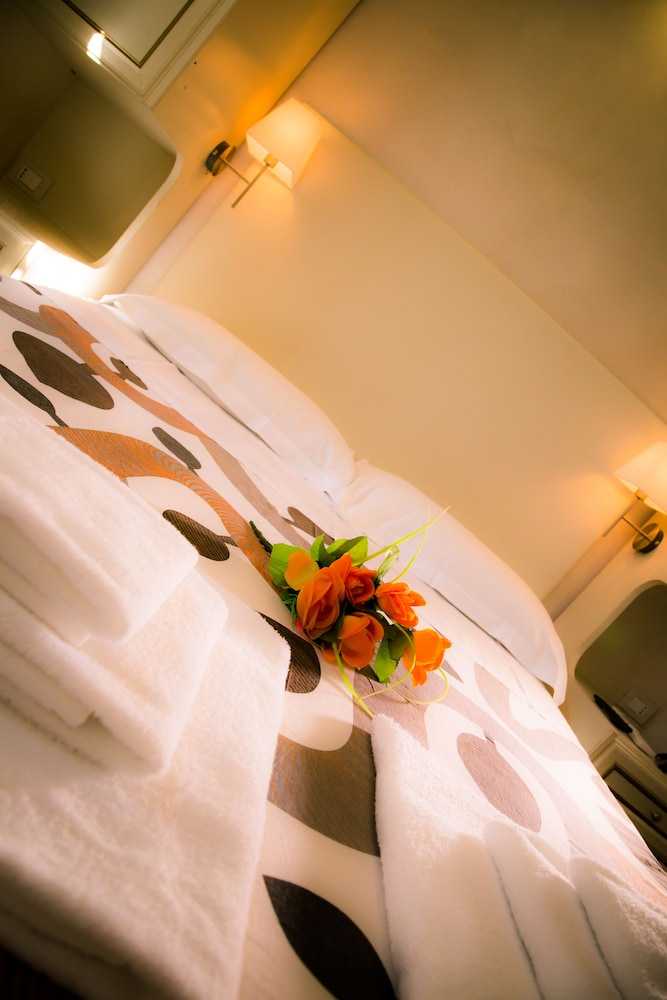 Avaliação TripAdvisor
Baseado em 83 avaliação
Ver todas
Com uma estadia St.Peter Central Rooms B&B; em Roma (Vaticano), ficará a alguns passos de Via Cola di Rienzo e a 11 minuto(s) a pé de Praça de São Pedro. Este bed & breakfast está a 0,9 km (0,6 mi) de Castel Sant'Angelo e a 0,9 km (0,6 mi) de Museus do Vaticano. Algumas das comodidades e serviços em...
Mais detalhes
Disponibilidade
Selecione a data da sua viagem
Selecione a data da sua viagem para verificar a disponibilidade dos quartos.
Informações do estabelecimento
Com uma estadia St.Peter Central Rooms B&B; em Roma (Vaticano), ficará a alguns passos de Via Cola di Rienzo e a 11 minuto(s) a pé de Praça de São Pedro. Este bed & breakfast está a 0,9 km (0,6 mi) de Castel Sant'Angelo e a 0,9 km (0,6 mi) de Museus do Vaticano. Algumas das comodidades e serviços em destaque incluem Wi-Fi grátis e apoio para excursões/compra de bilhetes. Este bed & breakfast disponibiliza transporte de/para o aeroporto. Sinta-se em casa num dos 4 quartos com ar condicionado, um frigorífico e um minibar. Ao final do dia, aproveite para assistir a uma seleção de canais via satél...
Mais detalhes
Entrada a partir de: 15:00
Saída até: 11:00
Comodidades do estabelecimento
Serviços de recepção
Depósito de bagagens
Avaliação dos hóspedes
TripAdvisor
Pontuação dos viajantes
Excelente

39

Muito Bom

29

Bom

7

Razoável

3

Ruim

5
Perfil dos viajantes
Negócios

2

Romântica

33

Viagem a sós

5

Família

21

Viagem com amigos

13
Resumo das pontuações
Atendimento

Custo-benefício

Limpeza

Localização

Qualidade do sono

Quartos
Sinta -se em casa!
Avaliou em 27 de abril de 2015
Este hotel na verdade se trata de uma propriedade particular, em que você é recebido pelos proprietários Domenico e Marlen. Destaco a localização em que você pode ir andando ao Vaticano como também ao castelo Sant' Angelo. O quarto possui ar condicionado e é muito limpo, o café da manha é servido em uma cafeteria próxima ao hotel,Marlen nos deu muitas dicas de restaurantes. Valeu muito a pena se hospedar no St Peter, o preço é bem acessível, sendo que nesta região de Prati as hospedagens em geral são bem caras. Também fica próximo ao metro Ottaviano
Ldauer
Not a pleasant experience! Smells like sewer!
Avaliou em 23 de outubro de 2019
I had reservations for 3 nights. I arrived in Rome and was picked up by an arranged shuttle from the airport to take me to the B&B. I arrived after 8pm and was greeted by a women who's name I don't remember. I was charged an extra $15 euros for arriving late which wasn't a big deal. I was shown to my room after going upstairs in the tiniest elevator ever, so cute! The room was small but adequate with a bed, chair nightstand and small refrigerator, the window opened to a busy street. The private bath was small and had recently been updated and had a vertical long window that was already open, the women showing the room opened it further. On the bathroom floor there were 2 sewer caps or covers from previous bathroom fixtures. I would leave in the morning and go back to the room early evening after visiting the local sights. The room and bathroom both stunk like sewer gas! Also for a B&B there was never any mention or a place set up for breakfast. I would not recommend staying here, find another place!
EieiOwe
NOT A B&B!!
Avaliou em 23 de outubro de 2018
Not what I was expecting at all. Essentially it's an en-suite room in a converted apartment in a shared use building. There is no owner on who stays onsite and you have to arrange to meet someone in order to check in. That said, it was a warm and friendly greeting. No communal area or kitchen. Could not connect to the WiFi, despite trying more than once being aware of the case sensitive username/password it would not connect. The breakfast is absolutely pointless. It's across the road at a small cafe, but consisted of a croissant and a tap water. It's in a great location. It's close to the Ottaviano Metro station and about a 10 minute walk to the Vatican Museum, Sistine Chapel and St Peters Basilica. The rooms are to a good standard, with a small flat screen TV, small refrigerator, bathroom, comfortable bed, air conditioning and daily house keeping but sound proofing between rooms isn't great and it can be a little noisy between rooms and on the various floors occupied by other people (required ear plugs). Description desperately needs updating to reflect the true nature of this property as its current name of B&B is misleading. It would still appeal to a lot of people in its current form but I don't believe it is accurate. Given an average rating due to misleading name and it not being what I wanted to book, noise and issues with the Wi-Fi. Could have got more for less at an alternative B&B/Hotel. Saved only by its location.
GaryYork
Score - value for price
Avaliou em 30 de julho de 2017
Checked in earlier than "possible", owner has several apartments split into rooms like this and arranged check-in within 10 mins. What to say - perfect location for Vatican, subway is aroudn the corner, so as grocerry shop and dosens of decent restaurants strarting from quiet ones to busy, loud, packed with ppl. Superquiet street in a busy area. Breakfast - typical italial - coffee in a local coffee shop with a superb croissant. Would stay again - take classic double room with a view and reasonable layout of the room. Rooms fine, bathroom OK. All in all - we are more than happy!!!
sintijs
Budget but clean
Avaliou em 24 de abril de 2017
This is not a hotel. It is someone's apartment I'm sure it's probably like an Airbnb. Saying that, it is clean though very very very small. You can just about swing a cat in the room provided it's a very small cat. The benefit is it has a fantastic location, they come and clean every day. It's not mental noisy but I suggest ear plugs as you can CERTAINLY hear next door having a poo (flushing) or using a shower, as the walls are paper thin! Good if you're a very independent kind of traveller, but if you need help this is not the sort of place you want to stay. We are enjoying it because principally it's just a bed for the night, if you want anything more stay in a hotel. Also the breakfast is apparently included, but we were told go to the bar in front and there are about 20. The real truth is you need to come out of the apartment and immediately turn left - it's the one called 'bar gastronome' opposite - having found it the breakfast is poor so don't bother. One final thing it's a bit annoying you have to pay up front when you arrive, don't know what you'd do if you wanted to complain and get some money back. So excellent location, clean but poor service, noisy and zero facilities - saying that we paid €440 for four nights that's £47pppn - you get what you pay for!
Adventurer623633