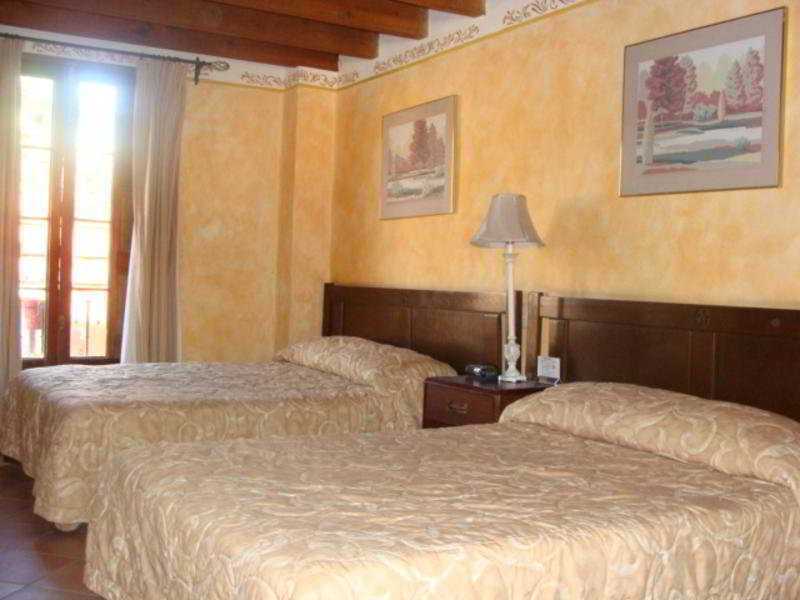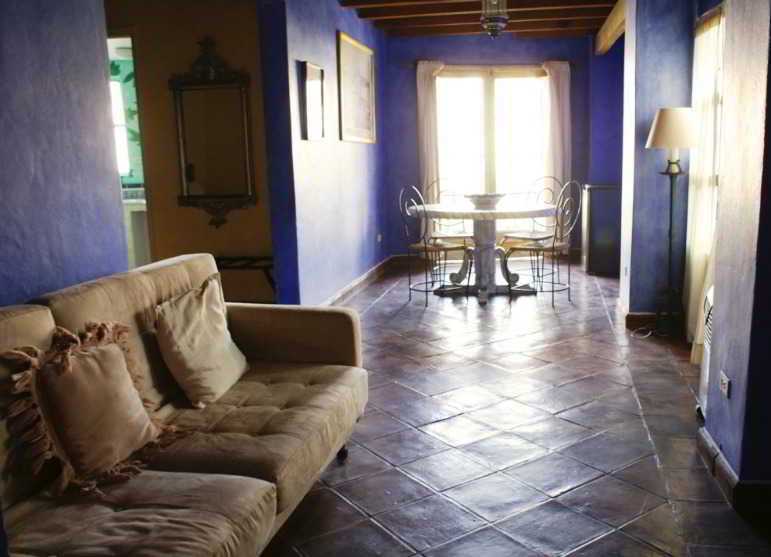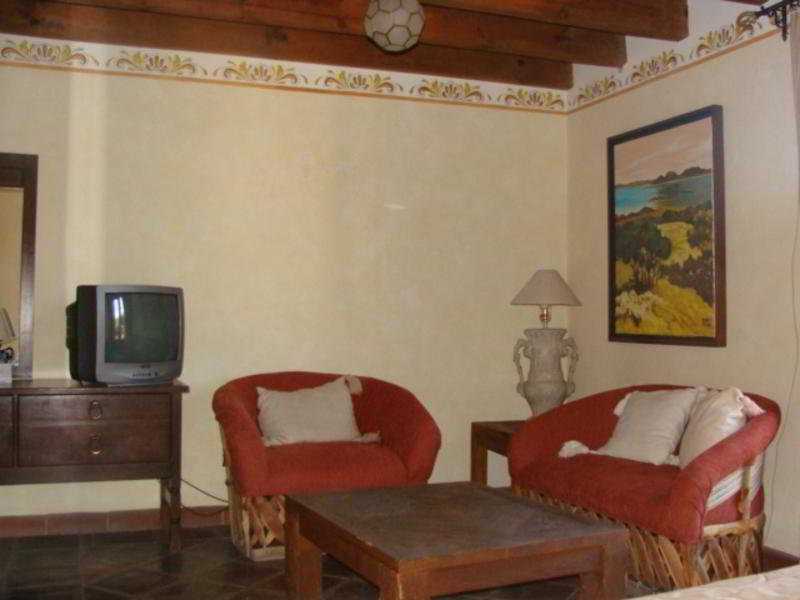 Avaliação TripAdvisor
Baseado em 45 avaliação
Ver todas
O hotel localiza-se no centro da bonita cidade de San Miguel de Allende, a apenas alguns metros das principais atracções da cidade, bem como da paróquia de Arcángel e do jardim da praça principal. O hotel é pequeno, permitindo à equipa prestar um serviço personalizado e criando um ambiente de total ...
Mais detalhes
Disponibilidade
Selecione a data da sua viagem
Selecione a data da sua viagem para verificar a disponibilidade dos quartos.
Informações do estabelecimento
O hotel localiza-se no centro da bonita cidade de San Miguel de Allende, a apenas alguns metros das principais atracções da cidade, bem como da paróquia de Arcángel e do jardim da praça principal. O hotel é pequeno, permitindo à equipa prestar um serviço personalizado e criando um ambiente de total relaxamento. Compreende um total de 10 quartos, um hall de entrada com recepção em serviço sob 24 h, bar, restaurante, acesso à Internet sem fios, serviço de quartos e parque de estacionamento. Os quartos são muito confortáveis e oferecem vistas diferentes, para áreas exteriores e interiores, onde o...
Mais detalhes
Entrada a partir de: 15:00
Saída até: 11:00
Comodidades do estabelecimento
Comida / Bebida
Restaurante
Serviços de recepção
Depósito de bagagens
Avaliação dos hóspedes
TripAdvisor
Pontuação dos viajantes
Excelente

4

Muito Bom

19

Bom

16

Razoável

2

Ruim

4
Perfil dos viajantes
Negócios

2

Romântica

14

Viagem a sós

1

Família

14

Viagem com amigos

10
Resumo das pontuações
Atendimento

Custo-benefício

Limpeza

Localização

Qualidade do sono

Quartos
Looks good, not too much in it though
Avaliou em 20 de abril de 2019
Hotel Ana Catalina looks good from a visual perspective; the internal garden is nice and the hotel rooms look good. The rooms are clean and tidy, the bathroom shower takes ages to get warm though (if it gets warm at all). The natural lighting in the room is nice, unless you want to sleep in, as there's no way to cover them.
DYWorldTravel
Nic location, nice people
Avaliou em 3 de maio de 2018
Great location, friendly staff, big screen CNN & BBC. No coffee maker, no fan, no writing desk, no hair dryer. Room got warm late in the day, but cooled by bedtime. Very low water pressure and the shower took five minutes to finally get warm, but never hot. Typically considerable traffic noise it took us a night to get used to. There is a cafe in the courtyard, but it didn't open in the morning. Not to worry, Caffe Monet across the street to the west does good, inexpensive breakfast in a very pleasant atmosphere. There is a laundry 200 meters away that worked great for us.
SkykomishBob
7 night stay-overall impressed
Avaliou em 5 de março de 2018
We just returned from a 7 night stay (Feb.24-March 3) and had a wonderful week in SMA. Did not know what to expect from a hotel that charges less than half what others in the area do. We were very impressed. CONS: This small hotel has two very busy streets (in front and back)that it sits on. You will hear the noise outside all hours of the night. I do not know that anything could be done to prevent this. We brought earplugs after reading other reviews and this helped tremendously. --The room doors do not have any deadbolts or chain locks to give you a sense of security once you are in for the night. The doors and locks are flimsy and should be upgraded. --There is no central air conditioning or heating. Our room had a great ceiling fan. We also had a portable fan and a space heater. We packed pajamas for both a cold and warm room. We had great weather so our room was perfect. But I could imagine other times of the year needing to put effort into making the room a comfortable temperature. PROS: The location was AWESOME. We easily walked everywhere and felt safe as two women travelers. The front desk was staffed every time we passed it (day or night). We could walk faster to the Jardin than a taxi could take you with all the traffic. There was a coffee shop across the street and a full service breakfast place (Cafe Monet) right out the back of the hotel. We were also the closest hotel to the Rosewood Hotel $$$$. So the area was full of upscale travelers. --We were on the top floor in room 8 (two double beds). Our room was clean with fresh white sheets and nice mattresses. We had a traditional brick domed roof and classic Mexican style. The maid kept the room spotless. We had plenty of hot water in the shower. The TV had 4 USA English speaking channels. --PRICE. We paid less for a week than one night at the Rosewood. It was an amazing value at only $50 a night. After spending a week exploring and peaking into every hotel that would could. I think ours was a unbelievable find. I did not see anything comparable at less than $100 a night. So why pay more when you do not have to? We used all our savings on amazing meals. Drinks at rooftop bars. Really enjoying everything that SMA had to offer. The Ana Catalina was a classic Mexican colonial hotel in the heart of San Miguel. This place is a gem. Do not let the cheap room rate and lack of reviews scare you away. I almost do not want to review this hotel and keep it to myself.
Vikki S
Did the job
Avaliou em 8 de junho de 2017
Pros : Very well located Clean Amazing new mattress in June 2017 Room with a nice table and chair/fridge/microwave Bottles of water every day Wi-Fi very good Cons: Noisy Worn down Hard to park to get your luggage out with the traffic Looooong time to get hot water No A/C
Marjo210
Expectations not met
Avaliou em 4 de junho de 2017
The hotel is very well situated and only a small walk from everything and anything in San Miguel de Allende. Easily accessible and well-situated. An in house restaurant also allows you to grab a quick bite to eat at any time of the day. Unfortunately it fell short of my expectations in the following ways: - The room did not have air conditioning, neither did the rooms' windows have any screens, should one want to open the windows instead. - Only lukewarm water was available. - The shower-head only let through a dribble of water and that too was variable as was the pressure of the water. - The amenities were incomplete. - The employees clearly prefer you pay cash, as opposed paying by credit card and make a point of telling you. Overall the hotel however was very clean. The mattresses are new and the beds are very comfortable. All in all, it's a budget hotel with no particular frills. However, no air conditioning / screens in Mexico and no proper hot water are unpardonable. I do recommend the hotel for the budget traveller, although I will clearly not return there myself.
Eisosnane