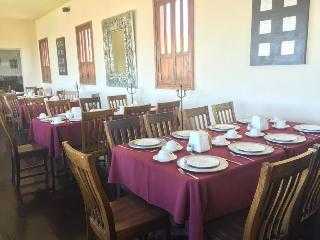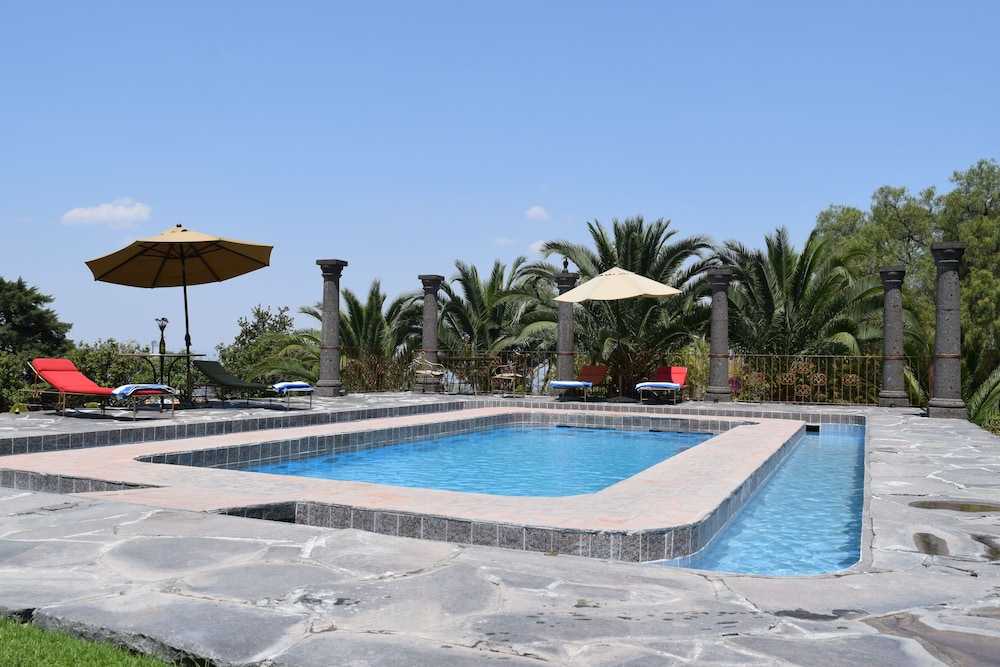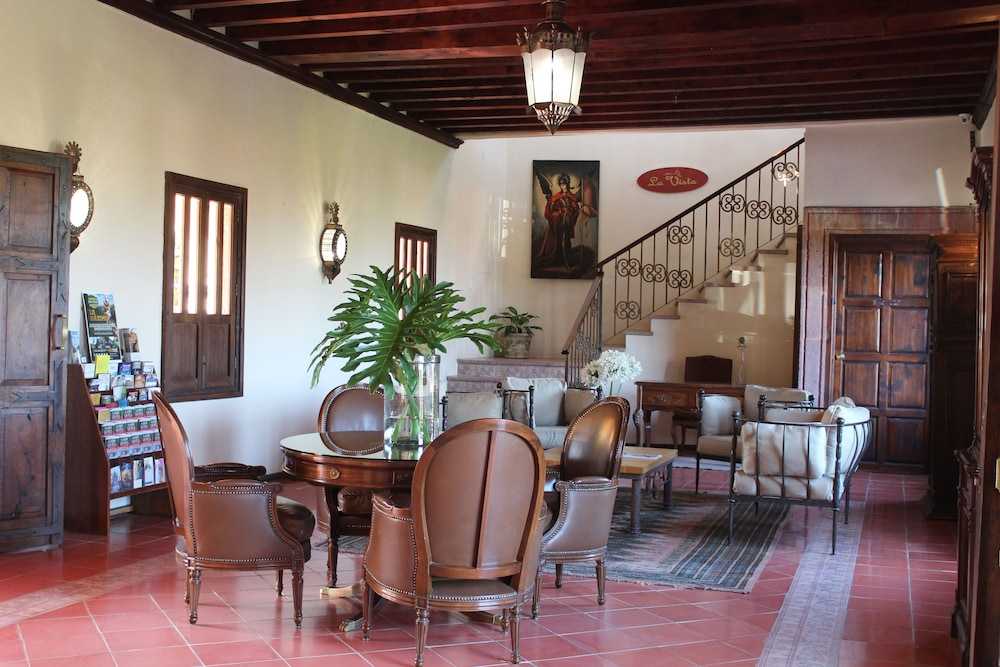 Avaliação TripAdvisor
Baseado em 108 avaliação
Ver todas
Este hotel localiza-se numa estrada principal, próximo da saída Carretera Real para Querétaro, a cerca de 800 m do miradouro. Fica numa zona de paisagem extensa onde os hóspedes terão oportunidade de apreciar a beleza natural. Situa-se também a 1 km da Plaza Principal e do centro da cidade, onde irã...
Mais detalhes
Disponibilidade
Selecione a data da sua viagem
Selecione a data da sua viagem para verificar a disponibilidade dos quartos.
Informações do estabelecimento
Este hotel localiza-se numa estrada principal, próximo da saída Carretera Real para Querétaro, a cerca de 800 m do miradouro. Fica numa zona de paisagem extensa onde os hóspedes terão oportunidade de apreciar a beleza natural. Situa-se também a 1 km da Plaza Principal e do centro da cidade, onde irão encontrar restaurantes, bares e discotecas, bem como o museu das Belas Artes. O Instituto Allende encontra-se a cerca de 1,2 km e são 2 km até ao terminal rodoviário de San Miguel. Até ao Santuário de Atontonilco são cerca de 14 km do hotel e até à cidade de Querétaro aproximadamente 35 minutos de...
Mais detalhes
Entrada a partir de: 15:00
Saída até: 11:00
Comodidades do estabelecimento
Comida / Bebida
Restaurante
Piscina e comodidades de bem-estar
Piscina Exterior
Serviços de recepção
Depósito de bagagens
Avaliação dos hóspedes
TripAdvisor
Pontuação dos viajantes
Excelente

12

Muito Bom

32

Bom

31

Razoável

13

Ruim

20
Perfil dos viajantes
Negócios

2

Romântica

43

Viagem a sós

2

Família

42

Viagem com amigos

13
Resumo das pontuações
Atendimento

Custo-benefício

Limpeza

Localização

Qualidade do sono

Quartos
Truly DISGUSTING HOTEL!
Avaliou em 22 de novembro de 2020
If you like the idea of having a Front Desk person hang up the phone on you for asking a question (after you've already booked the hotel), a hotel giving you a room with several large cracks in both windows when it's 40-degrees outside (even though their hotel is COMPLETELY EMPTY and they could have easily given you any other room) and refusing to unclog a toilet, making the entire room spell like a waste treatment center... WELCOME TO MIRADOR DEL FRAYLE HOTEL! Life is too short. Run far, far away from here!
TAGProductions
Horrible hotel! Don't let the view influence you!
Avaliou em 21 de fevereiro de 2020
We passed by from this hotel while walking around and were impressed about the building, pool and view. The next day we decided to leave our own hotel, which was decent but very dark, to stay here and have some relaxing time. They gave us a room furthest away from the main building, watching a wall. Close to the road, which is quite noisy with barking dogs and passing cars. In that building, also members of the staff were living, so forget peacefull. IN our room, divided with a door, were the pomps for the hot water for everyone in that building. We slept with earplugs. The breakfast was HORRIBLE. The coffee hot water with a colour and you could choose between three slices of fruit or an orange juice. While there were three full bottles of orange juice standing, and we and a couple were the only customers. The servant didn't speak a word of English. Didn't even know the word "egg". Quite practicle to speak at least some English if you work with tourists. We didn't even wait for our order and left the breakfast to buy some yoghurt and bread in a little supermarkter close by. The girl at the reception is horrible. Rude, uncaring and unfriendly. She does't care at all for the hotel or her job. Once this hotel was made with love by someone, but the people that own it now, destroy it completely. There are plenty of nice hotels in San Miguel. Safe yourself an unpleasant experiece by chosing another lodging.
190moniqueh
Nice but very cold
Avaliou em 31 de dezembro de 2018
Ok, I chose this hotel because I believed it had a pretty good view of the town, but I got very disappointed, there is a lot of trees that block the view, the only time you can see the view is from their restaurant and, to be honest, the included breakfast is very average and if you want to add any additional item they charge you extra, the menu is the same every day. and after 4 days of staying there, I got bored. the walk to the town is short but you have to endure a 60-degree slope walk coming back to the hotel. also, the price is not worth the quality of this hotel. perhaps is good for summer but not for winter time. Also when I asked for a heater they told me they will look for one and if they find it they will take it to my room, they never find it.
pablop5200
Worst Option in San Miguel
Avaliou em 30 de julho de 2018
I have visited 40 countries (so far), yet my time at this hotel has been my absolute worst experience to date. For example, I paid for a Master Suite, which is described as including a living room and separate bedroom, with internet included. This is the information that is provided on both the hotel website as well as the information they provided to Hotels.com. Yet, they do not have any rooms that fit that description, and WIFI is only available if you sit a few inches away from the modem in reception (it is not available anywhere else on the property and if you ask anyone about this they will actually yell at you). Apart from the incorrect information provided on their own webpage as well as the information they provide to Hotels.com, the staff is incompetent and rude. For example, no one will say: Hello! Welcome to our hotel. No one will carry your bags to your room, provide you with the remote control for your TV, provide you with towels for their pool, explain anything about the hours for breakfast, or even provide you with a map of the area. Upon arrival, you will be treated as someone who has completely interrupted their day. And that is how they will make you feel during your entire stay. On arrival, you must ring a bell and wait quite a while until someone arrives at the front desk and literally throws an information sheet at you. If you look confused they shout: we obviously can't check you in until we have the correct information. After experiencing this, I later returned to reception to see if this is how they treated everyone. Yes, this is how they treat everyone. No smiles. No welcome. No help. One elderly couple who couldn't even get their bags out of their taxi without the help of the taxi driver, were then forced to carry these same suitcases (upstairs) to their rooms. Incredible. The information provided by this hotel is so incorrect that, if you are elderly or have difficulty walking, their advertisement of being "just a 15-minute walk from the center" does not include any information about how dangerous that walk is. Although they offer a free shuttle service to the center, that service is entirely dependent on whether they have a driver available AND willing to drive you to the center when you are ready to leave the hotel. So if you decide to walk to the center, the hill you must walk down is dangerous. And even if you understand this and try to risk the walk down, most people decide to pay for a taxi back. However, nobody seems to know about this hotel which means that a taxi ride home can become very expensive as taxi drivers search the city for your hotel, charging you for every minute. An example of their level of service: on our first day, after checking in (without receiving a remote control for the TV or towels for the pool or information about the breakfast that is supposedly included), we decide to buy two beers at their bar and sit on the terrace to enjoy their reportedly amazing view of San Miguel (which is actually only available from the upstairs breakfast room with limited hours). They offered us two bottled beer. However, they didn't have a bottle opener. So we said we would go sit by the pool while they looked for an opener, but they said that glass wasn't allowed at the pool, so we could only drink these beers in our rooms. Thirty minutes later they were able to open our (now warm) beers, and then explained that we had to pay for our drinks before returning to our rooms (we couldn't add the charge to our room). However, they didn't know how much to charge us. And when they finally found out the price, they didn't have change. The purchase of two beers at their "bar" took one hour. So the next afternoon, we returned to the hotel with beers that we bought from the store across the street from the hotel in order to avoid the horrible "bar" service. However, after we were seated at the pool with our drinks, a hotel staff member actually ran out to us (the only time we saw any staff member move) in order to explain to us that we could not drink our own beverages at the pool because the hotel offers bar service. This policy is not written anywhere. In order to avoid any more discussions about customer service with such an incompetent staff, we put our drinks in our room. And I am not lying. As we walked from our room to their "bar" (as they asked us to), they actually closed their bar in our face (because I don't think they had anything to sell to us) and then later charged us for bringing our own drinks to the pool. This is the level of service you can expect from Mirador del Frayle. So even if you find another hotel that is a little more expensive, I recommend choosing ANYTHING else. San Miguel de Allende is an incredible place to visit, filled with so many great hotel options that will provide you with the customer service you deserve as a paying client. Mirador del Frayle will gladly take your money but they will make your stay miserable. We go on vacation to enjoy our time - not to battle with employees who make our stay miserable. Don't choose this hotel no matter how low their prices may seem in comparison to other options. They will absolutely ruin your vacation. You do not deserve that.
James D
Incompetent Management
Avaliou em 29 de julho de 2018
Check In When we arrived at the hotel, the Uber driver took out the luggage from the car and we walked into the reception area. There were 3 young men just standing there doing nothing. The least they could have done is that one of them should have helped with our luggage. After checking in, one of the young men took us to our room. Then when I asked him for the Wifi password, he went back to the reception area to get it. Room #13 The beds are extra firm but long enough to fit someone who is 6'3" tall . The water in the sink comes out cold then it heats up then cools down again and on an on. That was hard because the hotel does not have bottled water. They just give you two glass cups and expect you to drink tap water from the sink. This is why I suggest that before you get there, buy yourself a gallon of bottled water. Everything else in the room was in good shape. It had the rustic look and feel that you would expect in San Miguel. Something else, make sure you check that the window is locked because when we got there it was unlocked and we didn't realize it until my son opened it by just pushing it. Grounds The grounds were very well maintained. The hedges and lawn were neatly trimmed and the swimming pool was in excellent shape. Just remember that in San Miguel, temperatures can range from the 50s to the 80s Farenheit year round. You also have a beautiful view of San Miguel because the hotel sits on top of a small mountain. Neighborhood This hotel is on the east side of the city, about a 10 minute walk to downtown and a 10 minute mountain climb back to the hotel. Good if you want a workout, not so good if you have health issues or if you have little children. The neighborhood is full of graffiti and has a lot of "low lifes". They drink alcohol and smoke marijuana but a cab driver told me that they mean no harm. There is no gang activity there either. Management I read on the hotel's website that they will take you to downtown for free so when I asked management about this one afternoon, they said they do this only in the morning. So I imagine that if I would have asked them in the morning, they would have said that they only do this in the afternoon or tomorrow. I then asked if they could get me a Uber. So the reception clerk pretended to call a Uber...you don't call Ubers, you find them on the Uber app. So if you want a cab, you need to walk about 5 minutes to the closest busy street because Ubers are hard to find. Also, on Saturdays breakfast isn't available until 8:30 am. Overall, I do not recommend this hotel based on how sloppy it's managed, on how far it is from downtown and the low life neighborhood that the hotel is in. I suggest that you find yourself a hotel that is closer to downtown and in a better neighborhood.
davidlN645IK