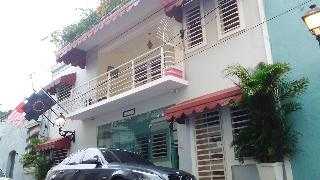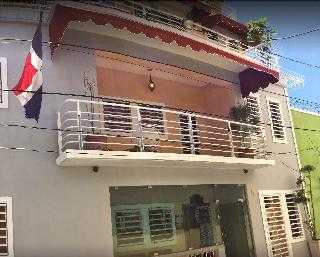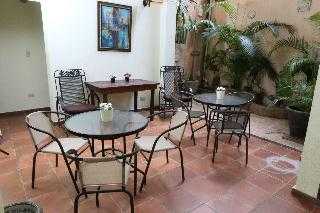 Avaliação TripAdvisor
Baseado em 13 avaliação
Ver todas
Uma estadia Hotel Casa Aluge coloca-o no coração de Santo Domingo, a 5 minutos a pé de Parque Colon e de Catedral de Santo Domingo. Este hotel está a 1,1 km (0,7 mi) de Calle Las Damas e a 3,3 km (2 mi) de Sambil Santo Domingo. Tire partido das várias atividades recreativas, incluindo uma sala de fi...
Mais detalhes
Disponibilidade
Selecione a data da sua viagem
Selecione a data da sua viagem para verificar a disponibilidade dos quartos.
Informações do estabelecimento
Uma estadia Hotel Casa Aluge coloca-o no coração de Santo Domingo, a 5 minutos a pé de Parque Colon e de Catedral de Santo Domingo. Este hotel está a 1,1 km (0,7 mi) de Calle Las Damas e a 3,3 km (2 mi) de Sambil Santo Domingo. Tire partido das várias atividades recreativas, incluindo uma sala de fitness aberta 24 horas, ou aproveite para contemplar soberbas vistas a partir do terraço e do jardim. As facilidades adicionais incluem Wi-Fi grátis, serviços de concierge e um televisor no espaço comum. As principais comodidades incluem um business center, jornais grátis no lobby e uma receção abert...
Mais detalhes
Entrada a partir de: 15:00
Saída até: 11:00
Comodidades do estabelecimento
Serviços de recepção
Concierge
Depósito de bagagens
Avaliação dos hóspedes
TripAdvisor
Pontuação dos viajantes
Excelente

2

Muito Bom

6

Bom

2

Razoável

0

Ruim

3
Perfil dos viajantes
Negócios

0

Romântica

7

Viagem a sós

1

Família

3

Viagem com amigos

1
Resumo das pontuações
Atendimento

Custo-benefício

Limpeza

Localização

Qualidade do sono

Quartos
A terrible experience
Avaliou em 8 de outubro de 2018
Although our experience started quite well it became the worst hotel experience of my life. The debit machine wasn't working, we came down from the room 5 times during the evening to try and pay, we were told we could pay in the morning. We found the room dirty, without towels and with faulty lightbulbs. In the morning we tried to pay multiple times before being told that the payment had finally gone through. We left for a few hours but upon returning to get our suitcase we were stopped and told to get out of our taxi as 'we had not payed'. We went back inside to be accused of being theifs. We tried again and were told that the problem was my card, which I had just used in a restaurant. I suggested we use paypal to make the payment. The receptionist didnt know how to use paypal and I was accused of not having money. I took over and made the payment via paypal without problems, meanwhile the hotel called the police! We finally left, upset and stressed, without an apology from the hotel.
Sarah T
Location, Location, Location
Avaliou em 7 de abril de 2018
This is the hotel were you come because the location! Everything is near and you can just walk around and see beatiful things. Big supermarket is around the corner and good restaurants near by. Room is avarage and smells like cellar.
reatraskelin
Salome 56
Avaliou em 7 de maio de 2016
Charming little hotel in the middle of the Colonial Zone of Santo Domingo. Only two steps away from the central "backbone" of the Colonial Zone: "El Colon". The hotel is a bit dated and the room we had was not really spacious. We were two adults and two teenagers and the room we booked was supposedly for 4 people. However, to fit all of us in one king size bed, was a bit too much. The staff at the hotel was very friendly and accommodated us with an extra mattress. We had a balcony overlooking the Ureña Salome street, which gave us a bit of "Havana" feeling. Breakfast at the hotel is included and you have a choice between continental and local breakfast. Both are very tasteful and served with a smile. You can enjoy breakfast in the morning sun on the roof of the hotel, where you can also find a small gym and a jacuzzi. Compliments to the hotel staff that was really helpful in advising us where to go, where to eat, etc.
Guy147
Fantastic Value, good location
Avaliou em 18 de abril de 2010
Hostal Salome was an excellent find. We found it whilst travelling around DR on our own. Having stayed in another hotel the night before and being unhappy with it, we looked around and came across this gem. Closed up behind wrought iron gates, it is very unprepossessing, but it had recently been totally renovated. Overall very clean and well presented, the rooms are very large with good bathrooms and air conditioning. There are no breakfast facilities or bar, but you are in the centre of the old city so nothing is far away. There is parking right outside if you are driving (as we were). We drove right around DR, and this was one of the best hotels we found, and the best for price by far. Of course, generally the big resorts are excellent, but unless you book as part of a package, they are prohibitively expensive. We tried driving up to several and some wouldn't even let you in! Be warned! if you are going to drive around DR, it pays to get a powerful 4x4 with excellent brakes, as the roads are unbelieveably poor in places. Also, beware of the motorbikes. They have right of way in every instance - hit one and you'll be in trouble!!!
Stan L
Simply Great!
Avaliou em 30 de janeiro de 2009
I stayed here for a few days with a couple of friends. It's a simple set up: bed, bathroom, TV, fridge, night stand, writing table all you need and more. The location is excellent right by "El Conde." And a few other tourist sites like the home of Christopher Columbus. The service was among the best that we got the whole ten days we were there. If you have trouble with Spanish there is a fluent English speaker there almost all the time. They were always willing to go the extra mile calling cabs, getting bus schedules, providing maps, making recommendations on where to eat and where to stay even when it was to other areas of the island. As I said it's simple not a four star hotel. Hence the pricing is very reasonable, in fact it was the best we could find in the capitol.
jgiles81