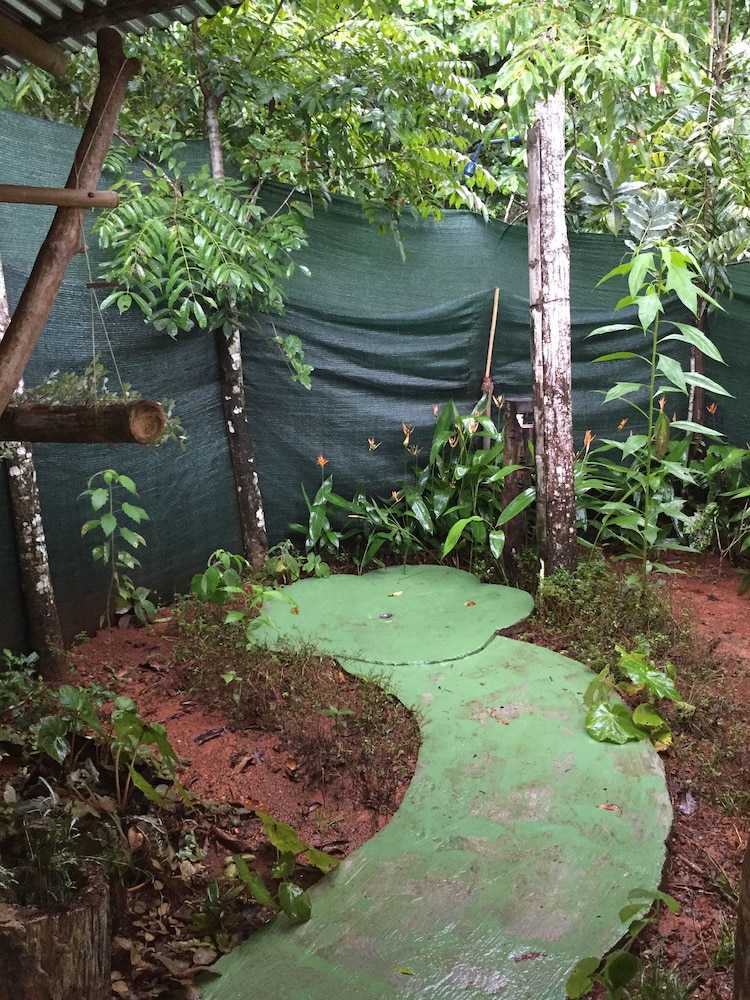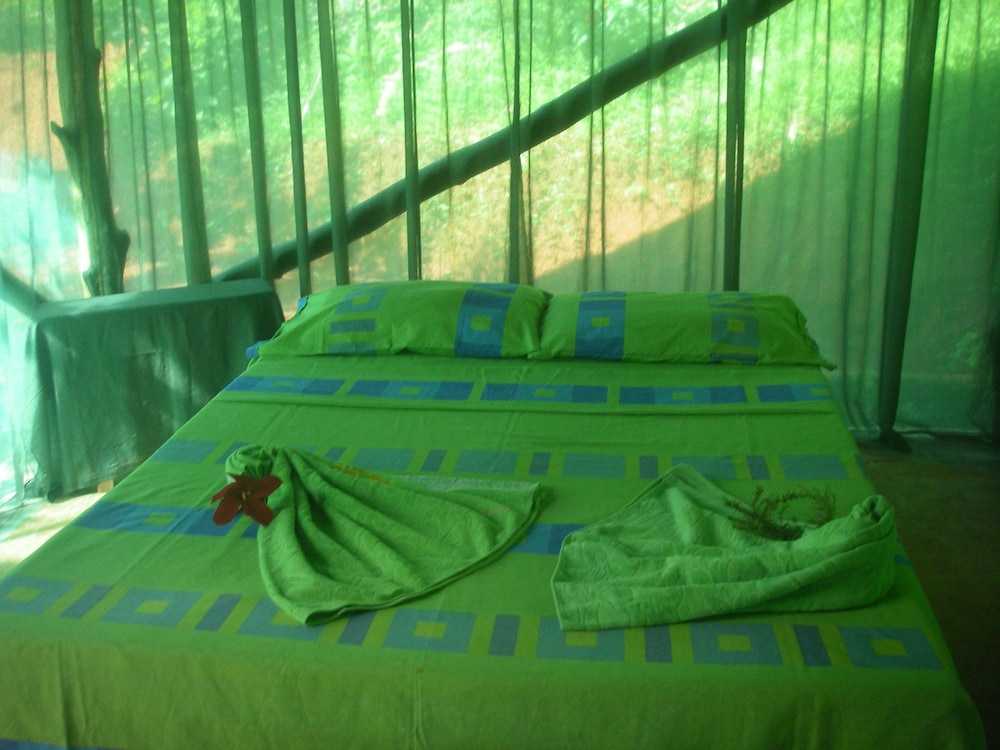 Avaliação TripAdvisor
Baseado em 18 avaliação
Ver todas
Localização Do Estabelecimento Ao alojar-se Isla Violin Eco Lodge em Sierpe, ficará na serra, apenas a alguns passos de Humedal Nacional Térraba Sierpe e de Península de Osa. Este lodge de praia está a 16,1 km (10 mi) de Playa Colorada e a 20,2 km (12,5 mi) de Playa de Bahía Drake. As distâncias s...
Mais detalhes
Disponibilidade
Selecione a data da sua viagem
Selecione a data da sua viagem para verificar a disponibilidade dos quartos.
Informações do estabelecimento
Localização Do Estabelecimento
Ao alojar-se Isla Violin Eco Lodge em Sierpe, ficará na serra, apenas a alguns passos de Humedal Nacional Térraba Sierpe e de Península de Osa. Este lodge de praia está a 16,1 km (10 mi) de Playa Colorada e a 20,2 km (12,5 mi) de Playa de Bahía Drake. As distâncias são apresentadas à 0,1 milha e ao quilómetro mais próximo.
- Humedal Nacional Térraba Sierpe - 0,1 km/0,1 mi
- Península de Osa - 0,1 km/0,1 mi
- Playa de Violin - 4 km/2,5 mi
- Playa Colorada - 16,1 km/10 mi
- Playa de Bahía Drake - 20,2 km/12,5 mi
- Trilha Alpina d...
Mais detalhes
Entrada a partir de: 15:00
Saída até: 11:00
Comodidades do estabelecimento
Comida / Bebida
Restaurante
Serviços de recepção
Depósito de bagagens
Avaliação dos hóspedes
TripAdvisor
Pontuação dos viajantes
Excelente

15

Muito Bom

1

Bom

0

Razoável

0

Ruim

2
Perfil dos viajantes
Negócios

1

Romântica

9

Viagem a sós

1

Família

1

Viagem com amigos

4
Resumo das pontuações
Atendimento

Custo-benefício

Limpeza

Localização

Qualidade do sono

Quartos
Mangrove tour
Avaliou em 7 de agosto de 2021
We didn't stay at the lodge but ended up on a five hour boat tour from Drake Bay with the owner which turned out to be one of our best guided tours in Corcovado. Exploring the stunning coastline and then the mangroves and forest upriver, we saw everything from a beach full of crabs to crocodiles, turtles, sloths, bats, iguanas, monkeys and dozens of birds. This is a chap that knows his backyard and is more than happy to spend as much time as you need to ensure you get maximum enjoyment. We briefly stopped at the eco-lodge and if you want to stay immersed in the mangroves and forest, completely away from tourism, then this is the place for you. We wish we had known about it when planning our trip! Oh, and also extremely well organised.
trigtales
Worst place (and package) within 4weeks in Costa Rica
Avaliou em 5 de janeiro de 2020
The place is far away from tourist hotspots, in the middle of the mangroves - which is great. However, the three day package we booked was price-wise on at all related to the service we got. To be fair, without our German travel agent, we had never booked this place as we defined some boundary conditions (he convinced us, but turned out as wrong promises). The family is lovely and the food was fresh and good. The place itself could had improved over the years much more without loosing the charm e.g. by using the gravel on the walk ways instead walking in the mud and taking it into the cabin (beside the danger it self on the steep and slippery way). The cabin is really simple and would be in general okay (holes in the moskitos net which is also the wall of the cabin and don't expect more water in the shower than in the wash basin). But what is not expectable at all was the bed and pillow as it was smelling horrible on moldiness. Regarding the package / tours: the bird watching tours was trough the farm but not at all comparable to the other tours we already had in Cost Rica (knowledge of the guide, the way how it was brought across etc.). Based on the first night with the moldiness bed/pillow and the first tour we decided to stop our stay and leave that place. Even if we canceled 25hours before the snorkeling trip, planned for the next day, we haven't received any kind of refund (all tour provider in this area offer a free cancelation up to 24 hours before the trip), not to mention the remaining value of the service we have not used. Buy stopping this stay we have lost 1.500 USD (just to give flavor that this was not easy and comfort decision). As we where not the first ones who canceled / stopped their stay (confirmed by the hosts), I am suprised to read only very positives statements about this place...
Norugby
magic journey
Avaliou em 19 de outubro de 2019
we had a 2days stay at isla violin in early january this year. the host family made us really feel at home, sharing with us their time & meals, coocked by a professional chef and served at the family table. we enjoyed their company during tours and excursion, it was a great experience for us and our 9year old daughter. don't miss the night kayak tour in the mangrooves, the luminescence in the water is magic!
Vanessa S
First trip to Central America
Avaliou em 14 de janeiro de 2019
That was my first experience traveling to Central America and the night in San Jose was this far away jungle lodge with no roads to reach the place except the boat one. Even the trip from the airport drake bay to the lodge was already amazing and could be considered as an adventure. We live for the first time in the room with actual walls as it was plus 25 even during the night. The pictures on the site of the lodge shows everything. I strongly recommend the walk to the beach and have a picnic there all by yourself.
Odyssey66333
Loads of Wildlife, Great Accommodation
Avaliou em 28 de fevereiro de 2018
Isla Violin was excellent the accommodation is made of see through fabric so you can see and hear the jungle all around you. The toilet and shower are outside (but with opaque fabric) and we saw hummingbirds and other birds whilst we showered. You stay on their farm and if you go out in the morning and evening you have the potential to see loads! The food was nice and we were not hungry at any point. If you are on a strict budget but want to spot wildlife I would recommend a short stay here and make sure you go out early morning and evening. I would definitely recommend the Night kayak tour and work out with them when it is best to go as it depends on high tide and the moon. Also you can hire a kayak on your own which was brilliant fun as you can kayak around the mangroves exploring each of the routes without a guide. The route to the beach is quite difficult as it has steep hills and is covered in fallen trees, I would recommend picking up a stick on your walk to clear spiders webs from the route as you walk as otherwise you will walk into one every other step. The guys there don't speak English but are very friendly and helpful if you can communicate in basic Spanish or using google translate. We went to Cano Island whilst we stayed here, you have to have a guide in the water (which is a pity as we prefer unguided tours but it is in an effort to reduce damage to Coral etc), we did get stung by a few jellyfish you cant see but they are mild and if you are very worried bring a tiny bottle of vinegar with you. On the tour out there it is sometimes possible to see dolphins and whales, it is very crowded in the water at times as you will be in a group of 8 and other groups might also be around you. (we are used to snorkelling with no one around in all reality it wasn't crazily crowded just more so than we prefer) It is quite expensive due to the boat ride over and the guide (but again if you are used to guided tours this is probably not that expensive in comparison) At Isla Violin we saw • Toucans • Sloths • Hummingbirds • Armadillo • Turkey and Black vultures • Large Morpho Butterflies • Amazon and ringed Kingfishers • Brazillian Wandering Spider • Golden Orb Weaver Spider • Terrapins • Opossums • Bioluminescent plankton • Scorpions • Loads of different spiders • Trogans • Loads of types of crab • Small snake At Cano Island (guided) we saw • Spinner Dolphin • Triggerfish • Angelfish • Hawksbill turtle As a tip we spotted 3 sloths as you first walk into the route to the beach so stop and look up high and you might see them, listen for the noise of the armadillo at night as it scratches around and you might be able to spot it. Make sure you have definitely explored the whole farm as it was only on our final night that we realised we had missed half of the farm (where we saw the Wandering Spider, Snake, Opossum and Terrapin)
Chrispayne643