Club Amigo Carisol Los Corales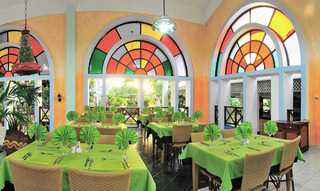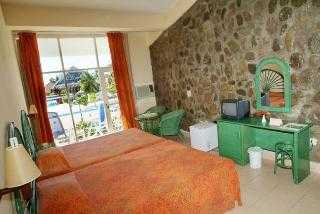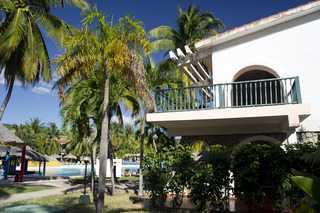 Avaliação TripAdvisor
Baseado em 1024 avaliação
Ver todas
O hotel em ambiente cubano situa-se no Parque de Bacinao, na província de Santiago de Cuba. Até ao aeroporto António Maceo são cerca de 62 km. O hotel balnear com jardim e terraço dispõe de um total de 310 quartos, dos quais 265 quartos duplos standard e 46 suites júnior. Contempla uma recepção, cof...
Mais detalhes
Disponibilidade
Selecione a data da sua viagem
Selecione a data da sua viagem para verificar a disponibilidade dos quartos.
Informações do estabelecimento
O hotel em ambiente cubano situa-se no Parque de Bacinao, na província de Santiago de Cuba. Até ao aeroporto António Maceo são cerca de 62 km. O hotel balnear com jardim e terraço dispõe de um total de 310 quartos, dos quais 265 quartos duplos standard e 46 suites júnior. Contempla uma recepção, cofre e guichet para câmbio monetário. No hotel familiar encontram-se também um café, um bar, um restaurante, uma discoteca, uma sala para jogos e acesso à Internet (taxa extra). Os hóspedes poderão usufruir da lavandaria. Os pequenos hóspedes poderão divertir-se no mini-clube. Todos os quartos contemp...
Mais detalhes
Entrada a partir de: 15:00
Saída até: 11:00
Comodidades do estabelecimento
Avaliação dos hóspedes
TripAdvisor
Pontuação dos viajantes
Excelente

174

Muito Bom

325

Bom

284

Razoável

146

Ruim

95
Perfil dos viajantes
Negócios

6

Romântica

341

Viagem a sós

79

Família

251

Viagem com amigos

215
Resumo das pontuações
Atendimento

Custo-benefício

Limpeza

Localização

Qualidade do sono

Quartos
Relaxar e festejar!
Avaliou em 29 de março de 2015
Muito legal, pelo dia da pra voce relaxar a sombra dos coqueiros tomando um drink gelado! e a noite e' festa com os amigos dentro do resort! nao tem tempo ruim, atendimento de primeira no hotel, cafe da manha deixa um pouco a desejar, pois eles tentam imitar as refeicoes norte americana, outra dica e' nao alugar os carros do hotel, chame os nativos do lado de fora do hotel, eles te levam nos melhores pontos da cidade e por muito menos, carros antigos porem divertidos
Yuri A
Tempo excelente para o preço!
Avaliou em 24 de abril de 2014
A nossa segunda viagem a Puerto Palos Carisol Los - e adorei. Lembre-se pessoal - é apenas um resort de três estrelas. Sim, precisa de algumas reformas e atualizações, mas se você conhece Cuba, deve saber como é difícil para que isso aconteça. Não tivemos absolutamente nenhuma queixa sobre a comida - você que faz trabalhar para você. Nossa única reclamação é a falta de cadeiras de piscina e de praia suficientes. Muitas pessoas vão para a praia muito cedo de manhã e "reservam" cadeiras para multidões de seus amigos. Fora o policiamento de cadeiras, a única solução é que obtenham mais cadeiras - muito mais!!! Arrisque - não tem erro. A equipe é maravilhosa!!! I
Peggy S
Beautiful setting
Avaliou em 1 de janeiro de 2021
Beautiful area. Rooms are old and antiquated. The staff at the lobby bar ran the place. Would save glasses and tables for their guest friends to the point of being ridiculous. I like to tip for service, not tip to get service. Been to many all inclusive and this is definately lower tier.
palmer100
Best January weather ever, a very enjoyable vacation
Avaliou em 12 de abril de 2020
It was our 15th trip to Cuba since 2009 and third to the Hotel Carisol los Corales, so we knew what to expect. We paid $1,295 CAN per person for 2 weeks (from Toronto) for a junior suite in the Carisol Section. We departed Toronto on January 8, 2020 from Toronto's Pearson Airport (Sunwing Airlines). The take-off was late due to deicing. The flight lasted 3 hours and 41 minutes and we landed in Santiago de Cuba. Because of TripAdvisor's Cuban forums, I knew that unexpectedly the US dollar had become a hot commodity in Cuba—and we happened to have plenty of US dollars anyway. Within minutes of getting on the bus we exchanged $200 US and got 200 CUC—more than enough for our whole stay. I also ran to the nearby kiosk and got 2 cans of Cuban beer (Cristal). It turned out that I bought the last 2 cans—and that was the only Cuban beer (in cans or bottles) I had during my whole trip. Some tourists also discovered that their luggage was not on the plane and it was supposed to be delivered the next day(s). It took us over 1 hour to get to the hotel. Our very nice and personable rep on the bus, Sahidy, told us a lot of interesting things on Cuba. HOTEL We got the Junior Suite C-3 (upper level). We were not very thrilled with the room (or rather the location of the building), but decided to stay—we liked better the Junior Suite H-4, where we had stayed previously. We had the same maid as 2 years ago, Martha. The staff were overall nice and helpful, although I saw a lot of new, young people working at the reception and most of them barely spoke English—and I had a feeling they were not too eager to practice their meager linguistic skills with tourists. The two-level room was nice, but there was cold & hot water, although the pressure was bad in peak hours. Otherwise everything else worked (A/C, TV, fridge, hairdryer). There was no phone in the room. We had to ask for the safe a few times—eventually it was brought (!) to our room and bolted to the wall (2 CUC per day). Both the safe and the room use traditional keys, so bring a lanyard. IMPORTANT!!! Some electrical outlets in the room were 110 V, others 220 V and they were NOT clearly marked, so ASK the maid before using them or you might damage your electronics! We brought a small coffee maker (and coffee) along with a surge protector bar—2 year ago, due to a spike after a power outage, we had lost our coffee maker. There was no Canadian channel on TV, only the CNN, which I never liked watching. We tried to watch the 6 pm news, but sometimes such 'momentous' news like the story about the royal couples announcing their intention to step back as senior members of the royal family took up the first 20 minutes, relegating other 'inconsequential' news items as the Ukrainian plane disaster, Iranian Crisis or the coronavirus outbreak in the background! That was why we spent just minutes watching TV. From our balcony we could see the ocean and, mostly covered by vegetation, the ruins of old hotel buildings (disco), destroyed years ago by a hurricane. There were always various animals grazing the grass around, mostly horses and donkeys (with cattle egrets hanging around them), which gave this place a very rustic look. Cats and dogs were not as numerous as in the past. The beach was nice and the beach guys quickly brought us loungers. The coco bar served cold beer and other drinks—Frank the bartender did a great job and I especially loved the piña colada. There was a massage place on the beach and Catherine had a massage every day. I hoped to do snorkeling, but every day was quite windy and there were relatively high waves near the reef, making snorkeling there too risky. But closer to the shore I did see a lot of colorful fish and even a moray eel, luring from an opening in a rock. We had the best January weather ever in Cuba: every day was sunny, about +30 C and it rained a few times, but by the time we reached our room, the sky was blue again. Because of the wind there were no mosquitos or other bugs. The Carisol section (where we stayed) was much quieter than the los Corales section, where all the entertainment took place—and it was one of the main reasons we decided to stay in the Carisol part of the resort. On the bus to the resort we ran into a couple from Streetsville that we had met at the hotel two years ago and during our stay we frequently enjoyed dinners together. We also (finally!) met in person two well-known TripAdvisor members, Cubacarol and CubanQueen, whose posts I had read for many years and often relied on their valuable advice. In fact, it was CubanQueen who had recommended our casa particular in Santiago de Cuba in 2010! We met Karen from Quebec, with whom we had gone biking two years ago to the Jardin de Cactus and whose excellent Spanish greatly enhanced our outing! Besides, we often intermingled with other tourist from Canada and exchanged a lot of interesting stories on travelling in Cuba and in other countries. FOOD/DINING The food was average, but tasty and I had no complains. For breakfast I always had fried eggs, coffee and yogurts. Most of the time we skipped lunch, but a few times we went to the Ranchon Restaurant for excellent ribs and fish. Dinners offered a lot of various dishes. I loved grilled pork at the cooking station, it was delicious—unfortunately, twice I tried beef and it was tough & stringy—well, at least the local dogs enjoyed it… We brought several salad dressings which greatly enhanced the taste of salads. Yet after a week I did experience some mild stomach problems—there was nothing wrong with the food, but I guess the greens did not agree with my gut flora. Although we never noticed any beer or wine shortages in the resort, the wine was 'rationed'—the servers poured only half a glass of wine and never left a bottle of wine on the table. Every evening a Cuban band would provide musical entertainment while we were dining. I had really mixed feelings about them: on one hand it was nice to listen to one or two songs and admire their artistic talents, but after a while they kind of overstayed their welcome, making it literally impossible for us to conduct any meaningful conversation at the table. The performers were standing very close to our tables and were very deafening! Even if Frank Sinatra were singing like that, I'd say, "Get lost, Frankie, and pop up somewhere else!" We were often relieved when they finally went elsewhere in search of other victims... I mean, tourists! HOTEL STORES (TIENDAS) For the first time in 11 years it was impossible to buy any Cuban beer in the hotel stores! What's more, on the second day after our arrival I purchased one bottle of mineral water and 2 bottles of Cuban liquors—it turned out that from then on there were no liquors and no mineral water available at the store! I brought tabasco sauce, hoping to make a Bloody Mary—but there was no vodka and no tomato juice in the store either. Well, I'm glad that there was draft beer at the bars. RENTAL BIKES, WALKS AROUND THE HOTEL AND BUS TRIP TO SANTIAGO We had been looking forward to renting bikes at the hotel and exploring nearby attractions. This year there were only 4 bikes available for rent. We rode to the blow holes (past the aquarium) and then Catherine's bike got a flat tire—it was literally peeling off the wheel, so it was impossible to even walk the bike. She rode my bike to the hotel and sent a horse carriage to pick up me and the broken bike. We got another one and the next day in the morning rode to the village of Baconao—just in time to see the start of the elementary school at 8:00 in the morning, where students were reciting some revolutionary stanzas and singing. Later we toured the small school and spoke to the teachers, giving them several bilingual periodicals. Since we were supposed to return the bikes at 10 am, I was already at the rental place at 9:45 am, but it was still closed. I waited for over one hour (in the meantime, two people wanted to rent scooters and another tourist was impatiently waiting to return one), but the rental place remained closed, its sole employee nowhere to be seen. Just before 11 am I dragged the bikes to the reception and in spite of the protestations of the reception clerk, I placed them in the storage room. I suspect that the hotel is going to be very pleased when the remaining bikes finally break down—one less issue to deal with! In the morning we walked around the hotel and twice explored the nearby caves along the coastal cliffs with indigenous cave art from Central and South America (Exposición Mesoamericana). On a couple of occasions we spoke to the gardener working there—he showed us bats ("murciélagos") attached to the caves' walls. We also noticed that the restaurants that we had seen two years ago were gone. The hotel offered a free trip to Santiago de Cuba, which was leaving at 10 am on Saturday and we took advantage of it twice. The first time the bus was full, the second time there were two buses and there were still some empty seats on the second bus. Each time Julio, a very entertaining man, was our guide on the bus and kept regaling us with a lot of interesting stories. Overall, we experienced less problems than 2 years ago, the weather considerably better and we had a very good time. Of course, we always travel to Cuba with a very open mind and do our best to overlook as many flaws as possible—after all, we come to enjoy our vacation, NOT to complain! Yet it's obvious that this resort needs a lot of renovations and enhancements—thus, I'm not surprised that some tourists are disappointed. Unfortunately, given the current economic problems in Cuba (furthermore exacerbated by the unexpected coronavirus situation), I'm not very optimistic that any significant improvements will take place any time soon. So if you go, just focus on the positive and have a great time!
Canadian_Guy1000
Amazing people, reasonable resort
Avaliou em 19 de março de 2020
Stayed at Los Corales March 03-10. Amazing, very friendly people. Recommend Marleidis (Customer Service), Miguel (dishwasher/helper). Victor (Ranchon-ask him for honey), Elizabeth (Ranchon waitress), Iliana (maid bldg 5). Jorge (Pool Bar), Argelio (security guard) The beach is OK--definitely not sandy like Varadero, and no turquoise water either. But, if you bring snorkels you can see colorful fish between the shore and the reef. The food is basic--small buffet with the same thing everyday. The longest lineup is for omelettes every breakfast. Forget about desert & ice cream--non existent. Also, they are not big on fruits--may be March is not the best time of the year for fruit. The best food was at the Cuban restaurant, so we booked it almost every day. Strong rain/wind nocked out power and water. We didn't have water for 2 days. They provided water bottles but, sorry, no coffee/cappuccino during water outage. Also, they frequently ran out of basic stuff to prepare drinks, so selection was down to beer/wine (terrible Spanish wine), and liquor on ice. We didn't have a choice between Los Corales or Carisol but, at arrival we were assigned to Los Corales. Most people from Carisol go to Los Corales for food and shows. Our first room had plumbing problems so we asked for a change. The rooms were clean and quite spacious. None of them has ocean view.
echilviet