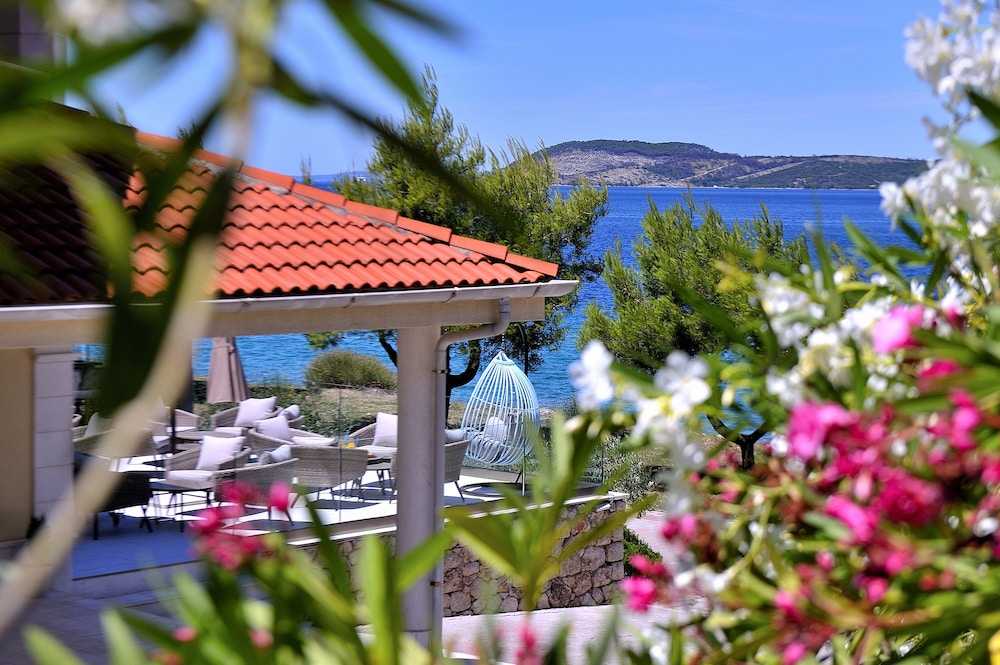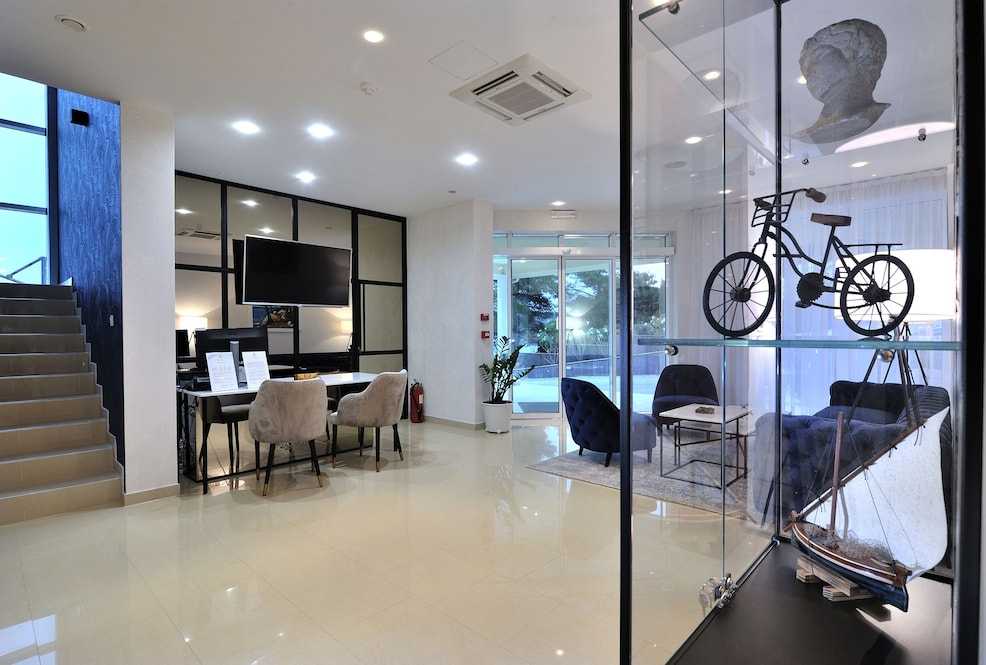 Avaliação TripAdvisor
Baseado em 77 avaliação
Ver todas
Este confortável hotel, pode encontrar-se em Island Hvar.
Mais detalhes
Disponibilidade
Selecione a data da sua viagem
Selecione a data da sua viagem para verificar a disponibilidade dos quartos.
Informações do estabelecimento
Este confortável hotel, pode encontrar-se em Island Hvar.
Entrada a partir de: 15:00
Saída até: 11:00
Comodidades do estabelecimento
Comida / Bebida
Restaurante
Comodidades / Instalações para negócios
Salas de Reuniões
Serviços de recepção
Concierge
Depósito de bagagens
Avaliação dos hóspedes
TripAdvisor
Pontuação dos viajantes
Excelente

56

Muito Bom

15

Bom

2

Razoável

1

Ruim

3
Perfil dos viajantes
Negócios

2

Romântica

30

Viagem a sós

6

Família

8

Viagem com amigos

13
Resumo das pontuações
Atendimento

Custo-benefício

Limpeza

Localização

Qualidade do sono

Quartos
Excelente
Avaliou em 23 de maio de 2018
Hotel recente, muito limpo, quartos super confortáveis e tranquilos. Possibilidade de estacionar, gratuitamente, fica muito perto do porto a pé. Pequeno almoço variado, com mesas com vista para a piscina. Preço baixo tendo em conta a qualidade do hotel.
DanielaP5616
Decepcionada!
Avaliou em 28 de fevereiro de 2016
Boa localização. Próximo ao centrinho, mas pra isso tem que descer uma escadaria e depois pra voltar, enfrentar uma boa subida! Café da manhã simples. Este hotel está velho e precisando de reformas. Não prestei atenção quando reservei, mas o hotel não possui ar condicionado, fomos no verão e quase morremos de tanto calor! Um verdadeiro caos! Não tem nem ventilador! Tv também não tem! De madrugada, como tínhamos que dormir de janelas abertas, no último bloco (que foi onde ficamos) o barulho de madrugada é bem intenso de pessoas que voltam de baladas. Se for com a família peça pra não ficar ali. Melhor parte do hotel é a piscina! Adoramos!
Drigabay
Boutique Hotel with exceptional staff
Avaliou em 3 de outubro de 2021
The hotel and staff are very welcoming and kind. We arrived early before check-in and they were able to let us into our room several hours before planned check-in time. The hotel opened in 2018 and has a fabulous outdoor area with loads of seating to enjoy the beautiful views of Stari Grad bay. Located just 100 meters more in the bay from the ferry, it's very easy to walk from the ferry to the hotel. Despite the proximity to the ferry terminal, do not worry as this is not an issue nor eyesore. The waters are beautiful, the ferry is not noticeable. There is also a small commercial complex at the ferry terminal with ATMs and a supermarket. The hotel has only 8 rooms and therefore the staff is very attentive to all their guests' needs. They pride themselves in ensuring your absolute comfort and happiness. Faras, the "concierge" helped us organize an amazing private boat ride and scooter rental. Nothing was required from us. He has a friendly laugh and is dedicated to ensuring your satisfaction. The other staff are also very polite and helpful. Din and Leon served us at the restaurant and bar. Din helped us debone our fish dinner and my gin and tonics were excellently crafted. There is a small but eclectic selection of gins available. For next year they plan a renovation and expansion of their hotel to 28 rooms. The hotel room was more traditionally decorated with a teak wood nautical theme approach. The room was adequate but I suspect that with the oncoming renovation much will be upgraded. Good water pressure in the bathroom, but lighting could be improved. Each room has a balcony and minimal noise from outside could be heard. German style sliding doors are a bit challenging for Americans to use. The mattress could have been a bit firmer for my liking. Our wifi wasn't strong in the room so the staff arranged for our own personal Wifi box with excellent signal. We decided to eat one evening at the restaurant. We chose our fish ahead of time, a pagrus, "pagar" or sea bream. The fish was prepared together with grilled vegetables. The quality was very good. We also ordered some grilled calamari also prepared very well. I feel we were treated very well as guests. The hotel and restaurant are staffed by a few very dedicated employees. Their service made our staff exceptional and they should be recognized. Also a big thank you to our boat guide Vlado. Faras was happy to drive us anywhere, even to the ATM 50 metres away. I believe the hotel has an Audi A6 shuttle car (probably at a cost). In all, our stay was great. We will definitely come back. After we checked out, we had a few hours to kill, so we were welcome to spend our time at the pool where Faras still checked on us and offered us water and beach towels. We enjoyed the boutique format of this hotel. Its relaxing and the clientele is quiet and civilized.
dblagent
Lovely hotel, great location, extremely helpful staff
Avaliou em 16 de setembro de 2021
Stayed for 3 nights in room 101 ( a small suite) room clean, modern and we'll equipped great views of the waterfront.. Staff couldn't be more helpful with excellent advice on places to visit. Stari Grad is a beautiful small town with plenty of bars and restaurants and only a 15 minute walk along a well lit path. As long as you have access to transport,this is a lovely hotel to stay at
DavidT2294
Stunning
Avaliou em 16 de setembro de 2021
We have been here 3nights! Excellent staff. All of them very nice and helpful. They can arrange everything u wish for! Rooms are clean. Pool is very beautiful and pool area is very stylish! Its chill place, but close to ferry and the city. Very nice breakfast! We do recommend this place!
288agatau