Holiday Inn Express & Suites West Ocean City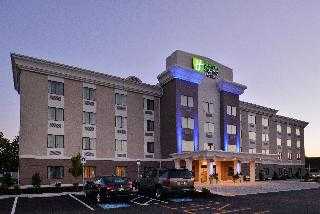 Avaliação TripAdvisor
Baseado em 147 avaliação
Ver todas
Located just minutes from Downtown Ocean City Maryland and the famous Ocean City Boardwalk you will find our beautiful brand new property the Holiday Inn Express & Suites. We offer plenty of amenities for our travelers, that is, if they can pull themselves away from the dozens of attractions availab...
Mais detalhes
Disponibilidade
Selecione a data da sua viagem
Selecione a data da sua viagem para verificar a disponibilidade dos quartos.
Informações do estabelecimento
Located just minutes from Downtown Ocean City Maryland and the famous Ocean City Boardwalk you will find our beautiful brand new property the Holiday Inn Express & Suites. We offer plenty of amenities for our travelers, that is, if they can pull themselves away from the dozens of attractions available nearby. The hotel is located a few miles from The Roland E. Powell Convention Center and also offers complimentary high-speed, wireless Internet access makes it easy to stay in touch with the office, while free local calls help you stay in contact with nearby clients. If you're here for pleasure,...
Mais detalhes
Entrada a partir de: 15:00
Saída até: 11:00
Comodidades do estabelecimento
Avaliação dos hóspedes
TripAdvisor
Pontuação dos viajantes
Excelente

73

Muito Bom

44

Bom

13

Razoável

8

Ruim

9
Perfil dos viajantes
Negócios

11

Romântica

37

Viagem a sós

2

Família

73

Viagem com amigos

12
Resumo das pontuações
Atendimento

Custo-benefício

Limpeza

Localização

Qualidade do sono

Quartos
Worst Holiday Inn Express Ever!
Avaliou em 30 de setembro de 2021
Worst holiday inn express ever! Nothing seems to work at this hotel. Would not recommend. 1. Card reader did not work, had to reinsert cards several times, reader said transaction cancelled. 2. Card Key did not open the door, walked back to front desk twice to reprogram, still busted. Staff said need to change battery for door lock. 3. Reassigned a new room, found bed bug on the sheet. Went back to front desk. 4. Reassigned another room on a different floor, shower faucet did not turn, hubby had to force unlock. 5. Shower head was clogged, water sprayed in different direction. 6. Morning came, Keurig coffee machine did not work, would not close. 7. Chair at desk, back did not stay up, just lean back.
MustGoSeeDo
Stay away, disgusting hotel and rude staff.
Avaliou em 30 de julho de 2021
If I could give this place a negative star rating I would. My family and I spent 4 nights there and had the worst hotel experience. Where should I start? It is disgusting to say the least. Customer service - Our stay started off horribly, at check in we were told that although we had requested a room with an accesible shower ahead of time, they "did not have these available". Even though on the phone when we called to confirm we were told all handicapped rooms had accesible showers, at check in it so happened these did not exist in the hotel. During this whole process, the staff in the front desk, Norman and Asiah, were incredibly rude, dismissive and had no intention of being helpful. They made up excuses and lied repeatedly about our situation. We escalated to the general manager, Marie Hopper, who was even worse. Norman made the mistake of putting her on speaker phone and we overheard her yelling in a condescending tone to her employee "they are not staying here for free, they can take their money and be on their merry way, that's not our problem." We were told to wait until the next morning for Bob, the maintenance manager, to help us out. This was just an excuse to get us to calm us down, the next day we were rudely told nothing could be done, our only option was to find another hotel. Clearly they do not care about their customers or making their stays comfortable. How do we tell 3 excited kids that our vacations were ruined? Unfortunately, we were unable to find alternate accommodations and my grandmother, who is in a wheelchair, had to bathe using moist towelettes during our stay. Cleanliness and appearance - The room received NO service under the pretense of COVID, but other COVID rules are not being followed, such as staff wearing masks, waiting 24 hrs in between guest stays or most important of all, actually cleaning the rooms in between guests. Even though you could go get towels and other necessities at the front desk, employees were always annoyed and complaining that they were the only ones in the front desk and couldn't take care of everything. We even overheard other guests complaining that there sheets had not been changed at check in and that there was a used bandaid in their bathroom. We also found stains in our sheets and in the bathroom walls. There was a leak on the ceiling in front of our door which was "fixed" by nailing a board to the ceiling....which clearly didn't work and kept the carpet moist and there was a horrible stench in the hallway. We had to buy room freshener spray to get us through our stay. Breakfast - average to mediocre food, just with saying that one day the milk carton we opened to serve our 4 year old with his cereal was spoiled. Thankfully we were serving it in a cup and noticed the chunks in the liquid before ingesting it. The only positive thing was the pool and location. If you do not care about sleeping in dirty sheets and being treated poorly by staff. Based on this experience we will never be staying at a Holiday Inn again, and will surely be telling our friends and family to STAY AWAY as well.
rodpertravel
Vaca
Avaliou em 24 de agosto de 2020
I would recommend this hotel!! Only thing we didn't like was a guest left his two dogs have run of the hotel which made a few guest a little uneasy. So, maybe hotel staff would have address the owner about dogs that would have been awesome.
Mistress_S_62219
Extra charges and poor service
Avaliou em 26 de junho de 2020
We booked the Holiday Inn Express and Suites in West Ocean city for two nights. We were just looking for a quick family getaway with our two kids and our small dog. The first day we arrived, we checked in at 3pm (the listed check in time for the hotel), the lady behind the desk was very helpful and friendly. She then proceeded to tell us that it was a $25 pet fee per day. I didn't see that listed anywhere when I booked, but I chalked it up to missing it. They make you sign a contract with all your contact info just in case something happens with the dog. No biggie. Well, we dropped off our things and the dog, since we wanted to go get dinner. No sooner did we park for dinner (less than 5 min way) than we received a call from the hotel. The gentleman said our dog was having some separation anxiety and wouldn't stop barking. He said some people that were working night shift were trying to sleep and they complained. He went on to say that the dog had been barking for 45min. I said "we haven't been gone even 10min" he snapped back "well, people are complaining about it!" So we all got back into the car, arrived back at the hotel and low and behold- it wasn't our dog! My husband gave the front desk a piece of his mind and we left for dinner again. That night, when we arrived back, we went to shower, I noticed one of the little shelves in the shower was broken and just sitting on the tub and there was no shampoo, conditioner or body wash. We made due for the first night figuring once the room was cleaned the next day, all would be refilled. The next morning we woke up early in hopes of a nice breakfast at the hotel...well everything is behind the desk and it's basically just coffee. Ok, I guess that's to be expected because of COVID, but then don't advertise breakfast! We arrived back the second night after spending the day at the beach (with the dog) and the room hadn't been cleaned. Called the front desk and got shampoo and conditioner and felt very thankful we were leaving the next day. Since our room was paid through Hotels.com we didn't have to worry about anything at check out- or so we thought. The icing on the cake is that I just looked and I now have a $294 pending charge on my card. For what you ask, since we clearly already paid? Well I called and they don't know either. I'm waiting on a call back from the manager. They seriously need to get their act together!
alexandramG8980PN
Travel
Avaliou em 21 de maio de 2020
Stayed here during corona craziness.This is in Maryland so more stringent.was asked for a letter showing travel necessary.room was just ok.they gave us 1 st floor ,traveling with small dog.front desk manned by some of the nicest people.enjoyed speaking with black lady manning front desk.she made us feel welcomed.the requirement of staff with face shield seemed a little much.the hotel was also offering rooms for homeless,which was nice.the only negative is 25 dollars per NIGHT,for my pup.
johnmM8668QR